Gov't could struggle if revenue measures aren't supported – John Kumah – Citi Business News
A Deputy Finance Minister, John Kumah says it may get to a time that government may not be able to fulfill some critical payment obligations if its revenue mobilization measures including the Electronic Transfer levy, also known as the E-levy are not supported.
The Electronic Transfer Levy is one major component within the 2022 budget statement, which sharply divides opinions.
The E-levy will be charged on basic transactions related to digital payments and electronic platform transactions.
A charge of 1.75% will apply to electronic transactions that are more than GH¢100 on a daily basis.
While many have criticised and described it as retrogressive, the government insists it is the game changer.
John Kumah made this statement on the sidelines of the inauguration of the Ashanti Regional Youth Parliament as a guest speaker under the theme "The Ghanaian Taxation system and the sustainability of her development".
"I think that the Speaker has made a very genuine call to all members of Parliament that we must move Parliament beyond partisanship and support government domestic revenue mobilisation programs, especially the E-levy, so that we don't create very difficult financial constraints for government. I think that is how the Speaker wanted to put it when he said if we should support government."
"Parliament has passed the 2022 appropriation bill. What this means is that government has to spend, and yet a key component of the revenues that will help you to spend is the e-levy. But as we speak, Parliament has not been able to pass that. So if we don't put politics aside and support the government in the revenue measure, it may get to a time, that it will become difficult for critical payments of government to be fulfilled," he said.
John Kumah further debunked claims that government workers may not be paid in the next three months.
He says there is the need for the E-levy to be passed in order not to create a difficult financial situation for the government.
"It is not true that Ghana cannot pay workers in the next three months. Let me give the firm assurance that workers are going to receive their pay. In fact in the midst of COVID-19, when things were tough, Ghanaian workers received their pay, so I don't foresee any such lack of liquidity for critical payments of Government," he said.


Source link
Pay no-claim discount to active policyholders – some life insurers demand
Some life insurance companies are making a case for a remunerative benefit to be offered to the policyholder after every three months under their life insurance policy.
Also known as No-Claim Bonus (NCB), Acting Head of Metropolitan Life Insurance (MetLife), Emmanuel Oteng Tuffour says active policyholders deserve some motivation.
Speaking at the launch of a Family Financial Wellness Plus product and Whatsapp Chat Bot named 'Yaa' for current and potential policyholders of MetLife, he said MetLife Insurance is making a case for a remunerative benefit offered to the policyholder after every three months under their life insurance policy.
According to him, active policyholders deserved some motivation, hence the innovation.
"We believe that you don't necessarily have to make a claim. So you benefit if you also sign up to the product for that period that you have not actually not made a claim. This is also an opportunity for you to make some cashback benefit."
Also known as No-Claim Bonus (NCB), it is a modest way through which the insurance company rewards the policyholder for having a claim-free year. Under this benefit, a monetary benefit is provided to the insured if no claims are raised in the previous policy tenure.
The FFW product has assorted benefits including Death Benefit, Permanent Total Disability Benefit, Temporary Disability Benefit, Critical Illness Benefit, Cashback Benefit as well as Survival Benefit.
Mr. Tuffour believes product development is the surest bet to improving insurance penetration
For his part, the Board Chair of the company and Managing Partner of CFY Partners, Charles Akun Egan, said life insurance should no longer be 'business as usual.'
"They must think out of the box and be innovative around the tripod of Products, People, and Platforms to enhance their competitiveness".
Meanwhile, CEO of KEK Group, Shaibu Ali has allayed fears product innovation in the insurance sector will serve as disincentive to brokers.
"A lot of us brokers are getting on board the technology platform so that we will be able to also interact with the customers on these same products. We are complementing each other."


Source link
AGRA president Dr Agnes Kalibata appointed to high-profile Climate Overshoot Commission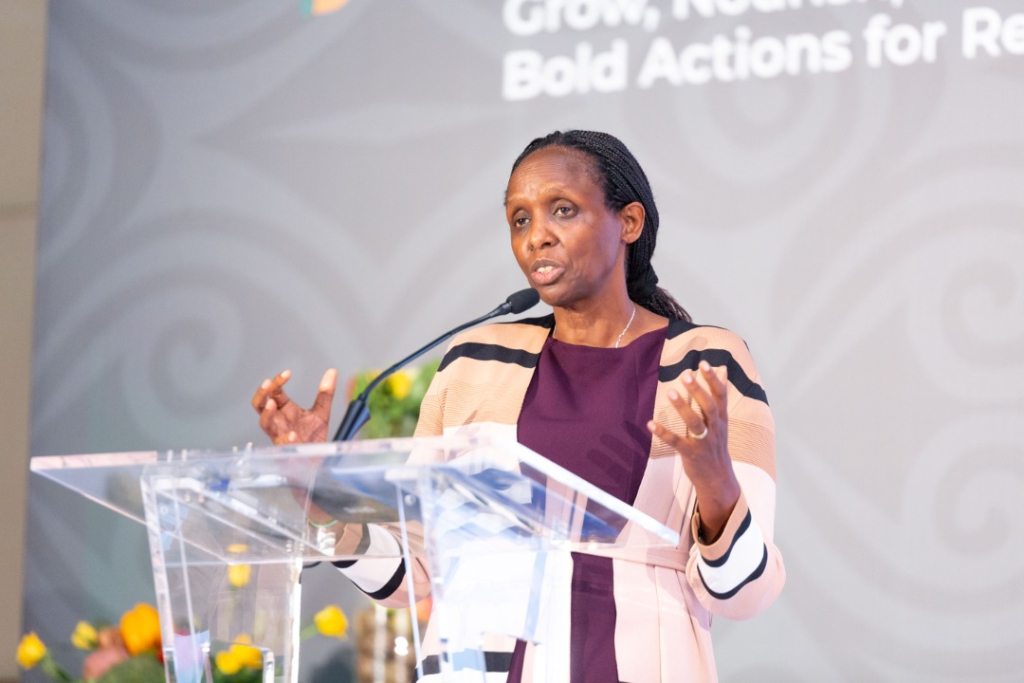 President of the Alliance for a Green Revolution in Africa (AGRA) Dr. Agnes Kalibata
The President of Alliance for a Green Revolution in Africa (AGRA), Dr Agnes Kalibata, has been selected as one of 16 eminent members of the Climate Overshoot Commission.
She joins former heads of government, national ministers, environmental leaders, and high-level international officials, who will evaluate additional approaches for reducing the climate risks of overshoot in an integrated way.
The Climate Overshoot Commission was formed upon the realization that global warming is fast approaching the 1.5 degrees Celsius goal of the Paris Agreement, and an 'overshoot' of that goal is likely within the next decade.
The Commission, which is chaired by former World Trade Organisation Director-General Pascal Lamy, will balance the potential, costs and risks of enhanced adaptation, carbon dioxide removal, and sunlight reflection against the serious impacts of a warming world.
The commissioners will meet six times over the next fifteen months – starting in Italy, New York and Egypt – to prepare a strategy that will be unveiled before the UN Climate Change Conference (COP28) of 2023. The expected strategy will be evidence-based, just, and promote equitable approaches for reducing risk in a dangerously warming world.
"Rising global temperatures are already creating challenges for global food systems. Africa's smallholder farmers are facing adverse consequences as a result of fluctuating weather patterns. We are seeing this in droughts, floods, mudslides, and pest attacks across Africa.
"This Commission brings together leaders to work together in advocating for action that can prevent climate overshoot and develop appropriate response strategies to reverse global warming and limit the impacts of worsening climate change," said Dr Kalibata, who served as the UN Secretary General's Special Envoy for the UN Food Systems Summit in 2021.
Dr Kalibata brings to the Commission a wealth of experience from her involvement in agricultural and food systems, both as a successful minister of agriculture (Rwanda) and as the leader of AGRA.
In both these roles and many others, she has led the development of strategies enabling farmers to adapt to the vagaries of climate change and mitigating further damage.  
Her contribution to finding global solutions to end hunger has seen her win numerous awards and international recognition, including the prestigious Africa Food Prize, an honourary doctorate from the University of Liège, and the National Academy of Sciences' Public Welfare Medal, amongst many others.


Source link
Promote dialogue and synergies for trade transformation – GEPA
Countries within the West African Region have been entreated to promote dialogue and synergies among each other to ensure trade transformation.
According to the Chief Executive Officer for the Ghana Export Promotion Authority (GEPA), Dr. Afua Asabea Asare, this will aid in increasing access to regional and international markets and create better linkages among selected value chain actors.
Speaking at the second Annual General Meeting of the Economic Community of West African States' (ECOWAS) Trade Promotion Organisation Network she urged countries within the region to play a pivotal roles to benefit from the African Continental Free Trade Area.
Dr. Asabea Asare further urged member-states to work collectively to achieve such feat and promote trade within the sub region.
"We think that with the existing blocs like ECOWAS, if we are to make a little effort to make trading easy in our small corner it will be very easy for us. We need to work together and strengthen our trading activities to take advantage of the African Continental Free Trade Area" She said.
President for the Trade Promotion Organization Network, Dr. Ezra Yakusak, said in the quest for the region to take advantage of the African Continental Free Trade Area, the organisation will embark on sensitisation programmes for trades and other exporters within the region.
"We are going to achieve this by a sensitisation programme and organise other advocacy programmes and capacity building programmes for both exporters and other associations. The AfCFTA is set up for Africans and there is the need for us to take it seriously", he said.
The Trade Promotion Organisations Network is set to improve the regional value chain and transform economies in West Africa through trade activities.
The ECOWAS Trade Promotion Organisation (TPO) Network is a public-sector led entity and will work in partnership with the ECOWAS commission to drive inclusive trade development initiatives within West Africa and beyond.


Source link