'Don't risk your lives; use our approved means of evacuation'
Government is advising Ghanaian nationals in Ukraine not to circumvent the official procedures of evacuation.
Any other means of repatriation by unknown entities, according to the government, could be risky.
The caution came after the arrival of over 50 Ghanaians, most of whom are students, from Romania, as part of government's evacuation drive due to the unrest in Ukraine.
Speaking to journalists, government's spokesperson on governance and security, Mr. Palgrave Boakye-Danquah, announced government's plans of evacuating over 350 students by the end of the week.
"Continuously, government is working with the Ukrainian authorities to ensure the evacuation of Ghanaian students. I want to encourage all Ghanaian students to make sure they go through the right process of evacuation. There are people evacuating independent students and that puts them at risk. So they should go through the right process the government of Ghana has put in place from them", Mr. Boakye-Dankwah said.
"This morning, we have received 50 students from Romania, which puts our numbers to 150 plus students. By the end of this week, we can account for about 350  Ghanaians that would have arrived in the country."
Speaking on behalf of the students, Peter Akwasi Sarpong says they cannot be happy until every Ghanaian student is successfully evacuated from Ukraine by the government.
"We are not happy yet, so until we get every single Ghanaian out of Ukraine, we cannot celebrate. We just want to use the opportunity to appeal that every diplomatic string that can be pulled should be pulled to get our colleagues still stuck".
The Ministry of Foreign Affairs and Regional Integration has revealed that some of the Ghanaian students studying in Ukraine have refused to be evacuated to Ghana, though government provided them with plane tickets.
The students are unwilling to come home and have opted to stay in Poland and other countries.
With the closure of Ukraine's airspace, the options available to Ghanaians have been countries such as Moldova, Poland, Romania, Slovakia, Hungary, and the Czech Republic.
But the government has expressed its willingness to evacuate all Ghanaian citizens in a coordinated manner.
We won't be responsible for Ghanaian nationals declining evacuation – Gov't
Meanwhile, government says it will not be responsible for Ghanaian nationals turning down evacuation from Ukraine to Ghana.
The Ministry, in a statement, said "the government will only evacuate Ghanaian nationals who are willing to avail themselves for the evacuation exercise."
In a meeting with relatives of Ghanaian nationals in Ukraine, Minister of Foreign Affairs and Regional Integration, Shirley Ayorkor-Botchwey thus urged relatives of Ghanaians in and around Ukraine "to encourage them to take advantage of this evacuation exercise to return to Ghana."


Source link
Blac Chyna gets baptized on birthday as she gives life to Christ
– Advertisement –

Angela Renée, also known as Blac Chyna, says she is a born again Christian as she is baptised on her birthday.
The mother of two has turned a new age and has declared that she is now a born again Christian.
Despite her current court problems, which include allegations that she assaulted a woman in a pub, the reality star is eager for a new start.
She published a video of her baptism on her verified Instagram profile, claiming she's now a born again Christian who plans to start over now that she's devoted her life to Christ.
Check out the video she shared below:
Angela Renée White known professionally as Blac Chyna is an American model and socialite.
She originally rose to prominence in 2010 as the stunt double for Nicki Minaj in the music video for the song "Monster" by Kanye West.


Source link
Man dumps girlfriend for not supporting Sarkodie, Sarkodie reacts
– Advertisement –

A Ghanaian man has stated his girlfriend's refusal to support rapper Sarkodie as his reason for breaking up with her.
As a staunch fan of Sarkodie, the gentleman could not accept the individual preferences of his girlfriend and had to part ways with her.
In a tweet which has got Sarkodie to react, Elikem wrote:
"Broke up with her because she does not support Sarkodie"
Meanwhile, commentators agreed with his decision as they hailed him for dumping his girlfriend who does not and would not support rapper Sarkodie.
Boakye wrote: My ex too hate Sark all bcos )y3 guy guy, I can't even think far.


Source link
Pictures of actor Wayoosi dressed like a lady causes massive stir
– Advertisement –

Award-winning Ghanaian Kumawood actor professionally known as Wayoosi; Has caused a massive stir on the local digital space with his fast trending pictures.
In this set of weird pictures, the veteran actor was fully dressed as a woman as he rocked a well-tailored "Kaba and slit".
As if his bizarre dressing wasn't enough, Wayoosi garnished his face with heavy makeup to make him appear more like a woman.
Wayoosi also topped up his feminine looks by wearing a wig to complete his overall look like a woman.
Although the picture was purposely taken to crack ribs but some Ghanaians have argued that it's a salient way to promote the infamous LGBTQ.
As suggested by some social media users, dressing like a woman is a big NO-NO for a person of Wayoozi's calibre because he's a celebrity and some members of the LGBTQ community can boastfully say that he's part of them.
Take a look at the picture below to know more…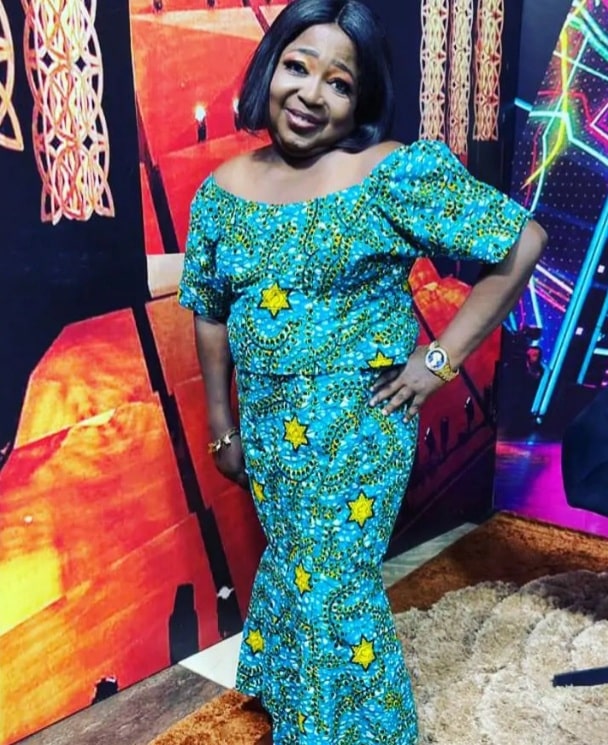 Hopefully, Wayoosi will address these 'trumu trumu' allegations very soon before it stains his hard-earned reputation.


Source link