ThinkStories Africa names Global Reputation & Sustainability Leader Ricardo Adame as speaker for April event
ThinkStories Africa, a knowledge sharing, networking, and skills improvement platform for professional communicators across Africa, has announced global reputation and sustainability leader Ricardo Adame as the speaker for its 2022 first-quarter event.
The event is scheduled to take place virtually on
April 1, 2022.
Ricardo Adame, who is a C-Suite Reputation and Communications Senior Advisor will be speaking on the theme; Strengthening Business Reputation and Trustworthiness: Why Sustainability Storytelling Matters
With several years of experience in business leadership and communication across various global organizations including Microsoft and Newmont, Ricardo Adame will share with participants time-tested storytelling strategies to position their organizations as responsible corporate citizens.
Previous ThinkStories webinars have featured the Executive Director at Fortune Media Group, David Lennon and renowned media scholar and father of transmedia storytelling Prof. Henry Jekins from the University of Southern California .
The sessions have brought together over 320 Communications Professionals from across Africa including Cameroon, Côte D'Ivoire, South Africa, Kenya, Zimbabwe and Nigeria.
About ThinkStories
ThinkStories is a knowledge sharing, networking, and skills improvement platform for African communicators.
Founded by Samuel Osei, a Storyteller and Communications professional based in Ghana, West Africa, ThinkStories seeks to foreground the continent's multiplex narrative by promoting the art of storytelling and broadening the conversation on how to build and influence global brands.


Source link
Photos of Sir John's first son pops up plus the properties Willed to him
– Advertisement –

Late NPP firebrand and Ghana Forestry Commission head, Kwadwo Owusu Afriyie; popularly, known as 'Sir John' has been trending on the internet since morning after an exclusive copy of his Will managed to land on the internet.
READ ALSO: Achimota Forest lands, gold and oil businesses in Sir John's will goes viral
In his will, Sir John a gave parcels of his lands in the Achimota Forest Reserve and other valuable assets to some of his relatives, as well as his biological children.
One of the people who massively gained a lot from Sir John's Will is his first son named Yaw Amoateng Afriyie.
Yaw Amoateng Afriyie is the current Acting Deputy Chief Executive Officer of the Ghana Investment Promotion Centre (GIPC).
Citing from the Will, he received 1 acre of land at Achimota Forest which has caused a public outcry because the forest is for the state.
He also got a Mansion at Ogbojo and one at East Legon and an extra 3 bedroom house at East Legon.
READ ALSO: 'Who's Michael Owusu?" – Ghanaians search for Sir John's nephew in his Will
Take a look at the documents below to know more…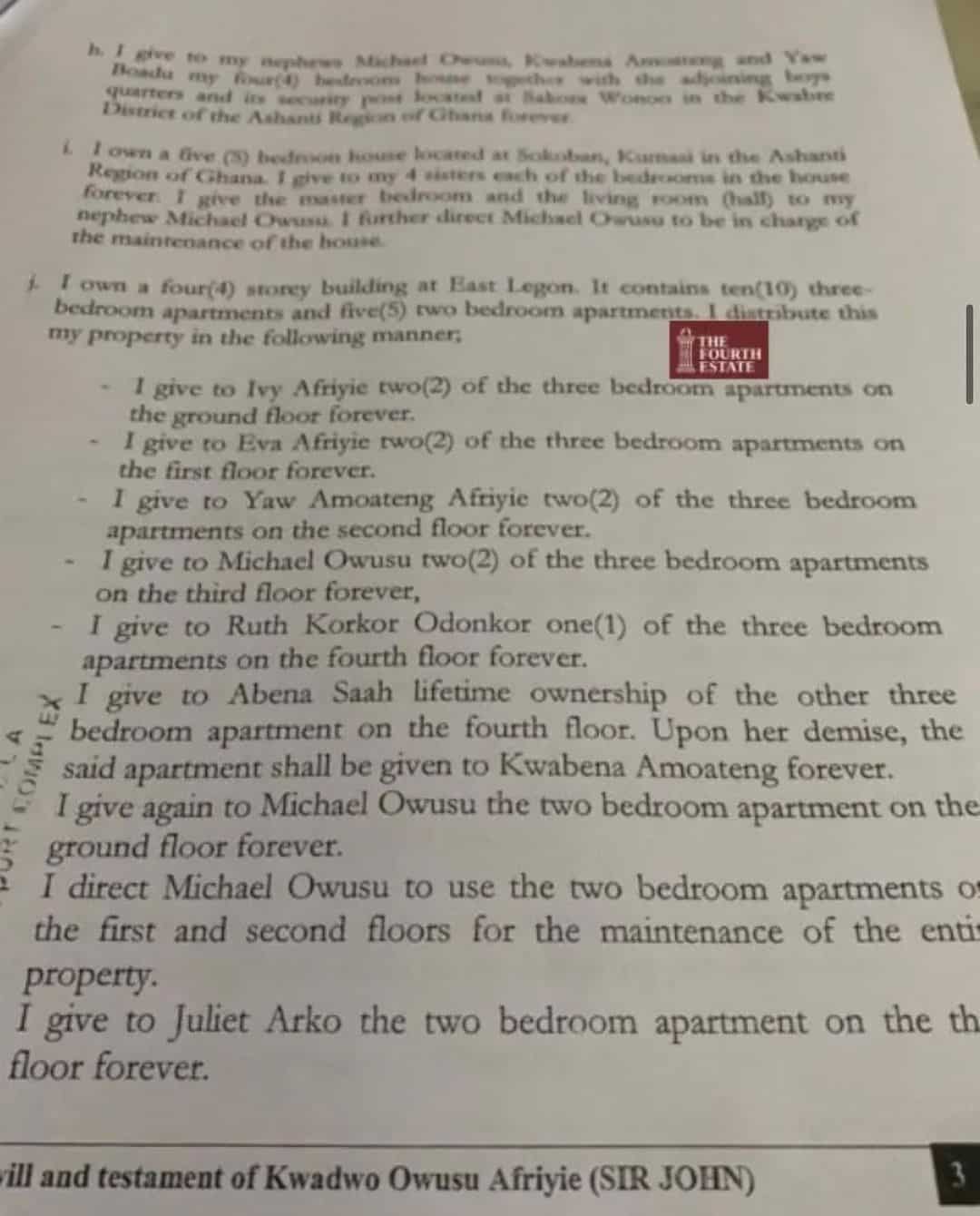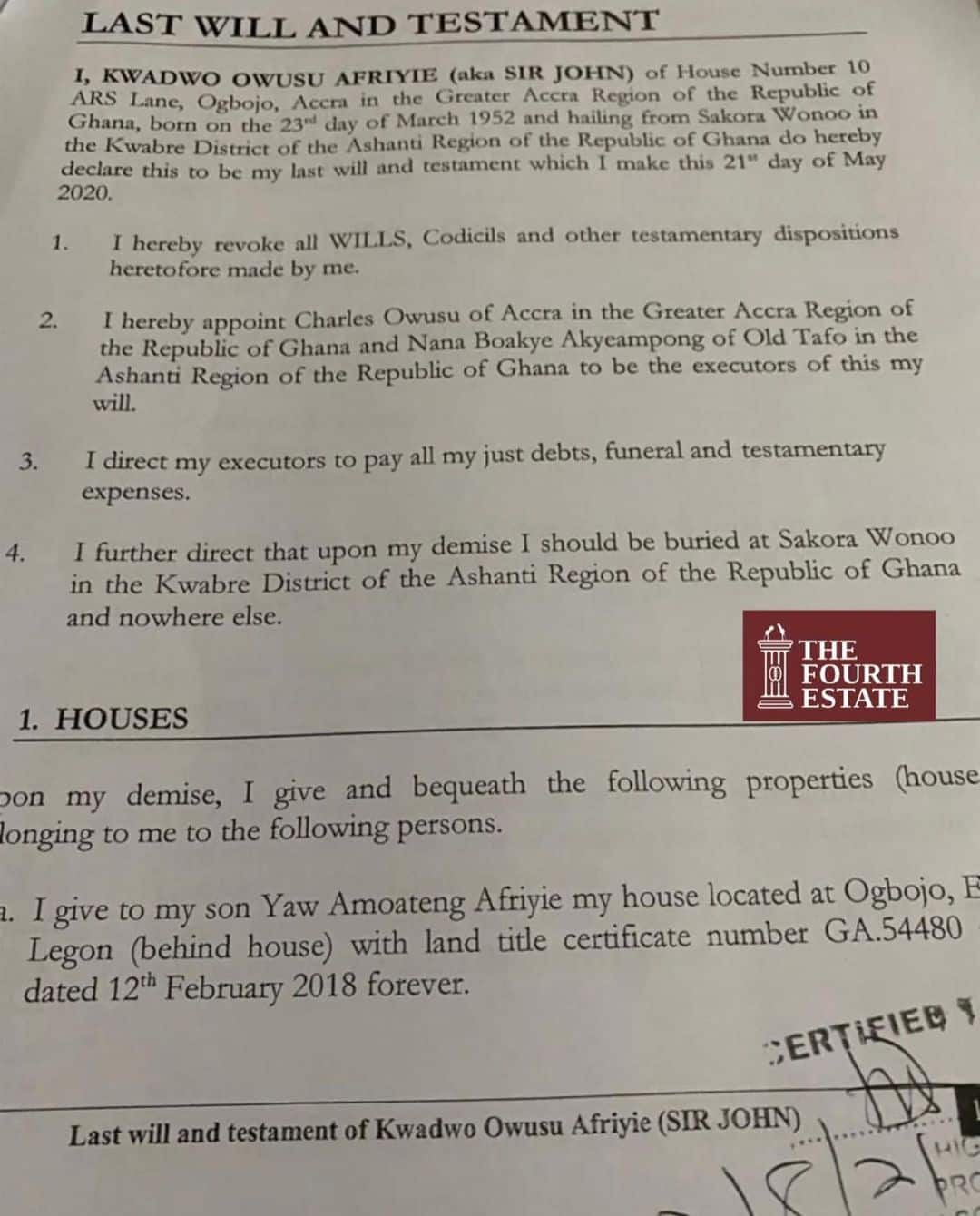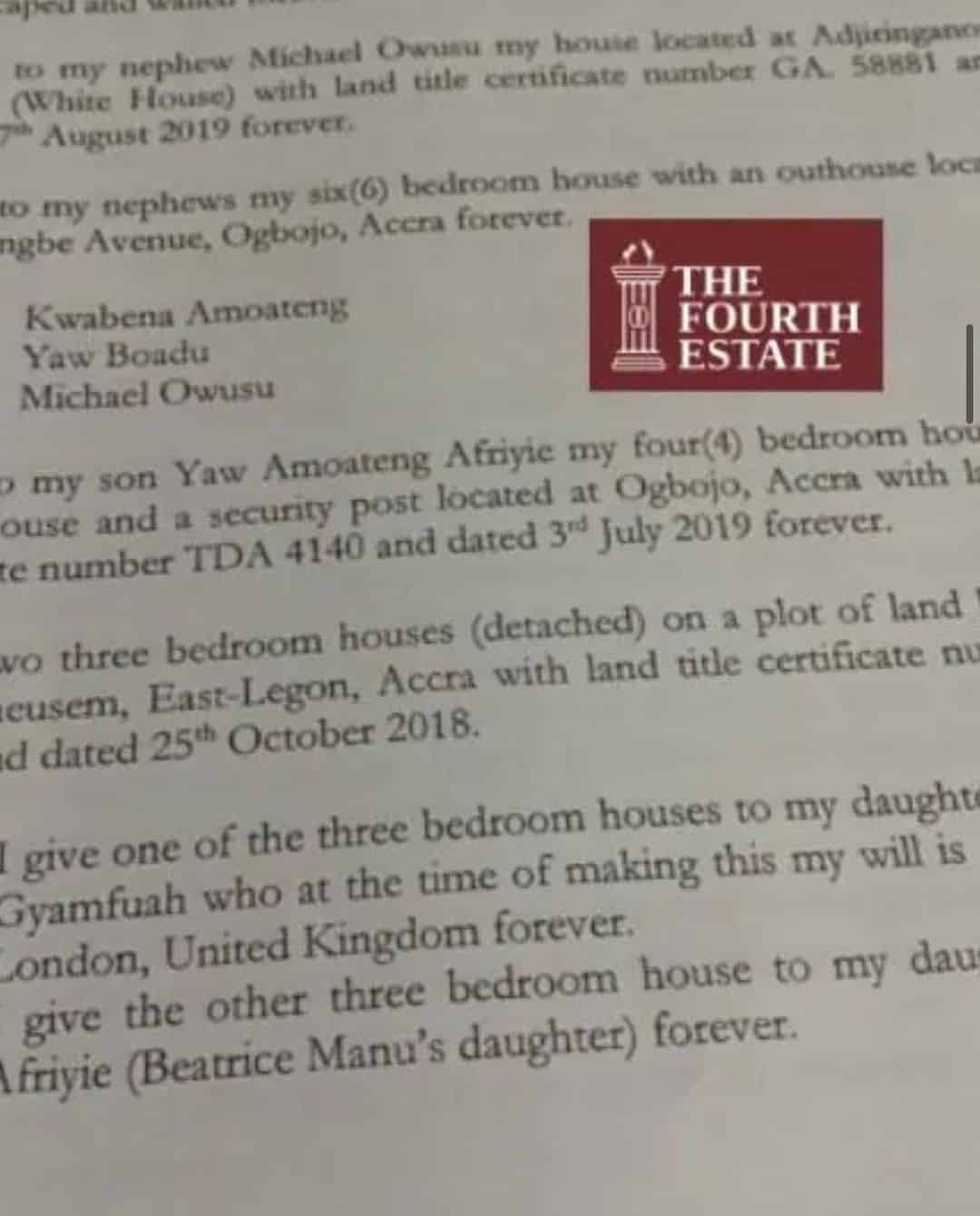 Meanwhile, the Ministry of Lands and Natural Resources has indicated it will investigate a document making rounds on social media alleging that late former Forestry Commission Chief Executive, Kwadwo Owusu Afriyie, popularly called Sir John, included portions of the Achimota forest lands in his will.
The purported will, which was been publish by investigative journalist Manasseh Azure Awuni's Fourth Estate, contains four parcels of specified and unspecified acres of land in the Achimota Forest, which the late politician bequeathed to named persons.


Source link
Awal Muhammad Mustapha: World Youngest Billionaire
– Advertisement –

Awal Muhammad Mustapha, a Nigerian teen, has been dubbed the "World's Youngest Billionaire" and owns enough supercars and a mansion to prove it.
Ismail Mustapha, often known as Mompha, is the son of a controversial millionaire and has been named the youngest billionaire by The Sun in the United Kingdom.
Awal Muhammad Mustapha, Mompha's son, has been dubbed the "World's Youngest Billionaire," having purchased his first property at the age of six and travelling the world via private aircraft.
This came out during his father's money laundering and fraud lawsuit with the Economic and Financial Crimes Commission (EFCC).
The Nigerian billionaire is currently facing modified 22-count allegations, including money laundering and N32.9 billion in computer fraud.
"The pint-sized pre-teen influencer – real name Muhammed Awal Mustapha – shows off his blingtastic lifestyle to his 25,000 Instagram followers," according to The Sun.
One photo shows him standing on the hood of a cream Bentley Flying Spur, which he claims his father purchased for him as his first automobile.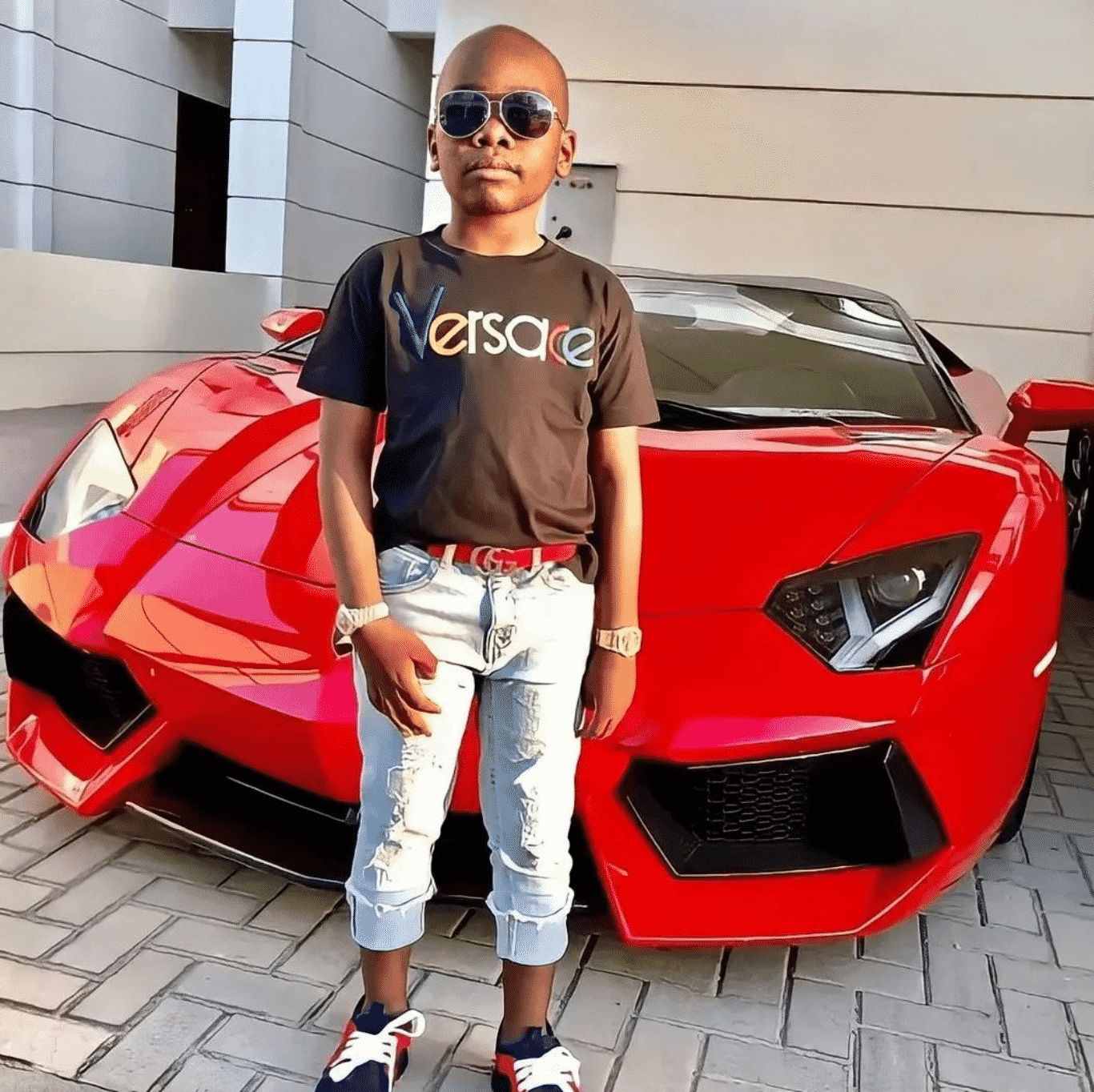 In another, he poses in front of a scarlet Lamborghini Aventador wearing fancy clothing from head to toe.
"Happy birthday to me," he wrote in the caption. Outside one of his huge luxury residences in Dubai, more showy automobiles can be seen, including a yellow Ferrari.
Muhammed is the son of Ismailia Mustapha, a multimillionaire Nigerian internet personality known as Mompha.
Read Also: Top 20 Richest Musicians In Africa 2022 And Their Net Worth
Mompha senior has the same high-end tastes as his son and is well-known for his lavish spending and A-list lifestyle.
 He travels back and forth between Lagos and the United Arab Emirates, sharing photos with his over a million Instagram followers.
In photos, he can be seen carrying wads of cash, staying in seven-star hotels, and driving hypercars. In 2019, he gave Mompha Jr his first mansion for his sixth birthday.
"Owning your own home is one of the nicest emotions ever," he reportedly wrote at the time. It can't be expressed in words, and it can't be measured in dollars.
RELATED: Richest Ghanaian Musicians And Their Estimated Net Worths 2022
Homeownership is a rewarding experience that makes the daily effort worthwhile. It reassures you that you have somewhere to go after all the ups and downs….
A place where you will never be judged and will always be welcomed with open arms… Congratulations on your new home, My Son.
Daddy's birthday present to you. Mompha Jr.'s accomplishments, according to his proud father, should be acknowledged in their own right.
"The youngest landlord who wears Gucci and still has a house," he wrote on Instagram. He is deserving of praise because he has paid his dues in full."


Source link
Lands Commission breaks silence on Sir John's Achimota forest land
– Advertisement –

The Lands Commission has said there are no records to show that the late Chief Executive of the Forestry Commission, Kwadwo Owusu Afriyie, owned lands in the Achimota forest.
According to the Lands Commission, there are no records indicating that the late Chief Executive of the Forestry Commission, Kwadwo Owusu Afriyie, possessed lands in the Achimota forest.
Speaking to the media on Monday, the Executive Secretary of the Lands Commission, James Dadson, said:
"There is nothing in our records concerning that. What you read is what I have read. We don't have anything recorded here for Sir John as far as our records are concerned."
It follows a public outcry over the publication of Sir John's last will, in which he distributed the lands to his relatives and loved ones, among other enormous sums of money.
Meanwhile, flooding has ruined hundreds of documents, laptops, and scanners at the Lands Commission's Head Office in Cantonments, Accra.
After Saturday night's downpour, the basement of the new building was extensively flooded, flooding the Records Room, Files Room, and I.T. Unit, which are all located in the basement.
Read more on the Sir John issues HERE…


Source link