Absa Group 2021 earnings increase on lower impairments, higher pre-prevision profit
Absa Group headline earnings more than doubled to R18.6 billion in 2021 (R8 billion in 2020), well in excess of 2019 earnings, as pre-provision profit increased and as the impairments charge reduced substantially.
The improvement in part reflects a stronger than expected economic recovery in South Africa, where Absa generates most of its income. South Africa's gross domestic product improved from a low base in 2020 and showed improving momentum for most of the year. All of the countries in which Absa has a presence look to have returned to positive economic growth during 2021.
"This is a strong set of results which reflect the benefit of, not only the improved operating environment in 2021, but also the deliberate actions that we have taken to ensure that Absa remains resilient and poised to resume our growth plans in a favourable environment," said Jason Quinn, Absa Interim Group Chief Executive. "Our purpose-led approach to supporting our clients and communities defined our success in a tough environment while also creating value for shareholders," he said.
Revenue growth remained resilient at 6%, or 8% in constant currency, supported by strong growth in net interest income (up 9%). Non-interest income was in line with 2020 levels, as the negative impact of Covid-19-related claims in the insurance business eroded the benefit of strong income increases in areas including Global Markets.
Solid revenue growth and cost management helped to deliver positive pre-provision profit growth over the past two years.
Absa continues to make material investments in information technology (IT), where costs increased by 19% to R4.9 billion as Absa sought to build on the gains made during the past three years in improving system reliability and stability for customers, and to strengthen security and controls. Impairment charges were significantly lower than in the prior year as fewer customers defaulted on loans and the outlook for defaults improved on the back of improved macro-economic conditions.
Customer deposits grew 12%, supported by strong performance in the retail and business banking and corporate deposit portfolios and the closure of the Absa Money Market Fund, with a significant portion of those customers electing to migrate to Absa deposit products. Growth in gross customer advances at 7% was supported by strong growth in secured assets in South Africa, where home loans increased 9% and vehicle asset finance rose 10% as Absa continued to gain market share in these areas.
"We have come through the crisis in a strong position, having focused on managing operating leverage, building balance sheet resilience and preserving capital," said Punki Modise, Absa Interim Group Financial Director. "These actions and our financial performance resulted in a return on equity that exceeds our cost of equity, years ahead of expectation," she said.
Return on equity improved to 15.8% in 2021, while Absa Group's Common Equity Tier 1 (CET1) ratio was strong at 12.8%. At this level, Absa's capital reserves are above the Board target level and above the minimum regulatory capital requirement level.
Retail and Business Banking (RBB)
RBB earnings more than doubled as significantly lower impairment charges were partially offset by a 3%
contraction in pre-provision profit, reflecting the impact of higher excess mortality claims in the life insurance business, customer fee cuts of R600 million to alleviate strain on customers, and increased
performance costs. RBB operations outside of South Africa contributed to the improved performance and returned to profitability in 2021.
Since the start of the Covid-19 pandemic, RBB has focused on being close to customers and responding proactively and empathetically with initiatives to support them. This approach continued in 2021 as customers were supported through lockdowns and civil unrest with bespoke relief measures including debt restructuring, debt consolidation and assisted asset realisation.
In 2021, the focus shifted from mitigating the financial consequences of the Covid-19 pandemic to growing the business in a sustainable and selective manner through dynamic execution of the strategic transformation journey launched in 2018. The customer franchise strengthened as reflected in key performance indicators in South Africa, including:
a 49% increase in home loan registrations
vehicle asset finance production increasing 24%
new personal loans increasing 40% in South Africa
cheque account sales increasing by 73%, which is 24% higher than 2019 levels
RBB SA is in the second phase of its 2018 strategy, focusing on smart growth. Its main priorities include improving customer primacy, making progress with digitisation and growing capital-light revenues, including in our integrated bancassurance operations.
In 2021, RBB revamped key capabilities within the customer relationship matrix, including the launch of a behavioural rewards programme – Absa Advantage – which, as a data-driven customer communication approach, has improved the understanding of customer preferences and therefore enhanced the ability to engage empathetically in all interactions.
Social media engagement with customers has been elevated across the business as evidenced by the improvements made in the 2021 BrandsEye Net Sentiment Banking Index where Absa came out on top after being the bottom ranked bank for a number of years.
Absa also remained at the forefront of digital payment innovation with the launch of Apple Pay in South Africa, as well as contactless payments with Garmin and FitBit wearables as well as the introduction of the universal QR scan to pay functionality in the Absa app in 2021.
Corporate and Investment Banking (CIB)
CIB headline earnings increased to levels higher than prior to the pandemic, with strong growth recorded across corporate banking and investment banking and across regions. Earnings performance was supported by income growth of 10% as the client franchise grew and primary-banked client numbers increased. Improved credit performance and a 78% drop in impairment charges further supported earnings.
All core business units delivered double digit revenue growth in constant currency, with strong performance from Markets despite the high base. A 14% increase in Global Markets income was supported by solid franchise growth across both Corporate and Institutional client base.
Having completed the balance sheet led phase of its strategy and separation from Barclays, CIB is also successfully prioritising customer primacy, as well as deposit and non-interest revenue growth, carefully balancing growth and returns.
Absa made significant progress in building on existing environmental, social and governance (ESG) capabilities and in its aspiration to become an African leader in this space. Absa was the first South African bank to announce sustainable finance targets with the aim to finance or arrange over R100 billion for ESG-related projects by 2025. We also announced Africa's first certified green loan from the International Finance Corporation, with a value of $150 million.
An active force for good
Absa actively contributed to creating inclusive sustainable economic growth in Africa, investing close to R195 million in support of communities through various education and youth employability, advocacy and thought leadership, as well as COVID-19 and Civil Unrest response initiatives. These included, among others:
The launch of the Absa Fellowship Programme, which aims to support the development of authentic, accountable, and ethical future leaders with the potential to play a shaping role in their respective communities in Africa.
The Absa Cross Skilling programme, a collaboration with our CIB clients to cross-skill 238 young people after Covid-19-related job losses.
17,873 unemployed youth supported through technical, vocational and digital skills among others.
Absa invested in initiatives that promote fairness, equality and transparency across all our African markets. These included, among others, financial contributions and leadership support towards the Gender-Based Violence and Femicide Response Fund in South Africa.
Absa also contributed to initiatives in support of business relief for informal traders and micro- enterprises affected by Covid-19 and Civil Unrest in South Africa.
Looking ahead
The outlook for the global economy in 2022 is particularly uncertain. Events in Ukraine are acute, and sharp moves in commodity prices and potential interruptions to supply are likely to trigger significant re-assessments. Absa currently expects South Africa's economy to grow by 2.1% in 2022, returning to pre-Covid absolute GDP levels by the end of the year. In countries outside of South Africa, where Absa has a presence, GDP-weighted economic growth of 5.3% is expected.
Based on these assumptions, and excluding further major unforeseen political, macroeconomic or regulatory developments, Absa expects high single-digit revenue growth in 2022 and return on equity at similar levels to 2021.
"While the outlook for the global economy in 2022 is particularly uncertain, we feel positive about the strong base that we have built in the past few years and how this has positioned us to deliver on our strategic objectives," said Quinn. "We will pursue growth opportunities appropriate to the environment and shore up buffers as needed to ensure that the bank remains resilient."
Source:
Absa Group Limited


Source link
Rejected Juaben MCE nominee charged with 26 counts of election corruption
– Advertisement –

Suspended Juaben Municipal Chief Executive nominee, Alexander Kwabena Sarfo-Kantanka, has been charged with 26 counts of election-related corruption.
This follows a probe by the Special Prosecutor's office into a video that captured the New Patriotic Party's Juaben constituency Chairman accusing assembly members in Juaben of refusing to confirm his nomination as the Municipal Chief Executive despite allegedly bribing them.
In the video that went viral in November 2021, Mr Sarfo-Kantanka was seen raining insults and curses at the assembly members present.
Mr Sarfo-Kantanka had failed to secure the required number of votes to confirm him as the Chief Executive of the Juaben Municipal Assembly.
Out of the 26 total votes cast in the presence of the Ashanti Regional Minister, Simon Osei Mensah, the nominee secured 10 Yes votes as against 15 No votes with 1 rejected ballot.
The disappointment forced him to demand his money back from the assembly members.
Investigations by the Special Prosecutor's office revealed that Mr. Sarfo-Kantanka gifted the elected members of the Assembly GH¢5,000 each.
He is said to have also gifted the Government appointed members GHS2,500 each to influence their conduct in the performance of their duty as voters.
The election for the Municipal Chief Executive was held on September 29, 2021 and Mr. Sarfo-Kantanka failed to secure the required number of votes to confirm his contested position.
He also failed after being renominated for the same position by the President on October 12, 2021, and on November 1, 2021, and the accused again failed to secure the required number of votes.
The assembly currently has no chief executive, and its residents have made appeals to the central government.




Source link
Man dies while on a flight to US after coming to Ghana for funeral
– Advertisement –

Daniel Toffey was a gospel artist who died while on a flight from Accra to Washington after visiting Ghana to honour the funeral of his in-law and to meet his family.
According to Graphic Online, they left Accra on May 22, 2022, late Sunday night.
However, disaster struck onboard United 997 in the middle of the Atlantic when the young Daniel died of a pulmonary embolism.
[A pulmonary embolism (PE) is a blood clot that forms in one of the body's blood vessels (often in the leg). It then proceeds to a lung artery, where it restricts blood flow abruptly].
According to Dntghana, Daniel Junior died while his father Daniel Toffey Sr. watched helplessly from afar.
"He kept saying 'Daddy I can't breathe, Daddy I can't breathe,'" the senior Toffey narrated to DNT in an interview.
The sufferer was alleged to have attempted to rise up to use the restroom after sitting for a while when his movement got wobbly and he was soon gasping for oxygen.
"We need a doctor, we need a doctor," one young lady exclaimed. Suddenly, the elder father felt compelled to leap from his business class seat and run to the situation, despite the fact that the flight crew had asked everyone to remain seated.
Daniel Toffey Junior, who worships with PIWC in Columbus North, choked to death in flight despite having as many as seven doctors on board and tools with which those doctors were "impressed" for United Airlines to have aboard.
The flight left around 11 p.m. on Sunday from Kotoka International Airport and was due to arrive at Washington Dulles early the next day.
However, due to the sad incident, the aeroplane was rerouted to Bermuda, where all 178 passengers stayed at Grotto Bay Resort before continuing their journey to Washington.
The departed father was doing well despite the tragic loss, Jesse Lasuer, a business class neighbour, informed DNT. "You can just feel the sorrow in his eyes," Lasuer recalled, "even though he is holding up pretty great."
Daniel Toffey Sr. had travelled to Ghana with his wife and son, a Gospel Artist, to attend an in-funeral. law's The wife stayed behind, while the father and son drove to Pataskala, Ohio, a Columbus suburb.
Junior Toffey was set to release his CD on June 4 in Columbus, with Joe Mettle expected to attend.
Reacting one person who witnessed the incident wrote:
"I was on the flight and I witnessed everything fiilifili. Hmmmm! This world is full of uncertainties. We got stranded at the Bermuda Airport for almost fifteen hours before they got us a flight to Washington Dulles Airport last night. It was a harrowing experience. I have never experienced such a thing in my life. Terrible. Anyway, I pray for the soul of that young man."


Source link
Afia Schwarzenegger goes back to start her own radio show
– Advertisement –

Controversial presenter and self-acclaimed queen of comedy, Afia Schwarzenegger, has revived her Schwar online radio after being snubbed by Chairman Wontumi.
Weeks ago, the presenter was on Chairman Wontumi's newly established Wontumi FM where she had the opportunity to host a programme only for that day.
It was suspected that she was going to be one of the main presenters for the new station but things didn't go that way as Delay who happens to be her former boss was chosen over Afia Schwar.
Following this, she threw in her support for one other person who is contesting Chairman Wontumi for the position of the Ashanti Regional Chairman for the NPP.
Netizens including her former best friend Nana Tornado mocked and trolled her for not getting employed.
This we believed has angered Afia Schwarzenegger forcing her to revive her online radio which shut down after working for some few weeks.
In a post sighted on her social media handle, Afia announced that she is starting her own school on her online radio.
According to the post, the name of the programme is 'State of the Nation Address' and its set to commence of 1st June.
She posted: "She is back,stronger n wiser ,ready for to serve Ghana ..Your favourite political police will highlight some of the political challenges n corruption in the country…TELL A FRIEND TO TELL FRIEND. QUEEN SCHWAR IS BACK..staring 1st June 2022,7pm sharp"
See screenshot below: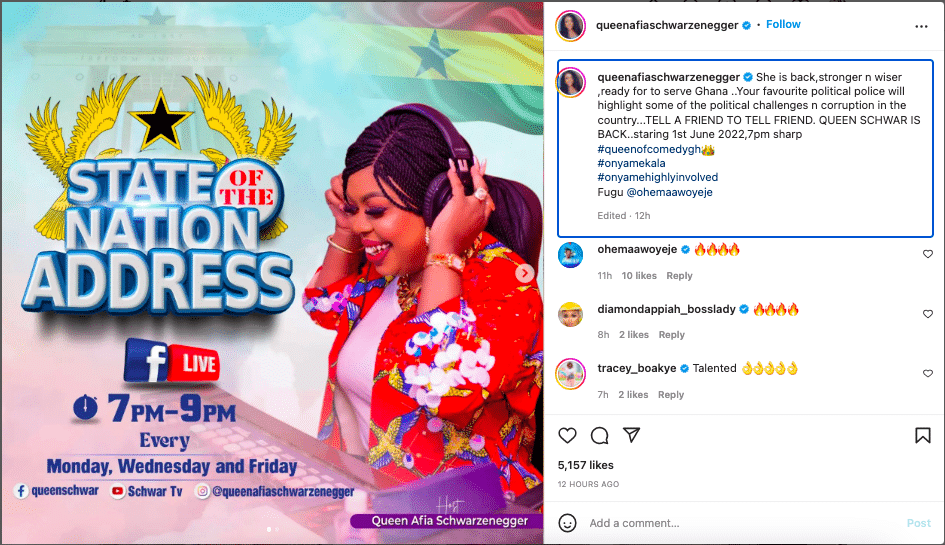 Wishing her all the best as she revives her career as a radio presenter.


Source link