NAGRAT takes on gov't for demanding rent from teachers occupying State bungalows
The President of the National Association of Graduate Teachers (NAGRAT), Angel Carbornu has strongly condemned the government's decision to deduct 10 percent of the salaries of teachers and staff of senior high schools occupying government bungalows.
Mr. Carbornu argued that the planned deduction is unfair to teachers, given the meagre salaries they receive for their services.
"The mistake we make here is that the accommodation condition rates are not the same and equal across the country. But when it comes to teachers specifically, we need to look at the details and understand the peculiarity of our job and look at the reasons teachers should not be charged for occupying the government bungalows."
"The teachers living in bungalows in the schools are performing teacher duties. It is these same teachers who take our sons and daughters to hospital, and in doing all these they teach the full complements of their subjects in class. No teacher is employed in the Ghana Education Service to become a housemaster. They are employed to teach subjects. So the house duties they perform are for free, so why do you ask them to pay for accommodation when they are offering these services for free?" Mr. Carbornu asked.
The Ghana Education Service had explained in a letter that the said 10% deduction forms part of government's efforts to streamline the anomalies with regard to the payment of rent for occupying schools or government bungalows.
"I wish to draw your attention to Ministry of Finance circular No. 133385/05/06NTR CAGD of May 15, 2006, which requires that occupants of government bungalows are expected to pay 10% of their salary as rent," the GES said in the statement.
However, Mr. Carbounu believes the move is needless, as the expected revenue from deductions will be minimal to support the government's programmes.
"How many teachers in this country are even in government bungalows. All the bungalows have been sold to private individuals. And how much will government gain from this? It is much ado about nothing."


Source link
Man dies while on a flight to US after coming to Ghana for funeral
– Advertisement –

Daniel Toffey was a gospel artist who died while on a flight from Accra to Washington after visiting Ghana to honour the funeral of his in-law and to meet his family.
According to Graphic Online, they left Accra on May 22, 2022, late Sunday night.
However, disaster struck onboard United 997 in the middle of the Atlantic when the young Daniel died of a pulmonary embolism.
[A pulmonary embolism (PE) is a blood clot that forms in one of the body's blood vessels (often in the leg). It then proceeds to a lung artery, where it restricts blood flow abruptly].
According to Dntghana, Daniel Junior died while his father Daniel Toffey Sr. watched helplessly from afar.
"He kept saying 'Daddy I can't breathe, Daddy I can't breathe,'" the senior Toffey narrated to DNT in an interview.
The sufferer was alleged to have attempted to rise up to use the restroom after sitting for a while when his movement got wobbly and he was soon gasping for oxygen.
"We need a doctor, we need a doctor," one young lady exclaimed. Suddenly, the elder father felt compelled to leap from his business class seat and run to the situation, despite the fact that the flight crew had asked everyone to remain seated.
Daniel Toffey Junior, who worships with PIWC in Columbus North, choked to death in flight despite having as many as seven doctors on board and tools with which those doctors were "impressed" for United Airlines to have aboard.
The flight left around 11 p.m. on Sunday from Kotoka International Airport and was due to arrive at Washington Dulles early the next day.
However, due to the sad incident, the aeroplane was rerouted to Bermuda, where all 178 passengers stayed at Grotto Bay Resort before continuing their journey to Washington.
The departed father was doing well despite the tragic loss, Jesse Lasuer, a business class neighbour, informed DNT. "You can just feel the sorrow in his eyes," Lasuer recalled, "even though he is holding up pretty great."
Daniel Toffey Sr. had travelled to Ghana with his wife and son, a Gospel Artist, to attend an in-funeral. law's The wife stayed behind, while the father and son drove to Pataskala, Ohio, a Columbus suburb.
Junior Toffey was set to release his CD on June 4 in Columbus, with Joe Mettle expected to attend.
Reacting one person who witnessed the incident wrote:
"I was on the flight and I witnessed everything fiilifili. Hmmmm! This world is full of uncertainties. We got stranded at the Bermuda Airport for almost fifteen hours before they got us a flight to Washington Dulles Airport last night. It was a harrowing experience. I have never experienced such a thing in my life. Terrible. Anyway, I pray for the soul of that young man."


Source link
Afia Schwarzenegger goes back to start her own radio show
– Advertisement –

Controversial presenter and self-acclaimed queen of comedy, Afia Schwarzenegger, has revived her Schwar online radio after being snubbed by Chairman Wontumi.
Weeks ago, the presenter was on Chairman Wontumi's newly established Wontumi FM where she had the opportunity to host a programme only for that day.
It was suspected that she was going to be one of the main presenters for the new station but things didn't go that way as Delay who happens to be her former boss was chosen over Afia Schwar.
Following this, she threw in her support for one other person who is contesting Chairman Wontumi for the position of the Ashanti Regional Chairman for the NPP.
Netizens including her former best friend Nana Tornado mocked and trolled her for not getting employed.
This we believed has angered Afia Schwarzenegger forcing her to revive her online radio which shut down after working for some few weeks.
In a post sighted on her social media handle, Afia announced that she is starting her own school on her online radio.
According to the post, the name of the programme is 'State of the Nation Address' and its set to commence of 1st June.
She posted: "She is back,stronger n wiser ,ready for to serve Ghana ..Your favourite political police will highlight some of the political challenges n corruption in the country…TELL A FRIEND TO TELL FRIEND. QUEEN SCHWAR IS BACK..staring 1st June 2022,7pm sharp"
See screenshot below: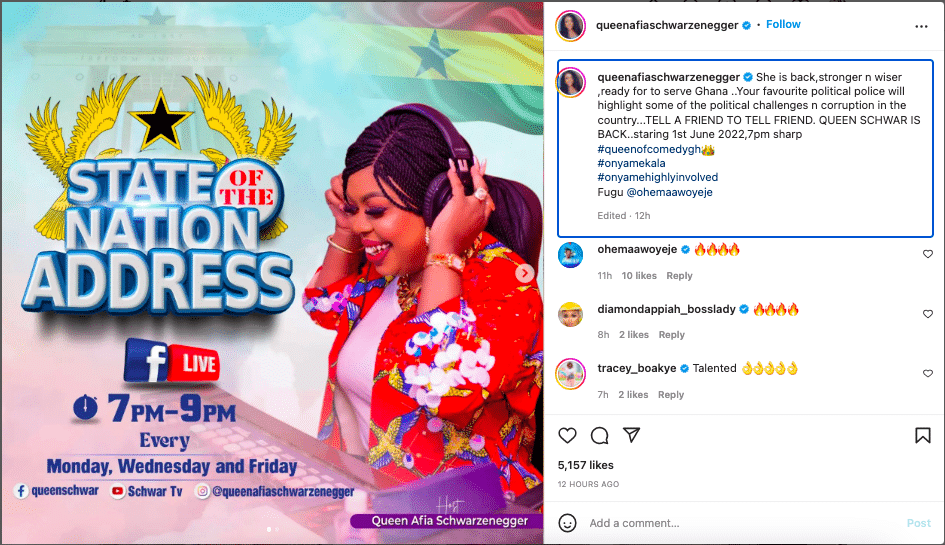 Wishing her all the best as she revives her career as a radio presenter.


Source link
Don't marry an ugly person – Bishop Ajagurajah advises (Video)
– Advertisement –

Bishop Kwabena Boakye Asiamah aka Ajagurajah has advised single people who are looking for partners to settle to go in for looks because it's very important.
According to the "Chopbar Pastor", marrying an ugly person will bring you problems because such people always play the victim card.
Speaking in an interview with Kwaku Manu, Bishop Ajagurajah advised single guys and ladies to marry beautiful spouses because it comes with peace.
He further added that there are a lot of nice-looking and sensible young guys and ladies around hence bachelors and spinsters should search for such people.
Meanwhile, we have been told since Adam that character is the first thing we should look for, in the person we want to marry. Looks and other things are all considered secondary matters.


Source link