Stephen Appiah: I have never slept with Abena Korkor
The said post, which has since gone viral, is said to have been made by Abena Korkor on Twitter before her account was taken down.
"Fuck them being peoples' husbands I am also a person. As I said, I am @doing as I wish like they did," the post read.
"They can continue the suit. You know very well I don't keep sexual secrets then u come my garden. @Asamoahgyan and @Stephen Appiah step up your game."
However, reacting to this, Appiah said the contents of the publication are false, insisting he has never had an amorous relationship with Abena Korkor.
In a strong-worded statement, the former Juventus and Fenerbahce midfielder said the only time he crossed path with the mental health advocate was at a public event.
"My attention has been drawn to viral publications on social media suggesting that I have had an amorous relationship with one Miss Abena Korkor," the statement said.
"The said publications are not only false, baseless and unfounded, but they are also mischievous and fanciful conjectures of the said author."
It added: "Let me place on record that I have never encountered the said author in any special way other than at a few open and public events where she sought my permission to take photos with me.
"I entreat my family, friends and well-wishers to disregard the offensive and provocative publications, and treat it with the contempt that it deserves."
Abena Korkor has been stirring controversy ever since it emerged that she was bipolar, having accused several celebrities of sleeping with her.


Source link
Club owner storms pitch to choose player to take 96th-minute penalty; he misses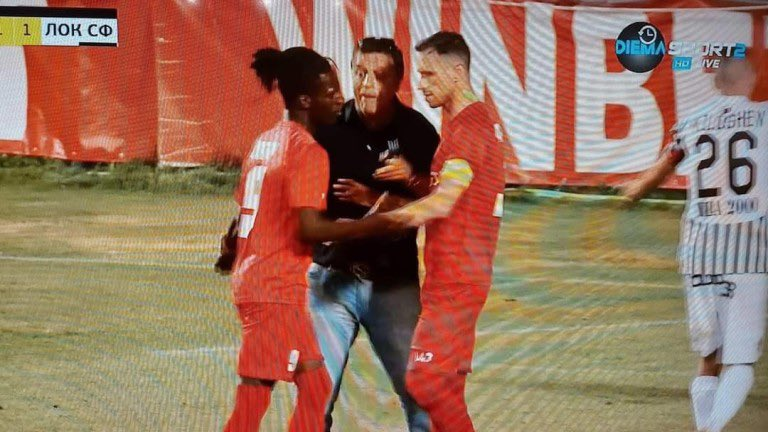 Lokomotiv Sofia took a first-half lead through Frane Cirjak, but the home side restored parity in the 73rd minute when Andrey Yordanov scored from a brilliant finish.
The game looked destined to end in a draw until Tsarsko Selo were awarded a 96th-minute penalty and an opportunity to save their topflight status.
Yusupha Yaffa picked the ball to take the penalty but the club's owner, Stoyne Manolov, quickly moved on to the pitch to take the ball from him.
In a video that has gone viral on social media, the club's owner is seen having a heated exchange with Yaffa and pushing him off the pitch.
The pair continued their disagreement until the match official intervened to ensure Manolov was walked off the pitch.
Manolov then insisted that the club's regular penalty taker, Martin Kavdanski, took the kick and was granted his wish.
Unfortunately, though, Kavdanski couldn't convert from 12 yards as his weak effort was saved, condemning Tsarsko Selo to relegation.


Source link
Black Stars coaches hold meeting in London ahead of 2023 AFCON qualifiers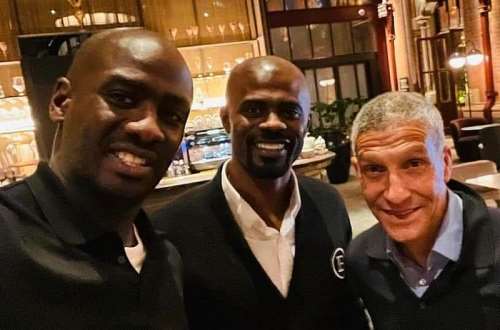 However, the four-time African champions will begin the qualification series in June, with two games to be played.
The Black Stars will host Madagascar at the Cape Coast Stadium on June 1, before taking on CAR four days later.
Ahead of the two games, Ghana's interim head coach Addo, technical director Chris Hughton and assistant coach George Boateng converged in England.
It is believed that the trio discussed squad selection and other matters relating to the upcoming crucial matches against Madagascar and CAR.
After the AFCON qualifiers, Ghana will immediately begin its preparation for the 2022 World Cup with a four-nation tournament that includes Japan, Chile and Tunisia.
Dubbed the 2022 Kirin Super Cup, the tournament will be hosted by Japan from Friday, June 10, 2022 to Tuesday, June 14, 2022.
A statement from the Ghana Football Association (GFA) in April said the Black Stars will face hosts Japan in their opening game while Tunisia also takes on Chile.
The winners of both matches will then clash in the final four days later, with the losers also facing off for the third and fourth places.
Ghana qualified for the World Cup in March following a 1-1 aggregate scoreline against rivals Nigeria in a two-legged playoff in March.
The Black Stars drew goalless with the Super Eagles in Kumasi before securing a 1-1 draw far away in Abuja to qualify on away goals.
Otto Addo's side has since been paired in a tricky Group H of the World Cup, alongside Portugal, Uruguay and South Korea.


Source link
Pappy Kojo warns UTV not to play his music again as he calls out Kwame A Plus
The 'Towel' singer who is signed on to Off Da Ground record label owned by Fuse ODG appeared on the last weekend's episode of United Showbiz. She, however, had a confrontation with A Plus during the live broadcast.
Reacting to the encounter, Rapper Pappy Kojo took to his Twitter page to call out A Plus. "Ah but isn't Feli an Ewe? Feli ankasa she be humble, like by now A Plus turn kitiw fast fast," read his tweet dated May 23.
Commenting on allegations Kwame levelled against Fuse ODG for standing with his signee, Feli, the 'Koobi' rapper shared another tweet where he wrote, "LMAOOO A Plus say Fuse ein goat achievement be buying a house for East Legon but A Plus woegyim anaa, kwasia no be @utvghana u end up on after your failed music career bele fuck old boy, dont let me catch u buoyyyy."
Pappy Kojo also extended his rage to the local television for providing a platform for the musician cum politician to disrespect and carry his attacks on personalities, especially women.
"Yo @utvghana if you don't know & you play any Pappy Kojo music on your yawa station you go feel me waaaa gbemi station," in a separate tweet he added, "Unfollow me now @utvghana."
In a separate tweet, he wrote: "A Plus cant rap cant dress & cant also respect women, he only respects women GH think have money like Yvonne, how can u be old & ignorant. Fuck UTV & anyone who watches UTV."
Reacting to their encounter, Fuse ODG shared a tweet to say that "this #UnitedShowbiz panel interview with @FeliNuna has displayed how dangerous the creative industry space is for women in Ghana. A man should have the right to want to have sex with the woman if the woman needs their investment? Proud of Feli for standing up & #IStandWithFeli".
A Plus in response decided to jab Fuse ODG. He took to social media to say that "@fuseodg your greatest achievement as a musician was to buy a house at East Legon and teach young boys and girls how to do drugs. I came to your house and all I saw was young boys and girls doing drugs.
"It was sad how young girls who wanted to be stars were being laid from room to room. Some of these girls looked underage. Do you know why police used to come around there? I felt sad for the young people, especially the girls. So you know what I did? Ask police commander Asare formerly of East Legon police station. I told him to keep an eagle 👁 eye on you," he added.
A Plus further concluded that "I see you on the same level with Jeffrey Epstein. An amature R Kelly pretending to be supporting young girls? Bring yourself!! I'll bite your cl!t*r!s hard!!! Cl*t? 🤷‍♂️ Abi you be p**sy!!!"


Source link