Easing of border restrictions : GHS outlines measures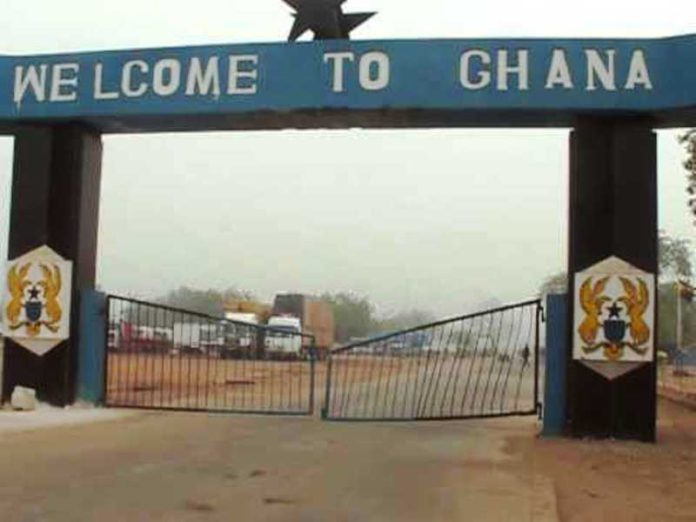 The Director of Public Health at the Ghana Health Service (GHS), Dr Franklin Asiedu-Bekoe, has outlined measures to be put in place if government eases restrictions at the land borders.
This follows a revelation by Information Minister, Kojo Oppong Nkrumah, in a Tweet, on Thursday, that government is working towards easing restrictions at the country's land borders.
Government in 2020, upon the outbreak of the COVID-19 pandemic, closed the country's land borders to prevent the spread of the coronavirus. The land borders have since not been opened for trading activities and travel purposes.
According to Dr. Asiedu-Bekoe, Covid-19 statistics have decreased significantly since the restriction was imposed.
"This is the best data we have had for the past two years. But we've been somehow close to this era before whereby we have very low figures and then we have the advent of variants and there is a surge. The only difference is that we now have vaccines.
"Now, as I speak to you, about 25 percent of Ghanaians are fully vaccinated, so there is a level of protection. I think it's quite right if the government tries to do the easing whiles we try to monitor," he said.
Speaking on JoyNews' The Pulse on Friday, Dr. Asiedu-Bekoe stated that, he does not oppose the idea of loosening border restrictions but advised the government to proceed with caution.
He also suggested that prior to easing the restrictions, there should be a requirement for persons desirous of crossing the border into Ghana, to be vaccinated.
Again, he noted that "there should be vaccination guards at the borders, adding that the Immigration team should be tasked with the responsibility of inspecting vaccination cards.
"Unlike the airport that we are testing, we are going to be looking at the possession of vaccination cards, and that is what we think that it will be a game-changer if we need to open the borders."


Source link
Nana Agradaa replies critics who slammed her for charging church members 300 cedis
– Advertisement –

Evangelist Patricia Asiedu formerly known as Nana Agradaa has hit back at critics who chastised her for charging her church members 300 cedis each.
The self-acclaimed Evangelist indicated that it is her church and has every right to take any decision she desires.
In justifying why she is charging her church members 300 cedis, she explained that her church is an expensive ministry hence her decision to take such action.
Nana Agradaa further stated that she will soon increase the membership card to 500 cedis as she will not give any attention to her critics.
"It is my church and I can decide what to do with it, I don't give a damn about what anyone says. When you register with 300 cedis as a church member, your problem becomes my problem.
I don't mind if only 10 people register as church members. My ministry is an expensive one which is why I charge and I will soon increase it to 500 cedis", Nana Agradaa asserted.
ALSO READ: Nana Agradaa busted for charging her church members 300 cedis each (Video)
Watch the video below;
This comes after a Nana Agradaa was seen in a viral video telling her congregation to purchase membership forms in order to be valid church members.
According to her, the membership forms which cost 300 cedis is compulsory for all her church members.
Nana Agradaa came under heavy criticism as Ghanaians believe this is just her new scheme of frauding her church members.




Source link
I speak English that brings money – Chairman Wontumi
– Advertisement –

Bernard Antwi-Bosiako, popularly known as Chairman Wontumi, has debunked assertions that he struggles to express himself in the English language.
Despite attending Prempeh College and studying General Arts in Secondary School, the politician grapples to communicate eloquently in the Queen's language.
However, he says he is confident about his proficiency given that he is able to communicate adequately whenever he transacts business.
"…We go to school to make friends and also to have information that will help us in future," Mr Boasiako said in an interview on the Delay Show which was aired at the weekend.
I don't speak useless English, I speak English that would bring in money that would make my workers comfortable and expand my companies, he said.
Wontumi further disclosed that the student who used to top his General Arts class was now a police officer [working for the state to pay him] while he (Wontumi) was in business [working, paying himself].
The buisnessman indicated that he had lived in London for years, thus speaking English was not a problem but he ensures that he only focuses on the expresses himself in places that would be profitable to him.


Source link
– Advertisement –

Nollywood actress Mercy Johnson has cried out about recent bad happenings in her life that have brought her wanton pain and anguish.
Her tears and online wailing come on the back of recent unauthorized education recorded on her bank account.
The mother of four vented her unhappiness in what appeared to be a funny post, adding that she wanted to bury her money in the dirt because her N50 was deducted.
She also issued a comedic plea to her admirers for help excavating the dirt with a shovel.
She stated:
"I say make I update una say dem don commot #50 naira from my acc again. Meaning say dem no send my papa as nor be him open bank for dem. Abeg who get shovel? Make I withdraw my balance put for hole"."
I am going to dig a hole To bury my money AC bank wan kill me with deductions #50 naira now now again".
Read more on Mercy Johnson HERE…


Source link