Restrictions at land borders to be eased soon – Oppong Nkrumah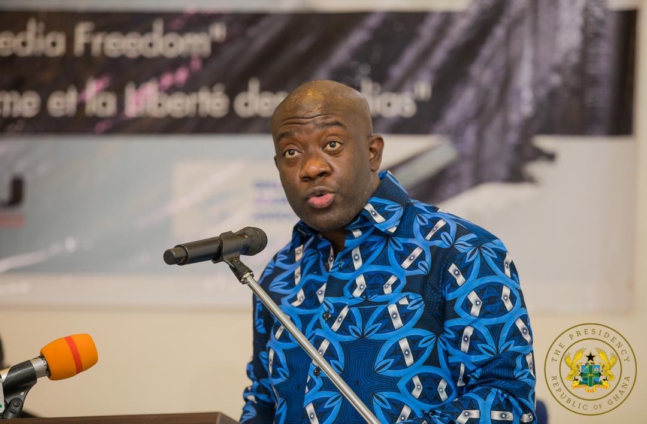 Information Minister, Kojo Oppong Nkrumah, has said government is working towards easing COVID-19 restrictions at the country's land borders.
Government in 2020, following the outbreak of the pandemic, closed the country's land borders to prevent the spread of the coronavirus in the country. The land borders have since not been opened for trading activities and travel purposes.
The Information Minister, Kojo Oppong Nkrumah, has disclosed in a tweet on Thursday, that President Akufo-Addo "has been engaged in meetings in preparation to announce easing of restrictions at our borders and tackling escalating fuel prices."
Yesterday and today @NAkufoAddo has been engaged in meetings in preparation to announce easing of restrictions at our borders and tackling escalating fuel prices.


— Kojo Oppong Nkrumah (@konkrumah) March 17, 2022
The easing of the restrictions at the borders may add up to the government's measures to address the current economic challenges.
Currently, government is holding a crunch Cabinet meeting to find solutions to the raging economic challenges.
The meeting, being held at the Peduase Lodge, will end on Sunday, March 20, 2022.
The deliberations are being chaired by President Akufo-Addo and attended by all NPP MPs, ministers, government appointees, and the governing New Patriotic Party leadership.
According to JoyNews' sources, the meeting will discuss whether the government should continue to push through with the E-levy Bill or resort to the International Monetary Fund (IMF), in the face of the current fiscal hurdles.
Meanwhile, Executive Director for Africa Centre for Health Policy and Analysis, Dr. Thomas Anaba, is worried about government's intention to ease restrictions at the borders.
"What I am wondering is how they are going to implement this in a very porous borderline. Our land borders have several unapproved routes that people are using and if anybody wants to dodge the payment of $150 to do a test before he comes in and he's as much as hiring a motor that can take him through one of those unapproved routes to come in and pay less than $150 dollars to get into Ghana," he said on The Pulse on Friday.




Source link
I speak English that brings money – Chairman Wontumi
– Advertisement –

Bernard Antwi-Bosiako, popularly known as Chairman Wontumi, has debunked assertions that he struggles to express himself in the English language.
Despite attending Prempeh College and studying General Arts in Secondary School, the politician grapples to communicate eloquently in the Queen's language.
However, he says he is confident about his proficiency given that he is able to communicate adequately whenever he transacts business.
"…We go to school to make friends and also to have information that will help us in future," Mr Boasiako said in an interview on the Delay Show which was aired at the weekend.
I don't speak useless English, I speak English that would bring in money that would make my workers comfortable and expand my companies, he said.
Wontumi further disclosed that the student who used to top his General Arts class was now a police officer [working for the state to pay him] while he (Wontumi) was in business [working, paying himself].
The buisnessman indicated that he had lived in London for years, thus speaking English was not a problem but he ensures that he only focuses on the expresses himself in places that would be profitable to him.


Source link
– Advertisement –

Nollywood actress Mercy Johnson has cried out about recent bad happenings in her life that have brought her wanton pain and anguish.
Her tears and online wailing come on the back of recent unauthorized education recorded on her bank account.
The mother of four vented her unhappiness in what appeared to be a funny post, adding that she wanted to bury her money in the dirt because her N50 was deducted.
She also issued a comedic plea to her admirers for help excavating the dirt with a shovel.
She stated:
"I say make I update una say dem don commot #50 naira from my acc again. Meaning say dem no send my papa as nor be him open bank for dem. Abeg who get shovel? Make I withdraw my balance put for hole"."
I am going to dig a hole To bury my money AC bank wan kill me with deductions #50 naira now now again".
Read more on Mercy Johnson HERE…


Source link
Black Sherif releases official video for 'Kwaku The Traveller' [Watch]
– Advertisement –

Black Sherif has dropped the much-anticipated music video for his hit song 'Kwaku The Traveller' weeks after the audio went viral globally.
The intriguing visual directed by renowned videographer, David Nicole Sey was released on Thursday, May 19.
'Kwaku the Traveller' begins with a close shot of Black Sherif's face with fire burning in his eyes. 
The camera then zooms out to show the rapper standing in front of an audience who seem angry at Black Sherif.
Subscribe to watch new videos
The 'Kwaku The Traveller' is the number 1 most Shazam song in the world.
Following the commercial success of Black Sherif's hip-hop banger, it's only right a well-deserving music video is accompanied to complement the song.


Source link