Call Adwoa Safo and resolve your issues now or else…– NPP told [Audio]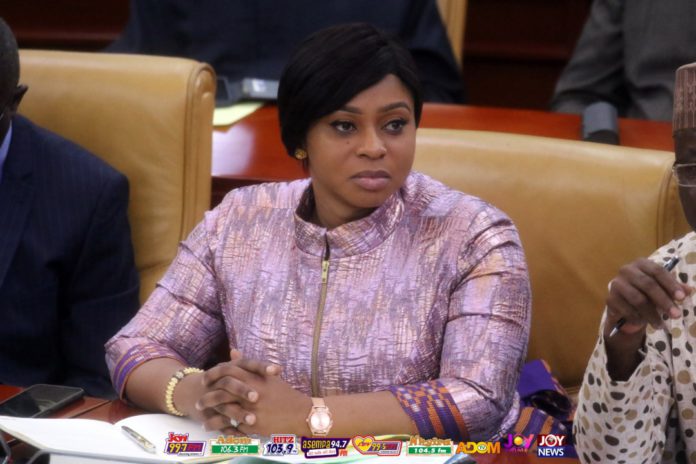 The absenteeism being displayed by Dome-Kwabenya Member of Parliament (MP), Sarah Adwoa Safo, has become an issue affecting government business in parliament.
The MP's constant absence from parliament has become a major talking point in Ghana.       
A Socio-Political Analyst, Kwabena Osei Bonsu, has called on the leadership of the NPP and the Parliamentary leadership to call the MP and resolve any issues that may exist else it will escalate into something that will be too late to handle.
Speaking to Adom News, Osei Bonsu said the earlier Adwoa Sarfo is called to resolve whichever problems there are, the better.   
He warned the happenings around her can bring about internal feuds that will affect local politics at Dome /Kwabenya as well as national politics.   
Listen to the audio below for more:
ALSO READ:   
If you want my position, you can come for it – Adwoa Safo told…
Adwoa Safo's latest post causes stir
Majority Chief Whip bares teeth at Adwoa Safo                                 


Source link
Kwame A Plus clashes with Feli Nuna on UTV
– Advertisement –

On the United Showbiz show on UTV last night, Kwame A Plus clashed with Feli Nuna over the role of a boyfriend in the life of his girlfriend.
Feli Nuna was asked if her boyfriend invests in her profession during the deliberation, and she replied in the negative.
Feli's announcement about her significant other was met with opposition from A Plus in particular.
"Your boyfriend is wealthy, but he does not work in the entertainment industry." On Saturday, he questioned, "So you're going to hunt for someone to invest while your partner hides his?"
"Does what you're saying make sense?" Feli Nuna responded.
He didn't have to invest in her craft because she stated their connection was simply personal and had nothing to do with her Hollywood interests.
However, the notorious socialite did not appear pleased with the response.
"You have a wealthy partner who refuses to put money into your music." You went to someone else for money and the individual said he likes you, which made you angry. Let me tell you what doesn't make sense: your boyfriend's relocation. He described him as a "f*#king child."
This sparked yet another commotion among the panellists, prompting the moderator to appeal for calm.
In reaction, Feli Nuna, who is presently promoting his new single 'Towel,' said she won't attack A Plus' wife since she respects him.


Source link
Watch Regina Daniels reaction as Ned Nwoko speak to woman about marriage
– Advertisement –

Regina Daniels publicly reprimands Ned Nwoko for making advances toward another woman.
Regina Daniels, a Nollywood actress, reacted after her husband, Ned Nwoko, mocked a female employee about marriage.
The couple had gone to a farm in Idumuje Ugboko, Delta State, where Ned Nwoko insulted a female employee by stating she wasn't married yet, which made everyone laugh.
Regina Daniels accompanied the video with the following caption on her Instagram story:
"He's always looking for husbands for the staffs"
In the back of Regina Daniels's head, she would be asking herself if Ned Nwoko was looking forward to adding the woman to her wives as he has a penchant for marrying several women.


Source link
Feli Nuna and A-Plus clash on United Showbiz [Video]
– Advertisement –

It was a tense atmosphere on United Showbiz over the weekend when political activist Kwame A-Plus and singer Feli Nuna clashed on Saturday night in the studios of UTV.
The two personalities bluntly traded insults on live television after tempers flared up over submissions from both parties which did not sit well with each other.
The back and forth started after Feli Nuna decried how some business investors or artiste managers demanded sexual relations with female musicians before consenting to help them.
A-Plus, on the other hand, argued that an investor had every right to make such sexual requests from a female musician before parting with his money because pumping money into talent is a risky venture.
He was however quick to add that the decision to succumb or reject such offers, which Nuna described as "inappropriate", lies with the female artiste. It's not obligatory, he said.
Perplexed by his statement, Feli Nuna intimated that A-Plus' suggestion did not sound appropriate.
She retorted: "Does what you're saying make sense?"
In a rebuttal, he described the singer's boyfriend as "useless" if he could not invest in her music, compelling her to seek support from other men to enhance her career.
"Your boyfriend is wealthy, but he does not a music or business investor, so you're going to search for someone to invest while your partner keeps his money?" he queried.
Watch the video below:
Feli Nuna later rendered an apology to viewers of the show for her outburst, explaining that A-Plus' attack on her beau or anyone close to her was something she would not condone.
She was interrupted in her attempt to apologise to A-Plus whose calm composure had changed in the spur of the moment that saw him hurling insults at the singer.
It's unclear whether or not the brewing bad blood between the two was quashed backstage before they exited the studio.




Source link