The economy will rebound sooner rather than later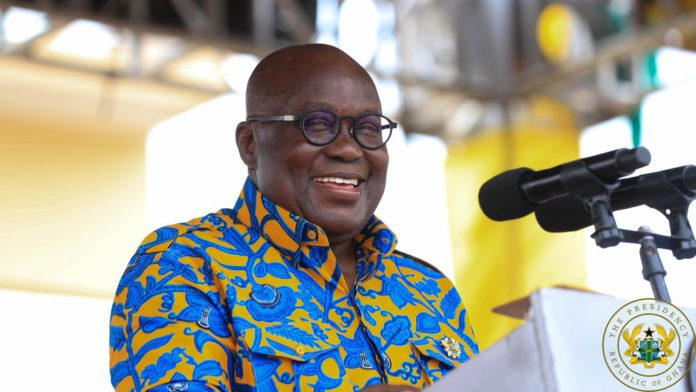 The President of the Republic, Nana Addo Dankwa Akufo-Addo, has assured that the policies being implemented by Government, in the wake of the difficulties occasioned by the COVID-19 pandemic, will help the economy rebound faster than anticipated.
Acknowledging the difficult times the nation is going through, President Akufo-Addo noted that every country on the face of the planet, is going through challenges brought forth largely by the pandemic of COVID-19.
"Ghana is not the only country faced with extraordinary increases in global freight rates, strong inflationary pressures, dramatically rising fuel prices, unprecedented volatility of stock markets, and tighter global financing conditions. These are global phenomena," he said.
The President continued, "Nonetheless, Government continues to work hard to address these issues, and I am certain that, sooner, rather than later, our economy, through the implementation of Government's one hundred-billion-cedi (GH¢100 billion) Ghana CARES Obaatanpa Programme, will rebound from the ravages of the pandemic, bringing in its wake stability, development, progress and prosperity for all Ghanaians."
Speaking at the 92nd Speech and Prize-Giving Day of St. Augustine's College in Cape Coast, on Saturday, 19th March 2021, President Akufo-Addo noted that the Ghanaian economy grew at a provisional 5.2% in the first three quarters of 2021, with GDP growth for 2021 projected at 5.6%, as against the 0.4% of 2020.
"We need to undertake the difficult but necessary fiscal and other measures that will enable us to maintain the 2021 and higher rates of growth in the immediate years ahead of us, to develop and strengthen our economy, and help improve the living standards of us all," he added.
Touching on the country's democratic credentials, President Akufo-Addo noted that the Ghanaian people, for these last twenty-nine (29) years of the 4th Republic, have reposed their trust in the democratic process as the avenue to resolve the myriad of problems the country faces, and have demonstrated their determination to uphold democratic values and institutions to bring development to the nation.
"There are a few, though, whom I have characterised as 'restless spirits', who are not prepared to allow you to complete your education in conditions of calm, peace and stability, and who seek constant turbulence in the governance of the state. This has led, lately, to some irresponsible utterances about coups as panaceas to our problems," he said.
He continued, "I have said, and will use this platform to repeat that coups have never been, and will never be durable solutions to the political, economic and security challenges confronting our nation and continent."
The President was confident that the great majority of Ghanaians, who are committed to democratic values and democratic institutions, "will continue to resist the rhetoric and advances of coup mongers and coup plotters, and those of us who have the responsibility to safeguard the integrity of the state will employ all legitimate means in a democracy to preserve our free, open system of governance, which is respectful of human rights, the rule of law and the principles of democratic accountability."


Source link
Boxer Floyd Mayweather empties entire mall during shopping in Dubai
– Advertisement –

Floyd Mayweather, an American boxer, has flaunted his light shopping in Dubai.
The affluent fighter, who is valued between $450 and $560 million, has flaunted his money to remind people who may have forgotten.
Floyd, who looks to be in Dubai at the moment, attacked a Dubai mall and purchased numerous items, the majority of which cost millions of dollars.
An exotic car was laden with the several things he had purchased at the mall, as seen in the video he provided.
A rush of responses have accompanied the tweet, with netizens wondering what would happen if he decided to do some "heavy shopping."
Watch Video Below…


Source link
Ajagurajah reacts to death of Osei Tutu over juju claims in Kumawood [Video]
– Advertisement –

Ghanaian spiritual leader Bishop Abed Kwabena Boakye Asiamah, popularly Known as Ajagurajah, has asserted that claims by the mother of late Osei Tutu that her son was bewitched is should not be underrated.
During an exclusive interview with Ghpage TV, the mother of the deceased Kumawood actor shared some secrets and circumstances leading to the death of her son after a short illness.
Among other things, she revealed that before his death Osei Tutu told him that someone in the movie industry wanted him dead and had taken him to a spiritualist to cast a spell on him.
She further claimed that about nine needles were removed from his throat after the actor and his younger brother visited an undisclosed spiritual centre for help to get well.
Watch the full interview below:
Subscribe to watch new videos
The narrative by Osei Tutu's mother has struck Ajagurajah who seems very enlightened about spiritual matters such as the actor's case.
The founder and leader of the Universal Spiritual Outreach, also known as Ajagurajah Movement in Ghana, occasionally takes to social media to interact with his fans and followers as well as shares lessons on how one can overcome spiritual problems.
Speaking in an Instagram live video, Bishop Ajagurajah reiterated that claims about Juju are real as they come in various forms.
He warned that people who do not believe in voodoo also known as black magic should learn lessons from Osei Tutu's predicaments.
Watch the video below
Subscribe to watch new videos
Osei Tutu, 51, died Tuesday, May 17 2022, after a short illness.
The news about his sudden demise was communicated by fellow Kumawood actors and industry players.
Affectionately called Tutu, the vivacious actor starred in several movies alongside heavyweights like Agya Koo, Kyeiwaa, Emelia Brobbey et al.


Source link
Ayisha Modi replies critics over claims that her new shape is artificial
– Advertisement –

Self-made music producer and industry gatekeeper, Ayisha Modi has replied critics who attacked her yesterday for going under the knife to get a new hourglass shape.
Earlier yesterday, Ayisha Modi shared a video of herself seductively dancing to show off her new beautiful shape.
After the video went viral on the local digital space, some critics went under her post to bash her for learning negatively from Moesha and co.
They also slammed her for behaving like a slay queen although she's very matured but has refused to act her age.
Ayisha Modi has come out to reply the critics who made a mockery of her under her own video.
According to her, her new shape is very natural and not artificial as claimed by her bitter attackers.
She additionally revealed that she used to be very fat and because of that she lacked self-confidence but after following the instructions from doctors and other professionals, she has now become slim and sexy.
Ayisha Modi's transformation happened within twinkling reason most Ghanaians have the notion that she went under the knife therefore her shape isn't natural.


Source link