Police arrest 8, hunt for killer in gold robbery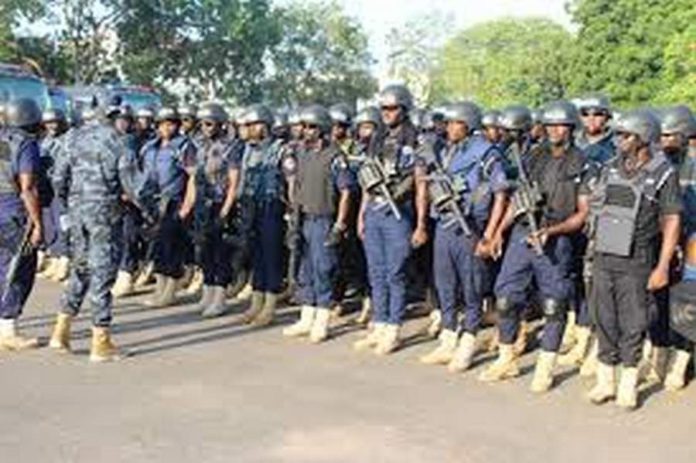 The Police are on a manhunt for a self-styled security man, identified only as Jonathan, who allegedly aided in a robbery attack on his employers at a small-scale mining site at Wassa Dunkwa in the Western Region.
The gang, who robbed, shot and killed a Chinese national, however, failed to escape with their booty of unspecified quantity of gold as it was said to have fallen into a river.
The suspects
According to police investigations, eight suspects have been arrested. They have been identified as Emmanuel Defia, 34-years; Noah Defia, 41-years; Ezekiel Ndah, 29-years; Antwi Kwadwo, 32-years; Kwabena Nkansah. 32-years; Anyoka Akurugu, 25 years; Akanga Azubire, 24-years and Dgatoile Akoiss, 30-years.
Jonathan is alleged to have shot and killed the 50-year-old Chinese national, who was identified as Wei Shounkang, to pave the way for the robbery.
A warrant issued for Jonathan's arrest accuses him of conspiracy to rob, robbery and murder.
The robbery
The police say on March 11, 2022, the suspect who was hired as a security man at the mining site at Wassa Dunkwa aided his gang to rob their employers at gunpoint, killing one in the process.
By the time a police patrol team arrived at the scene following a distress call, Jonathan and his gang had escaped with a quantity of gold concentrate.
Wei Shounkang was found in a pool of blood with pellet wounds on the head and neck. He was rushed to the Asankrangwa Catholic Hospital but was pronounced dead on arrival.
The gold
Initial police investigation led to the arrest of the eight, one of whom is said to have told the police that the gold fell into a nearby river while they were crossing it.
Suspect Akoiss who alleged that he was the one carrying the gold, led the police to the spot where he claimed the gold dropped, but nothing was found.
The body of the deceased has since been deposited at the Asankrangwa Hospital mortuary for preservation and autopsy.
The police have appealed to the public to report the suspect to the nearest police station.


Source link
Pastor caught pants down bonking married woman [Video]
– Advertisement –

A Ghanaian pastor has been caught red-handed screwing a married woman in her matrimonial home in the absence of her husband.
The pastor, whose name is not yet known, was nabbed in the act sweating profusely as though he was partaking in an Olympic marathon.
When he was subjected to questioning, the so-called man of God claimed he was invited by the woman, also believed to be a member of his church, when nobody was home.
In a viral video obtained by GHPage, he confirmed that he was fully aware that the woman was married with children.
According to him, the woman rang his phone to tell him that she was feeling lonely at home and needed company.
As a man of God who cares about the welfare of his members, he stopped everything he was doing and quickly headed for the woman's house.
However, one thing led to the other and they had sex.
Watch the video below
When he was pressed to explain how he stripped down to his pants and ended up in bed with the woman, knowing well that she was married, he began beating about the bush.
It's shocking how a pastor who carries the Bible as his armour and preaches against adultery forgoes his own teachings to fall victim to what he condemns.
What are his members expected to do as well?




Source link
Adwoa Safo gifts son a $60,000 Chevrolet Corvette on his birthday [Video]
– Advertisement –

Sarah Adwoa Safo has sparked mixed reactions on social media after posting videos of a brand new vehicle she's purchased as a birthday gift for one of her children in the United States.
Kelvin Ohene Safo-Agyapong – the Dome-Kwabenya MP's son with Assin Central MP Kennedy Agyapong – received a Chevrolet Corvette worth $60,000 (nearly GH¢500,000) as he turned a year older.
Adwoa Safo shared videos of Kelvin's new car on her Facebook page on Wednesday, May 18 with the caption "Kelvin's Perfect Birthday Gift…"
She's happily heard passing commentary about the car in the background as it arrives at their home in the United States.
Subscribe to watch new videos
Apparently, Kelvin took delivery of the luxury vehicle a few days ago after he was seen in an earlier video on April 23, 2022, trying his hands on the whip at a dealership.
In the new videos sighted by GHPage, Kelvin is seen standing beside the car as he is given a tour of the expensive car by a salesman.
He goes ahead to sit in the corvette and test out some of the cool features of the car.
Check out some reactions to the video on social media below:
lynette_nyarko: Why not Kantanka car buy what you sell
tashairis1: What happened to Kantaka cars
divaangels wrote: What about her father's cars. Anyway in abroad ni you can buy any type of car on credit as long as your credibility & payments are on point.
walter_harry1 wrote: Instead of using the money to develop your community, you're spending it on cars hmm
akwasi_ppong wrote: She couldn't patronise her dads car!! So unpatriotic…so how then does she expect Ghanaians to patronise her dad's cars??




Source link
Kwaku Bonsam 'curses' President Akufo-Addo, this is what he said
– Advertisement –

Celebrity fetish priest Nana Kwaku Bonsam has vented what he described as the collective frustration of Ghanaians on President Nana Akufo-Addo.
According to him, President Akufo-Addo will go to hell for lying to Ghanaians and letting the citizenry down.
Speaking on Angel FM where he pronounced the curses, Nana Kwaku Bonsam said Akufo-Addo has failed to deliver on his promises to Ghanaians and thus is a sure candidate for Hell.
"You mentioned that we have the money yet are hungry. But now that you've joined the government, we're even more hungry. We can't afford to live comfortably, and our girlfriends are deserting us because we can't afford to keep up," he explained.
"The bible talks about lies, and the President lied, thus he will go to hell," the fetish priest believes the President's lies will send him to hell.
Nana Kwaku Bonsam intimated that it was unacceptable for Ghanaians to be living in abject penury which has been worse by poor governance and economic hardship.
Therefore he has laid the blame on the head of President Akufo-Addo who according to him has failed to capitalize on the resources of the country to push for Ghana to be a prosperous nation.


Source link