We will name, shame and prosecute the corrupt -Special Prosecutor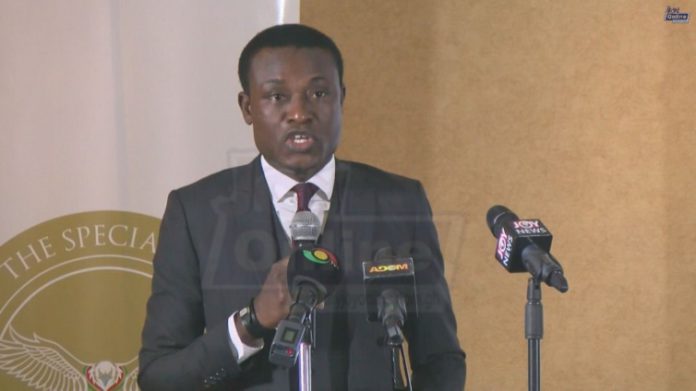 Special Prosecutor Kissi Adjabeng says his office is determined to crack down on corruption through prosecutions and asset recoveries.
A new corruption league table set to be published later in the year is expected to enable his office to document corruption and name and shame peddlers of corruption.
State institutions will be ranked with the most corrupt named, he stated on Tuesday.
"We recognise various corruption rankings, scorings and surveys being carried out. However, it comes down to the nature of the information gathered and the use to which such information is put.
"In sum, we will be documenting corruption, measuring corruption, ascertaining the breeding of corruption, naming and shaming peddlers of corruption, examining the impact of anti-corruption initiatives and taking curative and remedial measures to crack down on corruption through prosecutions and asset recovery and management.
"It is time to move beyond the composite annual ranking of countries on a corruption drop list to own our local narrative and fashion and retool Our reformation by prodding our public sector into real and concrete action against corruption and corrupt practices," Mr Adjabeng said.
The league table forms part of efforts by the OSP to identify the causes that advance corruption in the public sector to facilitate the prevention of corruption.
Deputy AG Alfred Tuah Yeboah, who launched the table, said his office will continue to work with the OSP to fight corruption.


Source link
Butcher allegedly kills colleague over earpiece
– Advertisement –

A 23-year-old butcher has been apprehended by the police for allegedly murdering his colleague over an earpiece at Kaneshie, Accra.
The suspect identified as Baba Ibrahim was reported to have stabbed 25-year-old Alhassan Zakari with a broken bottle.
According to reports, Baba Ibrahim got into a scuffle with Alhassan over earpiece and stabbed him with a broken bottle in the process.
The Assistant Commissioner of Police and the Kaneshie Divisional Police Commander, ACP Edward Faakye-Kumi confirmed the unfortunate incident.
ACP Edward Faakye-Kumi disclosed that Baba Ibrahim, who had a broken bottle in his hand, was escorted to the police station by a group of men with a swollen face and bruises on his arms.
The young men explained how the two butchers got into the scuffle and the victim was rushed to the Korle Bu Teaching hospital as he sustained serious injuries.
ACP Faakye-Kumi indicated that the victim was confirmed dead when a police detective went to the hospital.
The doctors revealed that Alhassan Zakari died while he was receiving treatment and his body has been deposited at the hospital's morgue.
The suspect is currently in police custody after he was also discharged from the Kaneshie Polyclinic where he was treated for his bruises to aid in investigations.


Source link
"Where's Chioma?" Reaction as Davido's girlfriend moves into his house
– Advertisement –

Fans have been asking questions about the whereabouts of Chioma Rowland, the known girlfriend and baby mama of Nigerian singer Davido.
This comes after Davido's new girlfriend Ama Reginald has reportedly moved into the singer's house.
According to reports, the social media influencer now lives with Davido in his house and performed duties as the bonafide replacement for Chioma.
Netizens also suspected that the crooner was the one who purchased the Range Rover SUV she flaunted a few weeks ago.
According to gistangelblog, Ama Reginald now spends more time with the artist, stays in his residence on a regular basis, and cruises in his private jet.
Read Post Below…
On the back of that, any netizens have been asking about Chioma. Many believe Davido has made a strong statement about his relationship with the cheff by allowing Ama Reginald to move in with him.


Source link
"Your dumsor demo was useless"
– Advertisement –

Actor-turned-politician John Dumelo has fired colleague Yvonne Nelson's activism during the tenure of former President Mahama and described it as useless.
According to him, whatever prompted the Yvonne Nelson-led "Dumsor" demo at the time was ill-thought through and did not represent the situation at the time.
Accosting Yvonne Nelson in the studios of Adom FM, John Dumelo pointed fingers accusingly at the actress. He added that she rushed in organizing people to demonstrate against the Mahama government.
In providing an explanation for why he felt the demo was useless, John Dumelo intimated that former President Mahama solved the dumsor menace before leaving office. Therefore, Yvonne Nelson and her colleagues embarked on a fruitless agenda.
"I don't believe it was required." Let me explain why. Because the president (then-president John Mahama) promised to fix the problem at the time. That's what he stated, and he rectified it before leaving. It's a proven fact.
"I'm sure people were fed up at that point in time when Yvonne spearheaded the march. As a result, they needed to take action. But (ex-President) Mahama has promised to rectify it."
The Dumsor Demo in 2015 was a demonstration organized by celebrities and spearheaded by Yvonne Nelson to campaign against the erratic supply of power at the time.
The demonstration received nationwide attention with notable celebrities like Prince David Osei, Van Vicker et al taking part in it.
After several years, John Dumelo has described the demo as useless and urged Yvonne Nelson to stage a similar demonstration against the current NPP administration.


Source link