Fuel prices reduced by 15 pesewas per litre effective April 1 – Citi Business News
Fuel prices in Ghana will go down by 15 pesewas per litre effective April 1, 2022. This reduction will be in place for three months.
This was disclosed by the Minister of Finance, Ken Ofori-Atta, on Thursday, March 24, 2022, while announcing measures put in place by the government to cushion Ghanaians against current economic shocks.
"To mitigate the rising price of petroleum products at the pumps, for the next three months, the government has decided to reduce margins in the petroleum price build-up by a total of 15 pesewas per litre with effect from 1st of April," he said.
"BOST margin reduced by 2 pesewas per litre, unified petroleum pricing fund margin reduced by 9 pesewas per litre, fuel markin margin reduced by 1 pesewa per litre, primary distribution margin reduced by 3 pesewas per litre. These are expected to reduce the price of petrol by 1.6 percent and diesel by 1.4 percent. We anticipate the measures taken to stabilise the currency will help further stabilise the prices at the pumps," Mr. Ofori-Atta added.
He said, in addition to the aforementioned measures, the National Petroleum Authority and the Ministry of Energy are in talks with the various Oil Marketing Companies (OMCS) "to reduce their margins in the spirit of burden-sharing".
Prices of petroleum products have skyrocketed within the last few days.
Diesel is currently selling between GH¢10 and GH¢11 per litre, while the price of petrol has crossed the GH¢9 mark at some fuel stations.
This has led to an upsurge in general prices. A recent report released by the Ghana Statistical Service noted that petroleum and food prices are the major driving forces of inflation in Ghana in recent times.
Transport operators are also proposing to increase fares by 20% following the rise in fuel prices after they last increased fares in February this year.
This has compelled Ghanaians and identifiable groups to put pressure on the government to reduce some levies on petroleum products to cushion fuel consumers.
Rising crude to blame for the upsurge in fuel prices
Mr. Ofori-Atta attributed the sharp rise in the prices of petroleum products on the Ghanaian market to the upsurge in the prices of crude on the global market.
"The rising prices of fuel at the pumps is influenced largely by the rising crude oil prices on the international market and the exchange rate depreciation. Though the rise in crude oil prices should have been to our benefit on a net basis, Ghana's import of petroleum products amounts to 5.2 times the value of the proceeds from its crude oil exports. In 2022, we exported $3,947.70 million, of which Ghana's portion was $513 million. However, we imported $2,719.00 of crude oil and finished products. The purported windfall gain in foreign exchange is a mirage. From January to date, the average ex-pump price of diesel and petrol has increased by 57% and 45% respectively."
How much will gov't lose by reducing margins on fuel prices?
The government currently makes GH¢1.90 from a litre of fuel sold at the pumps, according to the Minister of Information, Kojo Oppong Nkrumah.
Following the reduction in the margins on petroleum products, the government will still be making about GH¢1.75 on each litre of fuel sold. This is not the first time the Akufo-Addo government is freezing margins that accrue to it in a bid to reduce the prices of fuel.
The government in the latter parts of 2021 suspended the Price Stabilisation and Recovery Levy for three months.


Source link
MozzartBet Ghana presents new Nissan Kicks car to winner of "Hit the Highest Odd Promotion"
Leading online sports betting company, MozzartBet Ghana has presented a brand new Nissan Kicks to Mr. James Appiah for emerging as the winner of the 1st  edition of the "Hit the Highest Odds" Promotion.
The promo, which started in April and ended in May was introduced to award customers of the betting company that staked bet and win.
Customers of the company over the four week period won prizes including  iPhone 13 pro and Headsets.
At the most recent event held at the Accra Mall, Mr. James Appiah was adjudged the winner amongst the finalists.
He came all the way from Berekum in the Bono Region of Ghana to the Accra Mall in the Greater Accra region where he was presented with the new luxurious car.
According to the Country Manager, Nebojsa Marinko, the company is considering to continue with such initiatives.
He added that, the company is willing to give back to the society and will engage other stake holders in various sectors to embark on such initiatives.
"It is not about just betting but about supporting people, we will do more of such in Ghana to ensure that our customers are happy with what we are doing here in Ghana. We will support other areas too" He said
He further stated that, the company will continue to operate in Ghana due to their experience in the country. He urged people to take advantage of such opportunities to win more prizes in the company's subsequent promotion.
"We want people to responsibly vote and take chances like this, I believe it will help," he said.
Mr. James Appiah, the winner,  stated that, he was elated—encouraging Ghanaians to take part of such promotions.
"I least expected this when we started but after winning the iPhone 13 earlier, I realised that I could win the Nissan Kicks. I'm really happy and will make good use of this car", he stated.


Source link
Outstanding businesses, corporate leaders awarded at Ghana West Africa Business Excellence Awards
Some outstanding businesses and corporate leaders have been awarded at the 2022 Ghana West Africa Business Excellence Awards.
Among the winners at this year's event were Daniel Sackey, Managing Director of Ecobank Ghana Limited (Outstanding CEO – Banking), Emirates Airline (Outstanding airline company of the year), Bui Power Authority (Industry Leadership award in the power sector), Starlife Assurance (Outstanding Life Insurance Company) and The Little Cow Consulting Limited (Outstanding Marketing Company).
They were celebrated and applauded for making tremendous contributions to the business ecosystem in Ghana and West Africa.
The Ghana – West Africa Business Excellence Awards provided a platform to recognise individuals and companies that create a friendly atmosphere to welcome investors and/or play a significant role in developing various sectors in Ghana and West Africa.
The awards also recognised the industry's merits and set a benchmark for excellence, whilst rewarding innovative ideas that have pushed the boundaries of what is possible.
It recognised excellence in industries, sectors and individual/personality excellence.
The 2022 Ghana-West Africa Business Excellence Awards was hosted by the Ghana-West Africa Business Excellence Awards and is endorsed by the West Africa Chamber of Commerce and Industry and Strategic Accountancy Africa.
Emirates, Little Cow Consulting Limited, Ghacem, Bui Power Authority were some of the institutional award winners.
Emirates
Emirates is the world's largest international airline helping to connect Dubai to the world and the world to Dubai.
In 2021, the airline rebuilt its global network and today operates to more than 130  destinations on over 140 Boeing 777s and more than 60 A380s.
Little Consulting
The Little Cow Consulting Limited is an international full-service strategy and marketing company.
With offices in Ghana and Rwanda, TLC supports indigenous African and global organisations in Africa to optimise their value creation potential with unconventional, high-quality, end-to-end solutions.
Ghacem
Ghacem was founded by the Government of Ghana in collaboration with Norcem (now Scancem) of Norway on 30th August 1967 under the guidance of the late Dr J. A Addison.
It was established with high hopes of a prosperous industrial future. Presently, it has two factories in both Tema and Takoradi.
Ghacem has paid over ¢1trillion to date in taxes to the Ghana government since its inception. Its dividend payment to the government of Ghana is also over ¢25 million
Bui Power Authority
Bui Power Authority (BPA) also commenced operations of the Bui Generating Station in 2013 following the authority's establishment by an Act of Parliament, BPA Act 740, 2007.
Its mandate was amended by the Bui Power Authority (Amendment) Act 1046, 2020, to include key responsibilities of Ghana's Renewable Energy Authority. BPA has since led Ghana's Renewable Energy charge, earning itself the mantra "Renewable Energy Leaders". BPA has so far achieved the following feat.
Ghana Union Assurance
Ghana Union Assurance started as the Insurance Division of UAC (now Unilever) during the Gold Coast days when Northern Assurance Company of Britain appointed UAC as its chief agent to offer all classes of insurance.
In 1962 it ceded its life business to the Crusader Insurance Company. It became a Ghanaian owned company in 1992 when Commercial Union Assurance Company of the United Kingdom sold its interest to existing shareholders.


Source link
Fidelity Bank partners with Police Service to train staff on forensics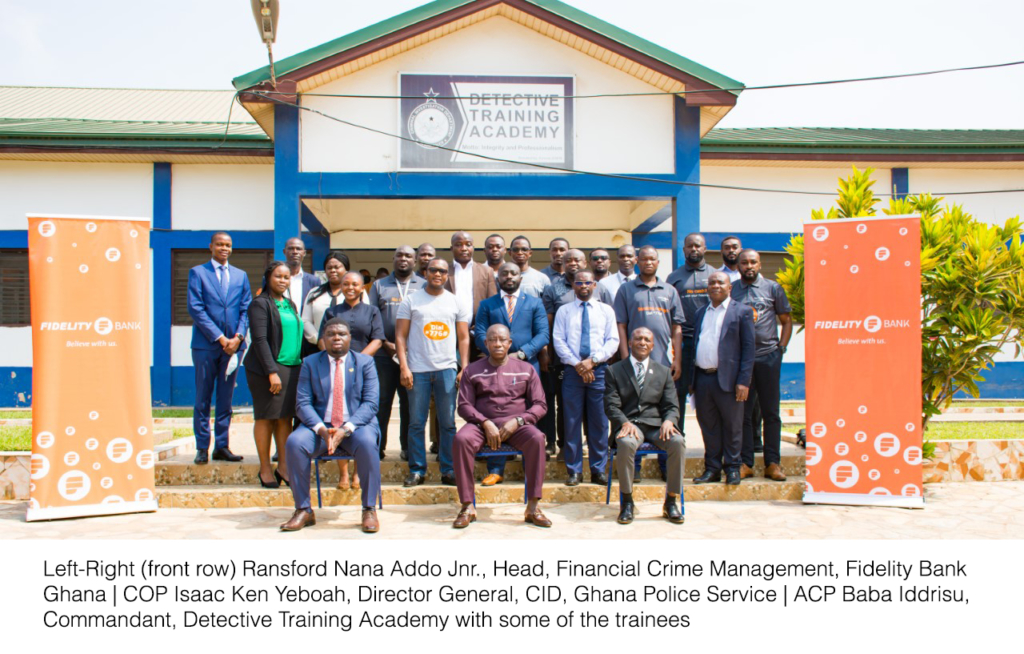 Fidelity Bank Ghana in partnership with the Criminal Investigation Department (CID) of the Police Service has provided forensic training for 50 bank staff who in turn will train other frontline and control function staff.
Fidelity Bank is the first bank in Ghana to provide its staff with such forensic training.
The forensic training, conducted by the CID of the Ghana Police, includes critical areas like signature comparison and analysis, fingerprint examination and analysis, and security paper forgery detection.
Head of Financial Crime Management at Fidelity Bank Ghana, Ransford Nana Addo Jnr., speaking on the motive behind this training revealed that "This initiative is geared towards increasing our resilience to fight crime and also to improve our control environment.
"As a bank that prioritises customer safety in delivering our services, we believe this is a good step as it will complement the robust controls that we already have in place."
In his remarks at the opening ceremony for the 3-day training, the Director General of the Criminal Investigation Department of the Ghana Police Service, COP Isaac Ken Yeboah commended Fidelity Bank Ghana for taking the initiative to go above and beyond the average security measures in their delivery of financial services.
"I am very impressed with the initiative taken by Fidelity Bank Ghana. We encourage all financial institutions to take a cue from what Fidelity Bank is providing to its staff so that collectively we fight crime more effectively," COP Isaac Ken Yeboah added.
Fidelity Bank's collaboration with the Ghana Police Service to undertake this forensic training for its staff is a demonstration of the bank's commitment to protecting the interests of its customers and other stakeholders.  


Source link