Pressure now on Super Eagles as Eguavoen's midfield blunder leaves Jollof Derby in the balance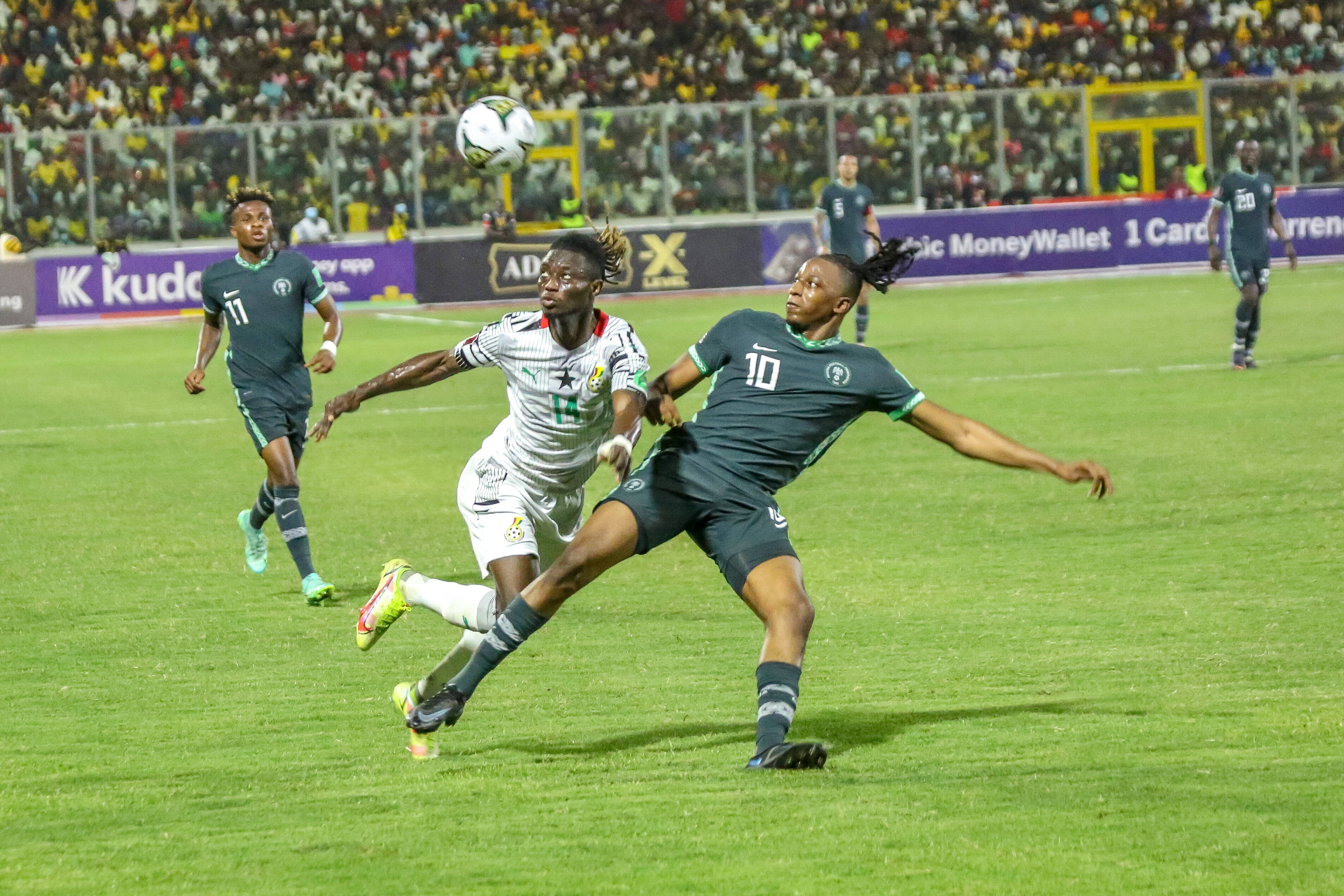 Easier said than done in even the best of circumstances, but then again nothing good comes easy. Certainly not a place at the World Cup, and apparently not the discretion to understand the tactical and emotional requirements of a qualifier on enemy turf.
Sure enough, the loss of Wilfred Ndidi was always going to be keenly felt, being the bulwark that he is in the middle of the park. However, not even in his presence would it have been acceptable to field a midfield pairing in a game of this magnitude; the most unlearned in the mechanisms of football would have understood implicitly that no 1:1 replacement was going to cut it, whether structurally or technically. A third midfielder was a matter of necessity.
There is no universal tome of footballing imperatives, but if there was, it would have 'do not concede the midfield' as a quite prominent entry in the chapter on 'How To Approach The Away Leg of a Two-legged Knockout Tie'.
Augustine Eguavoen, however, had other ideas. After all, not for nothing is he a stated admirer of Pep Guardiola, the great tactical iconoclast of the age. However, if the Catalan maverick can occasionally be accused of overthinking, his Nigerian acolyte has so far betrayed the opposite inclination in his brief tenure as Super Eagles head coach.
On Friday, the sum of his input – the lesson he appears to have gleaned from the disappointment of defeat at the Africa Cup of Nations (AFCON), the epiphany that had come to him in the throes of reflection – was to have Samuel Chukwueze and Moses Simon occasionally interchange positions. This, rather amusingly, had the effect of making neither effective; in Garoua the Super Eagles had at least flown on one wing, in Kumasi they were completely earthbound.
Everything else stayed the same, right down to isolation of the centre-forward – Victor Osimhen in this case, rather than Taiwo Awoniyi – and the vacation of the centre of the pitch in favour of the wide areas. The difference was that, whereas in Cameroon Ndidi was there to just barely make it all fit together with some semblance of logic (and even then only for three matches), in Ghana there was no getting away from the sheer illogic of it all.
The result was as painful in its predictability as it had been in the defeat to Tunisia, albeit against a Black Stars team still in search of cutting edge. In the same vein as against the Carthage Eagles, Eguavoen's side found it a lot harder to pressure a situational back three in build-up, and the extra man in midfield for Ghana gave them control in that zone. It really came down to the relative kindness of the swerve at the Baba Yara, as well as a belated – if perhaps forced – rejig later in the game.
Worryingly though, the one thing Eguavoen has shown himself incapable of grasping so far is nuance.


Source link
Van Vicker and his wife enjoy vacation in Spain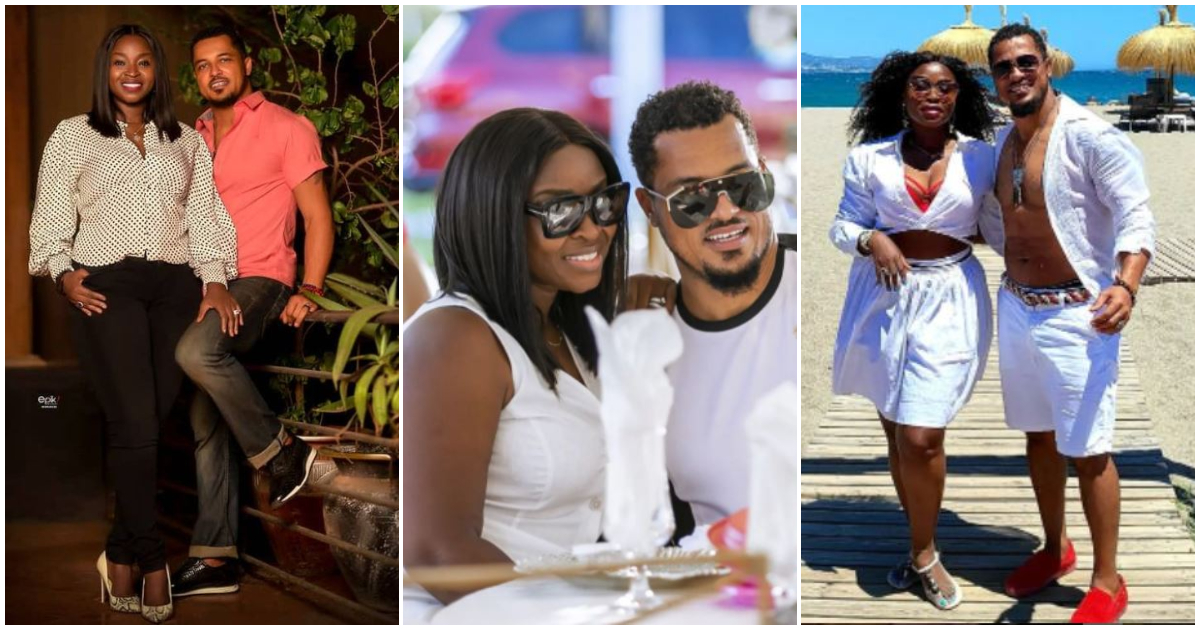 The happy duo may have just taken some time off their busy schedule to let their heads down on some of the most rejuvenating beaches in the heart of Spain.
A photo on Van Vicker's page on Instagram shows a beautiful moment captured along the seashore of him together with his wife beaming in their white vacation regalia.
Van is seen in white shorts beautifully matching his white wavy shirt which he flaunts his chiseled abs with an open button whiles Adwoa takes us on a summer cruise in similar outfits but with a bit of skin display; a vacation summer tradition.
The vacation photo on Van Vicker's page was captioned:
" A little mollycoddle helps with "
Van Vicker has consistently expressed how much his significant other means to him publicly. Earlier this year, on January 24 when Adjoa Vicker turned 45, the award-winning actor indicated that he would go to any length to let the world know how his wife means to him and their children.
He captioned a lovely message for his wife who turned 45 and recounted how he met her when she was only 17 years old, adding that it was the first birthday he spent with her.


Source link
Meet Robert Augustus Aban, the man behind most jaw-dropping events photos online
He has a reputable brand for his photography firm being one of the top-notch photographers Ghana can boast of.
Rob Augustus was recently announced the official photographer for Ghana Music Awards UK, Ghana Music Awards USA and one of Ghana's leading tour agencies, Kayatours.
Robert Aban has taken shots for eventful ceremonies such as; Ghana Music Awards UK, Ghana FIFA Awards 2018, Rapperholic, Bhim Concert 2018, Kaya Tour, 3Music Awards, and Afrima Awards as the lead photographer.
The award winning photographer is often seen with BET award-winning artist, Stonebwoy, sarkodie, and radio personality Abeiku Santana , Bolaray .
In recent photos from the famous Ghanaian photographer, Robert Abban has captured with his lens more of Ghana, Kenya, UK, South Africa, Dubai, Soa Tome, Germany, France and other countries' tourism sites making him a tourism photographer as well.
Rob's career in photography took off when he realized there is no limit to the value of goods that can be created or transmitted through continuous refinement of art, tempered by his own imperfection and desire to achieve new heights of personal interest.
He enrolled at Zepto Professional Training Institute, Accra – Ghana, where he studied cinematography full time with a high degree of concentration and determination.
That is when he fell in love with photography and married it. Since acquiring the fundamentals of photography education, he graduated to become the renowned talented photographer he is today.
He later founded Rob Multimedia in Accra to provide professional photography services for events, celebrations, weddings, blogging, printing companies, tourism, and journalism.
Robert has worked as an official photographer for Ghana Music Awards Uk , Ghana Music Awards USA, Ghana Entertainment Awards USA , Kayatours, Stonebowy, sarkodie and Dr. Osei Kwame Despite, CEO of Despite Group Of Companies.
Using his camera lenses, he is able to separate human life into a collection of moments, each of which has the meaning of a full lifetime.
Rob Photography has been named the 2019 Best Event Photographer of the Year.
In August 2019, rob won the Best Event Photographer of the Year Award At Ghana Events, won IPA Awards as (international photographer) in 2021 also won best events Photographer at GSH (Ghana style Awards 2022) .
In 2021 Ghana Music Awards USA honored Robert Augustus Abban on this support to the music industry.
To Robert Abban, he advises that upcoming photographers should stay focused on their dreams and work hard at it and not to put trust in anyone.


Source link
Club owner storms pitch to choose player to take 96th-minute penalty; he misses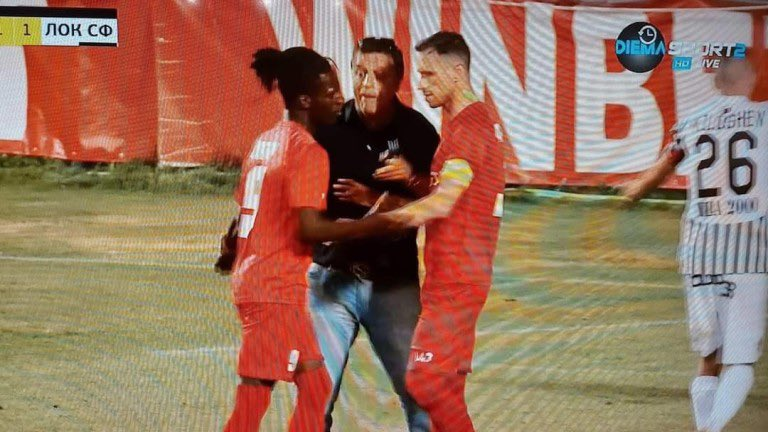 Lokomotiv Sofia took a first-half lead through Frane Cirjak, but the home side restored parity in the 73rd minute when Andrey Yordanov scored from a brilliant finish.
The game looked destined to end in a draw until Tsarsko Selo were awarded a 96th-minute penalty and an opportunity to save their topflight status.
Yusupha Yaffa picked the ball to take the penalty but the club's owner, Stoyne Manolov, quickly moved on to the pitch to take the ball from him.
In a video that has gone viral on social media, the club's owner is seen having a heated exchange with Yaffa and pushing him off the pitch.
The pair continued their disagreement until the match official intervened to ensure Manolov was walked off the pitch.
Manolov then insisted that the club's regular penalty taker, Martin Kavdanski, took the kick and was granted his wish.
Unfortunately, though, Kavdanski couldn't convert from 12 yards as his weak effort was saved, condemning Tsarsko Selo to relegation.


Source link