Black Princesses finish final hurdle in style to qualify for 2022 U20 Women's World Cup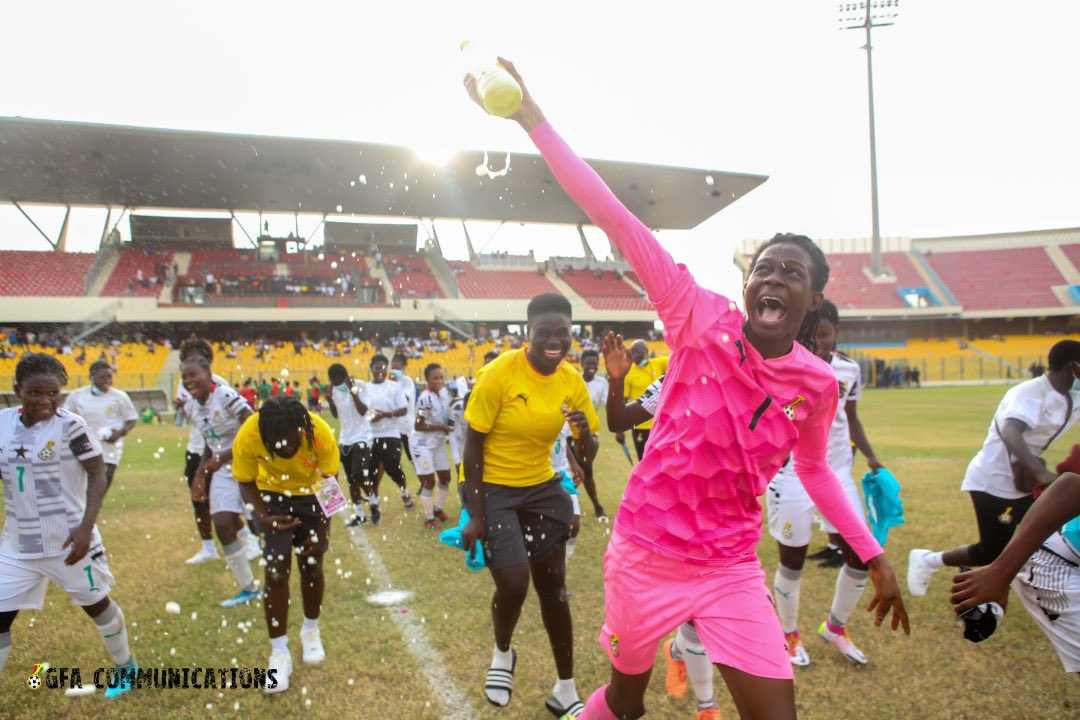 After Mauritius pulled out of the competition in the second round of the qualifiers, Ghana was handed a walkover to the third round. They played against the Zambians in that round, where they were presented with a tough challenge.
The Zambians were clever in attack and gave the Princesses a run for their money. Evelyn Badu proved to be the marquee player in this tie when she scored the only goal against Zambia to qualify Ghana to the third round of the qualifiers.
The fourth round of the tournament was a goal-fest as the Princesses massacred the Cranes of Uganda at their own backyard and finished the job at the Accra sports stadium.
They tore to shreds any dignity left in the Ugandans after the 7-1 drubbing.
The journey didn't end there. Their next challenge flew them to one of the historical countries in Africa. The Abebe Bikila Stadium is where the Princesses locked horns with the Ethiopians. This was the first time the Ethiopians were playing in the qualifiers.
To be fair, they had nothing to lose but all to play for, considering how young their squad was. The Princesses kept a cool head and mauled them by three goals to nothing at their own backyard. Salamatu Abdulai once again displayed her lethal striking prowess after netting a brace. Cecilia Nyama of Ridge City FC added the icing on the cake to triple Ghana's advantage.
The final hurdle looked done and dusted but the only obstacle facing the Queens was the return leg at the Accra Sports Stadium.
Four minutes after the game commenced, the star of the Princesses, Salamatu netted the first goal. The Ethiopians tapped into their resilience to cancel the deficit but all efforts failed particularly because of the defensive wall the Princesses put up.
Cecilia Nyama teed up a crisp through pass to Salamatu Abdulai and she tormented the Ethiopian defence with another well-struck goal.
Ethiopia knew if they continued letting their guard down, the Black Princesses would annihilate them. They got their acts together and got cooking.
Their ball retention and tactical approach paid off after they halved the deficit through a set-piece. This goal rejuvenated them and they continued launching lethal attacks from an intricately woven build-up from the back. The defensive duo of Louisa Aniwaa and Opoku Abena Anoma kept their feet down to keep the lethal duo of Mesay and Turist at bay.
Captain of the Ethiopian side, Nardos darted down the right flank and launched an inch-perfect low cross into the yard of the Princesses. Turist got to the end of it and hit it past Cynthia Konlan to equalise. However, their bubbles burst after the goal was ruled out for offside. The Ethiopians netted another goal and another offside call didn't make it count.
Ghana looked sluggish and struggled to create chances upfront the rest of the half.
After the break, both sides sniffed their noses at goal but couldn't bag it. The Ethiopians got a glorious chance but couldn't bury it as the ball went wide. Azumah Bugre tried two long-range shots at goal and missed by some inches.
Ophelia Serwaa Amposah of Ampem Darkoa Ladies FC almost increased Ghana's lead with a skillful scissor kick but the Ethiopian goalkeeper kept it under control.
Four minutes from full-time, Cynthia made a clumsy tackle on an Ethiopian striker who was on a solo run towards goal. The referee was quick to show her the red card and bring her time on the pitch to an end.
Grace Banwa of Hasaacas Ladies came on and made three key saves to help Ghana secure their ticket to Costa Rica. The game ended 5-1 on aggregate in favour of the Black Princesses following their impressive first-leg win.
Ghana will join its West African neighbours, Nigeria as the two representatives of Africa in the 2022 FIFA U-20 Women's World Cup from August 2 to August 23. The competition is a biennial tournament that started back in 2002.


Source link
Van Vicker and his wife enjoy vacation in Spain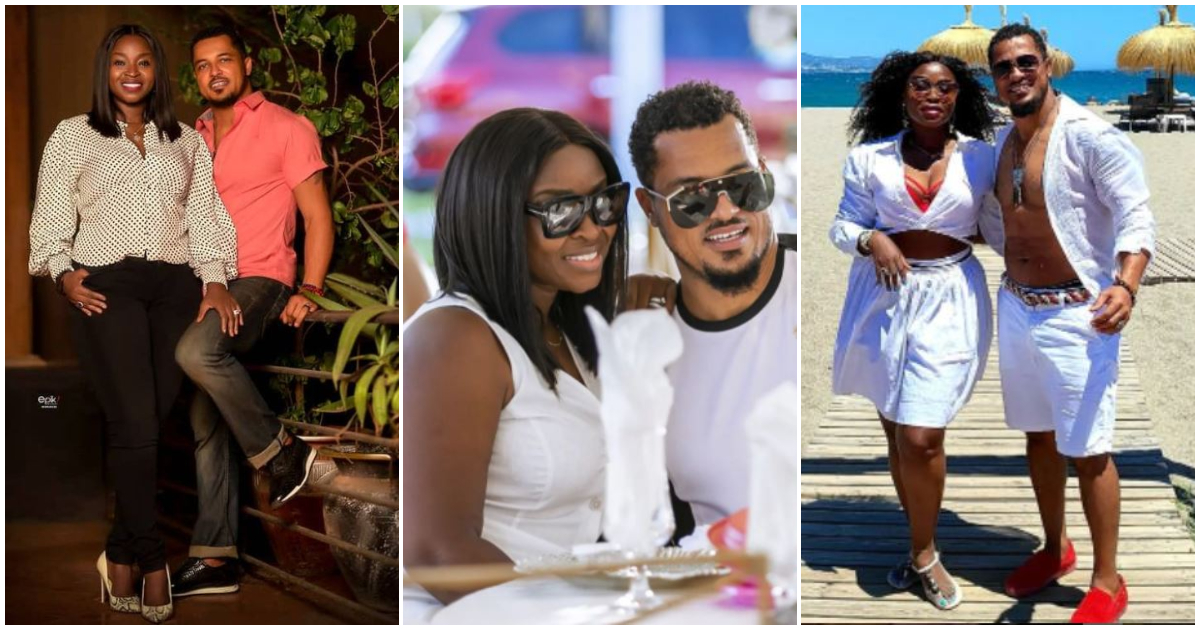 The happy duo may have just taken some time off their busy schedule to let their heads down on some of the most rejuvenating beaches in the heart of Spain.
A photo on Van Vicker's page on Instagram shows a beautiful moment captured along the seashore of him together with his wife beaming in their white vacation regalia.
Van is seen in white shorts beautifully matching his white wavy shirt which he flaunts his chiseled abs with an open button whiles Adwoa takes us on a summer cruise in similar outfits but with a bit of skin display; a vacation summer tradition.
The vacation photo on Van Vicker's page was captioned:
" A little mollycoddle helps with "
Van Vicker has consistently expressed how much his significant other means to him publicly. Earlier this year, on January 24 when Adjoa Vicker turned 45, the award-winning actor indicated that he would go to any length to let the world know how his wife means to him and their children.
He captioned a lovely message for his wife who turned 45 and recounted how he met her when she was only 17 years old, adding that it was the first birthday he spent with her.


Source link
Meet Robert Augustus Aban, the man behind most jaw-dropping events photos online
He has a reputable brand for his photography firm being one of the top-notch photographers Ghana can boast of.
Rob Augustus was recently announced the official photographer for Ghana Music Awards UK, Ghana Music Awards USA and one of Ghana's leading tour agencies, Kayatours.
Robert Aban has taken shots for eventful ceremonies such as; Ghana Music Awards UK, Ghana FIFA Awards 2018, Rapperholic, Bhim Concert 2018, Kaya Tour, 3Music Awards, and Afrima Awards as the lead photographer.
The award winning photographer is often seen with BET award-winning artist, Stonebwoy, sarkodie, and radio personality Abeiku Santana , Bolaray .
In recent photos from the famous Ghanaian photographer, Robert Abban has captured with his lens more of Ghana, Kenya, UK, South Africa, Dubai, Soa Tome, Germany, France and other countries' tourism sites making him a tourism photographer as well.
Rob's career in photography took off when he realized there is no limit to the value of goods that can be created or transmitted through continuous refinement of art, tempered by his own imperfection and desire to achieve new heights of personal interest.
He enrolled at Zepto Professional Training Institute, Accra – Ghana, where he studied cinematography full time with a high degree of concentration and determination.
That is when he fell in love with photography and married it. Since acquiring the fundamentals of photography education, he graduated to become the renowned talented photographer he is today.
He later founded Rob Multimedia in Accra to provide professional photography services for events, celebrations, weddings, blogging, printing companies, tourism, and journalism.
Robert has worked as an official photographer for Ghana Music Awards Uk , Ghana Music Awards USA, Ghana Entertainment Awards USA , Kayatours, Stonebowy, sarkodie and Dr. Osei Kwame Despite, CEO of Despite Group Of Companies.
Using his camera lenses, he is able to separate human life into a collection of moments, each of which has the meaning of a full lifetime.
Rob Photography has been named the 2019 Best Event Photographer of the Year.
In August 2019, rob won the Best Event Photographer of the Year Award At Ghana Events, won IPA Awards as (international photographer) in 2021 also won best events Photographer at GSH (Ghana style Awards 2022) .
In 2021 Ghana Music Awards USA honored Robert Augustus Abban on this support to the music industry.
To Robert Abban, he advises that upcoming photographers should stay focused on their dreams and work hard at it and not to put trust in anyone.


Source link
Club owner storms pitch to choose player to take 96th-minute penalty; he misses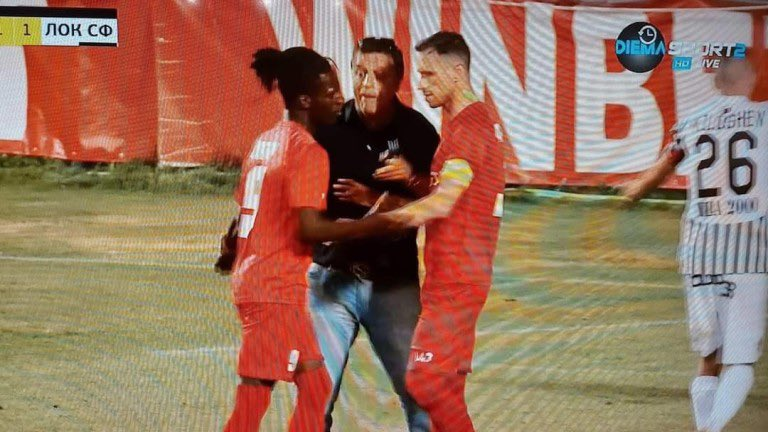 Lokomotiv Sofia took a first-half lead through Frane Cirjak, but the home side restored parity in the 73rd minute when Andrey Yordanov scored from a brilliant finish.
The game looked destined to end in a draw until Tsarsko Selo were awarded a 96th-minute penalty and an opportunity to save their topflight status.
Yusupha Yaffa picked the ball to take the penalty but the club's owner, Stoyne Manolov, quickly moved on to the pitch to take the ball from him.
In a video that has gone viral on social media, the club's owner is seen having a heated exchange with Yaffa and pushing him off the pitch.
The pair continued their disagreement until the match official intervened to ensure Manolov was walked off the pitch.
Manolov then insisted that the club's regular penalty taker, Martin Kavdanski, took the kick and was granted his wish.
Unfortunately, though, Kavdanski couldn't convert from 12 yards as his weak effort was saved, condemning Tsarsko Selo to relegation.


Source link