Chairman Wontumi Buys A 2.5 Million Cedis Rolls Royce Wraith After Failing To Purchase Chelsea – Watch Exclusive Video
Ghanaian Businessman and politician Bernard Antwi Boasiako, popularly known as Chairman Wontumi, has purchased an expensove Rolls Royce to his fleet of expensive cars.
The loudmouth politician noted for bragging about his wealth hired Zionfelix to film his new car and post it on social media for people who do don't give a whoot about it to watch and admire.
Chairman Wontumi had sprayed his Rolls Royce Wraith in white and customized it with his initials CW-1-22.
READ ALSO: More Photos and Videos Pop Up from Glamorous Wedding of Baci GMB
He revealed in video that car costs a whooping 2.5 million Ghana Cedis, excluding shipping and duty cost.
This new purchase comes few months after the NPP Ashanti Regional Chairman disclosed intentions to buy English football team Chelsea from Russian billionair Roman Abramovich.
Although his net worth is only $10 million, Chairman Wontumi threw in his hat and joined the global race to own the renouned football club.
READ ALSO: Wontumi's Dreams To Buy Chelsea Crushed As UK Government Freezes Abramovic's Assets
His new vehicle was spotted at the compound of the newly opened Wontumi FM in Accra.
Zion was seen taking a tour inside the luxury car and had smiles all over his face when he sat in the expensive vehicle.
They posed for photos behind the neat-looking caf and splashed it all over social media.
Check out some of the photos and videos below.
SOURCE: GhanaCelebrities.Com
READ ALSO:
Refused A UK Visa? CLICK HERE FOR HELP
---
CLICK HERE to subscribe to our daily up-to-date news!!


Source link
Ghanaian man storms church in Germany to attack head Pastor for sleeping with his wife [Video]
– Advertisement –

A German-based Ghanaian man has angrily besieged the premises of a Ghanaian-owned church to confront the head pastor for allegedly having an affair with his wife.
According to the commentary in the video, the accused pastor leads a congregation at the Faith Pentecostal Ministries in Frankfurt.
The enraged husband caused a scene when he stormed the Church and interrupted the Sunday Service verbally attacking the so-called man of God for hiding behind the cloak of doing God's work and sleeping with his wife.
The altercation was captured on camera showing some church members shielding the pastor from embarrassment.
The pastor was swift to avoid the camera as he took refuge in a closed room.
Watch the video below
In other related stories, a woman has ruined her marriage with her infidelity.
According to a witness of the whole drama, the husband who is normally not at home because of his work schedule and travels innocently came home to meet his neighbour who has become a family friend sleeping with his wife.
On a Monday morning as we prepare to go to work, someone is shouting the entire estate down!!! Apparently Oga travels a lot, he came home to surprise his family but met his neighbor in his bed.. The neighbor is a married man and the drama is just about to begin..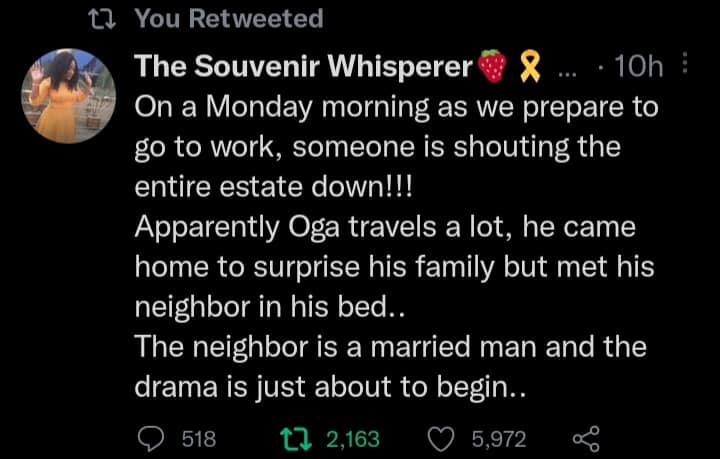 The brokenhearted husband was left with no other option than to deal with his pains by physically assaulting the male home wrecker.




Source link
Delay exposes a top awards organizer who is sabotaging her career (Video)
– Advertisement –

Award-winning Ghanaian female media mogul, Delay, has finally opened up on why she has been wickedly sidelined although she's amongst the top media personalities in the country at the moment.
While replying to a die-hard fan on Wontumi FM, Delay asserted that the organiser of a top awards scheme has personally blacklisted her because she's not on good talking terms with him/her.
According to Delay, she's not worried nor perturbed about how these gatekeepers have ostracized her although they know deep within themselves that she deserves to be awarded.
Apparently, Delay and a very untouchable gatekeeper in the media industry is beefing reason she has never been nominated to grab an award for her excellent works from the awarding body.
Subscribe to watch new videos
Meanwhile, Afia Schwar has been throwing subtle jabs at Delay ever since she was unveiled as the drive time host on Wontumi FM.
Rumours have it that Afia Schwar was the favourite until Chairman Wontumi had a change of mind and decided to pick Delay instead.


Source link
Ablakwa slams Akufo-Addo over delay in payment of NSS allowances
– Advertisement –

Samuel Okudzeto Ablakwa has called on government to release funds for the payment of National Service allowance arrears for the months of March and April.
The North Tongu Member of Parliament describes the delay in the payment of the allowance as "most unfair and insensitive" to graduate trainees, given the current harsh economic conditions.
Addressing the concerns of distraught National Service Personnel, Mr. Ablakwa argued that although the GH¢559 allowance is inadequate, an early disbursement would go a long way to mitigate the economic challenges and the skyrocketed prices of goods and services.
"I would have thought government would, in the face of prevailing harsh economic circumstances, be increasing the current measly allowances and not delaying payment once again.
"How does government expect these vulnerable personnel, most of whom have been posted far away from home, to survive under the current cost of living crisis?" he queried in a Facebook post.
According to him, these personnel "signed for National Service, not National Suffering"; hence, government must strive to swiftly clear all arrears "immediately."
"As I appealed the last time, I had to donate my salaries to personnel in my beloved constituency, government should first pay personnel at the end of the month before paying public sector workers as has always been the tradition for decades," he advocated.
Scores of National Service personnel took to social media in March to lament the unpaid allowances, saying the situation has made life difficult for them.
The National Service Scheme then apologised for the development and said the delay was not deliberate. It assured of working around the clock to pay all outstanding arrears.
After paying for the month of January 2022, the monthly allowances for March and April are yet to be released.


Source link