Becca, KiDi, and Three Other Top Musicians Who Got Their Fame from Talent Shows
Talent shows in Ghana have entertained television viewers for years and have also produced big-name stars that are still relevant today.
Talent shows like TV3 Mentor, Vodafone Icons and the like have produced the likes of Becca, Kidi, Josh Blakk and so many more.
READ ALSO: Erica Tried to Trap Zionfelix with Pregnancy But he's Not A Fool – Mina Opens Fire on Rival
The purpose of today's editorial is to relive the beautiful stories of these celebrities whose journey to stardom has been nothing short of amazing.
Becca
Rebecca Akosua Acheampomaa Acheampong, better known as Becca, is a Ghanaian singer, songwriter, and actress.
She rose to prominence after competing in the second season of TV3's annual singing competition Mentor.
Strongman
Osei Kwaku Vincent is a Ghanaian rapper who goes by the stage names Strongman, Strongman Burner, and Strong Gee. 
He was honoured for winning the inaugural edition of the Next Big Thing in GH Rap Music, a rap competition in Ghana.
KiDi
He was unknown prior to the fourth season of Mtn Hitmaker.
KiDi rose to prominence after competing in the fourth instalment of the MTN Hitmaker and emerging as the champion.
Kuami Eugene
Eugene Kwame Marfo, known professionally as Kuami Eugene, is a Ghanaian High-Life/Afrobeat singer, songwriter, and artist.
Kuame Eugene became well-known after appearing in the fourth instalment of the MTN Hitmaker.
Fameye
Fameye is a Ghanaian rapper, musician, and Hiplife/Afrobeat, vocalist.
READ ALSO: 5 Failed Ghanaian Artistes with Dead Careers – Only 3 Can Stage a Comeback
Fameye became well-known for sobbing uncontrollably in front of an audience after being eliminated from MTN Hitmaker season 4's edition.
SOURCE: GhanaCelebrities.Com
READ ALSO:
Refused A UK Visa? CLICK HERE FOR HELP
---
CLICK HERE to subscribe to our daily up-to-date news!!


Source link
I thought Ghanaians would stop eating there over the 2017 incident – Wanlov
– Advertisement –

Wanlov the Kubolour has reacted to the food poisoning incident that happened at popularly eatery Marwako leading to their closure.
Social media yesterday was full of comments about the food poisoning incident and this has forced Wanlov to also add his voice to the ongoing discussion.
According to him, he thought Ghanaians would stop eating at Marwako in 2017 following the incident involving one of the Lebanese bosses and a worker.
It would be remembered that in 2017 the manager of one of the branches placed a worker's face in a basin full of pepper.
This sparked wild concern on social media following how some workers are treated by their bosses, especially the Lebanese. The case was reported and the manager was arrested by the Ghana Police.
With the emergence of this new case, Wanlov has drawn the mind of Ghanaians back to the unfortunate incident questioning why people would still be eating there despite everything that happened in 2017.
He posted: "After the Lebanese manager at Mawarko shoved & held his Ghanaian employee's face in a basin of fresh blended red pepper almost making her lose her sight i thought Ghanaians would stop eating there".
See the screenshot below:
What do you think about Wanlov's comment?


Source link
Humble yourself so I win a Grammy for you – Wendy Shay
– Advertisement –

RuffTown music signee Wendy Shay has asked some section of Ghanaians hating her to stop.
According to her, she wants to take Ghana to the Grammy's and if this hate from people continues then she might not be able to achieve that.
Wendy Shay was one of the performers who rocked the stage at the just ended 2022 edition of the Vodafone Ghana Music Awards which came off last weekend.
After her performance, some people were on social media saying there was no wow factor with her performance adding that she needs to sit up and work on it.
But in her response, she indicated that aside from the fact that there was a problem with her band on that day, everything about her performance was top notch and doesn't understand why they would be hating on her.
She added that Ghanaians should wake up and humble themselves so she takes the country to the Grammys.
"Obviously there was a technical hitch from my band..I pulled thru with a Thrilling Top Notch performance at the just ended VGMA's,..Vocals, Choreo, Costume, all on POINT! yet we had some ppl still hating ..so won't U people humble Urself so I take U to the Grammys!
Ghana wake up!", she posted.
See a screenshot of her post below: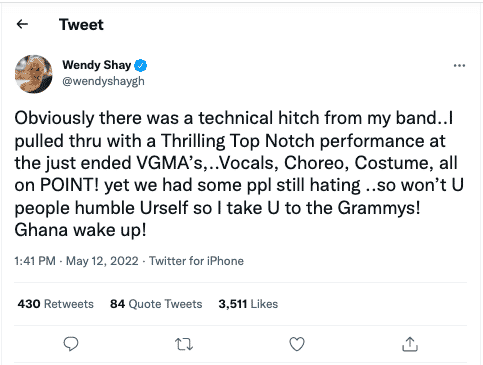 Wendy has for some time now been saying she was to take Ghana to the Grammys and eventually become the first artiste from Ghana to win.


Source link
Marwako apologises to customers over food poisoning allegations
– Advertisement –

The management of the East Legon branch of Marwako Fast Food has responded to the multiple allegations of suspected food poisoning by the public at its eatery.
This comes after the Food and Drugs Authority (FDA) stormed the premises, took samples and shut down the fast-food eatery after several complaints by the public.
Speaking to the media, the Public Relations Officer for the company said the outfit is assisting with the medical bills of some of its customers believed to have suffered from food poisoning after purchasing food from its branch in East Legon, Accra.
READ MORE: Ghanaians accuse popular Mawarko Restaurant of food poisoning
Mr. Amin Lamptey said Marwako Restaurant has apologised to the victims.
"We visited some of our customers at the hospital and those who were discharged, we visited them at home. We assisted some of them with their hospital bills. The main thing started on Saturday and Sunday evening. We have accepted everything, and we have apologised to the victims."
The complaints by the affected customers were triggered by one Edward Elohim, who posted about his illness after eating at Mawarko last Saturday.
The FDA, in a statement online, said it has "together with other relevant agencies, started investigations."
The FDA assured further that "the issue would be thoroughly investigated and appropriate actions taken. Additionally, FDA is ensuring the strict implementation of its protocols to prevent any further harm to the public."




Source link