Shatta Wale Is Childish And Not Ready For Marriage – Lawyer Ampaw Jabs
Lawyer Maurice Ampaw disclosed why he thinks Ghamaisn dancehall musician Shatta Wale may never get married despite his age.
In the view of Mauris Ampaw, 45-year-old Shatta Wale is immature and still nursing some childish behavior that confirms the above.
He said some actions the award-winning musician portrays in his love life confirms that he is not mature enough to settle with one lady.
READ ALSO: Sarkodie, Steflon Don and Other Stars Storm Fuse ODG and Zimbabwean Girlfriend's Wedding – Photos + Videos
Explaining further, a the lawyer used Shatta Wale's past relationships as a case study and spoke about the treatment he gave to the women he fell in love with.
Shatta and Michy's love story is no news and speaking about how he broke up with her despite having a child together will sound like a broken record.
His episode with Elfreda is another story and how he quickly moved on and started kissing other ladies in public confirms Lawyer Ampaw's assertion.
READ ALSO: Shatta Wale Spotted with His Hook Up Girl Kissing Aggressively – Photo
The private legal practitioner believes the dancehall musician is too childish and reckless to marry.
SOURCE: GhanaCelebrities.Com
READ ALSO:
Refused A UK Visa? CLICK HERE FOR HELP
---
CLICK HERE to subscribe to our daily up-to-date news!!


Source link
Photos of Sir John's first son pops up plus the properties Willed to him
– Advertisement –

Late NPP firebrand and Ghana Forestry Commission head, Kwadwo Owusu Afriyie; popularly, known as 'Sir John' has been trending on the internet since morning after an exclusive copy of his Will managed to land on the internet.
READ ALSO: Achimota Forest lands, gold and oil businesses in Sir John's will goes viral
In his will, Sir John a gave parcels of his lands in the Achimota Forest Reserve and other valuable assets to some of his relatives, as well as his biological children.
One of the people who massively gained a lot from Sir John's Will is his first son named Yaw Amoateng Afriyie.
Yaw Amoateng Afriyie is the current Acting Deputy Chief Executive Officer of the Ghana Investment Promotion Centre (GIPC).
Citing from the Will, he received 1 acre of land at Achimota Forest which has caused a public outcry because the forest is for the state.
He also got a Mansion at Ogbojo and one at East Legon and an extra 3 bedroom house at East Legon.
READ ALSO: 'Who's Michael Owusu?" – Ghanaians search for Sir John's nephew in his Will
Take a look at the documents below to know more…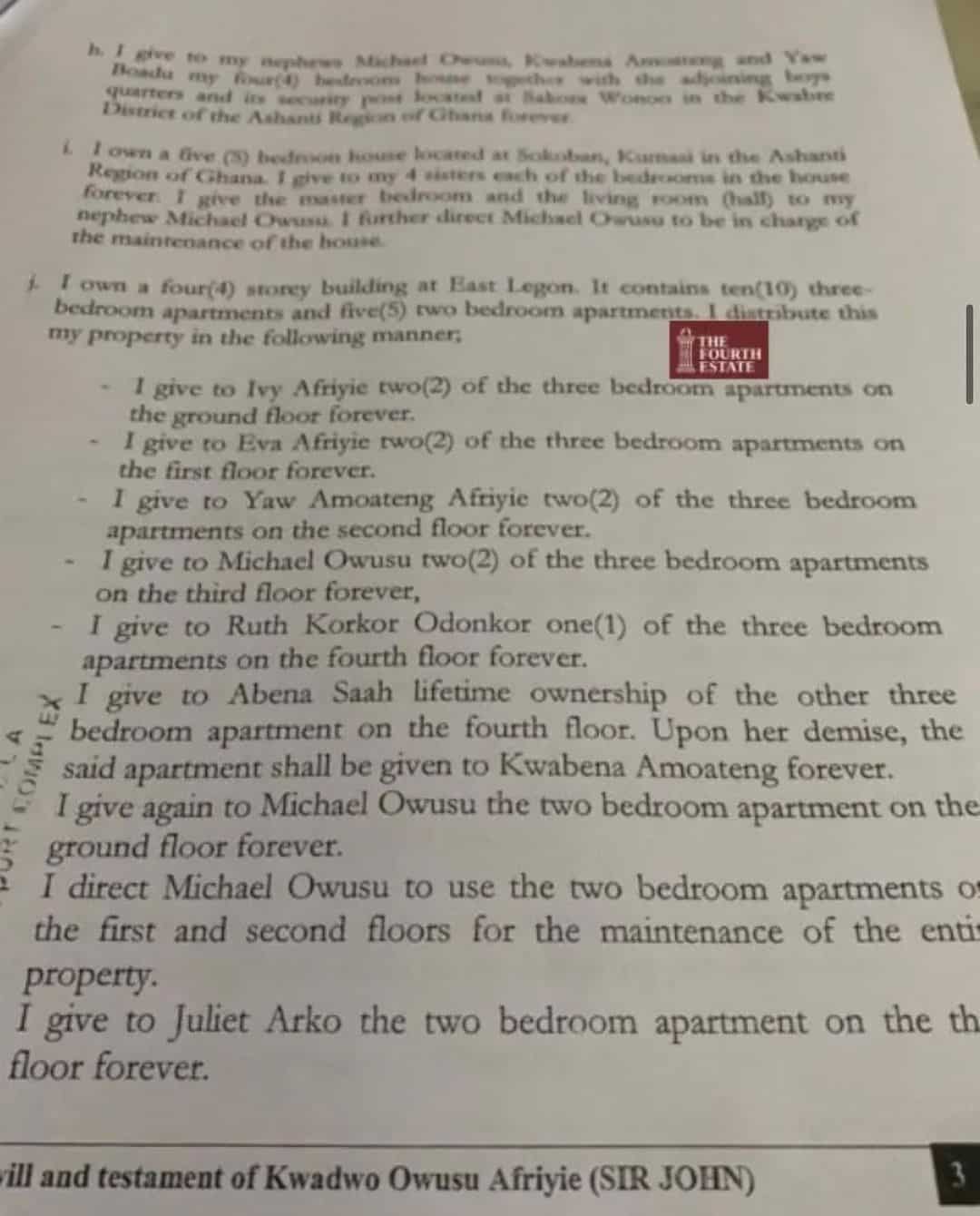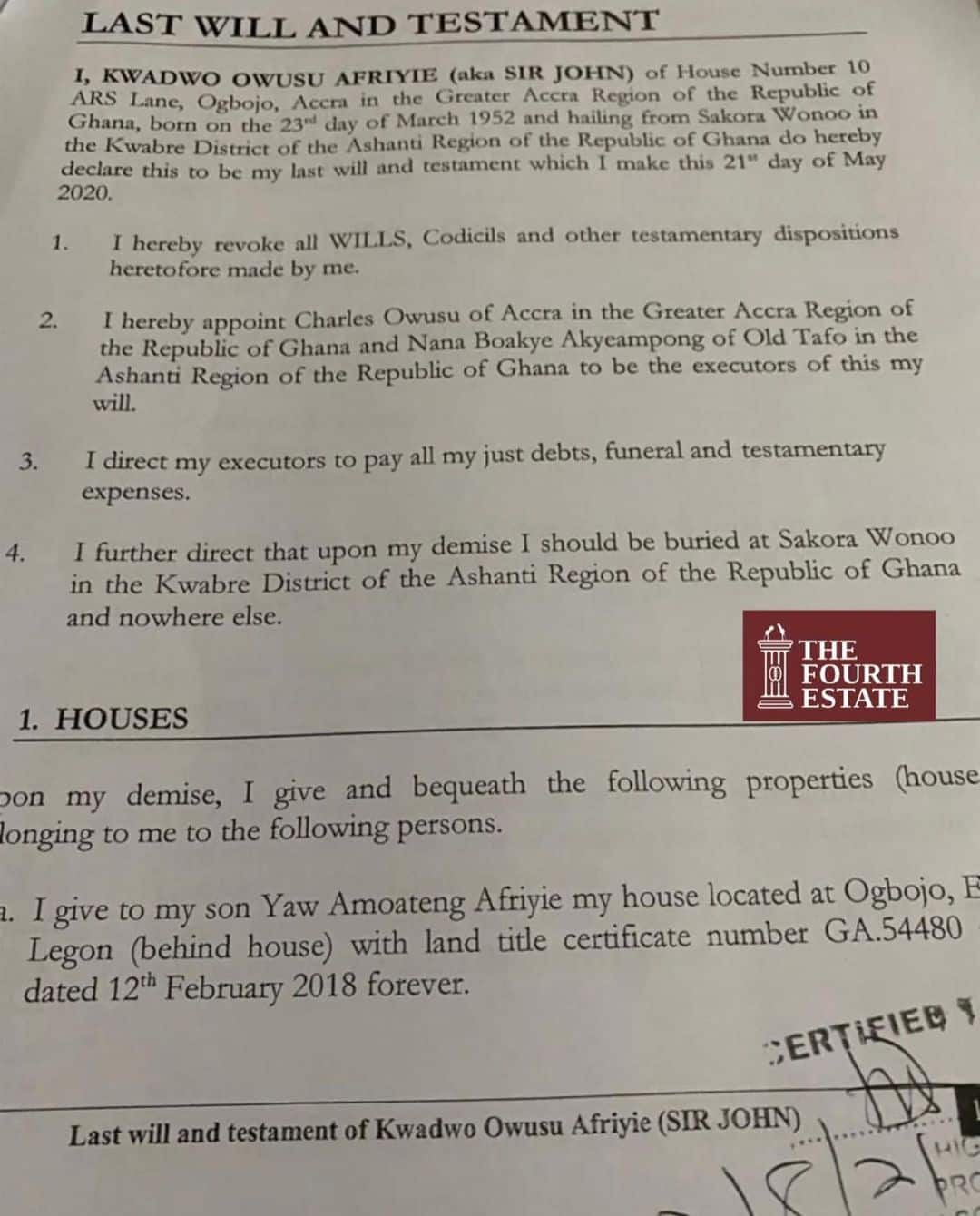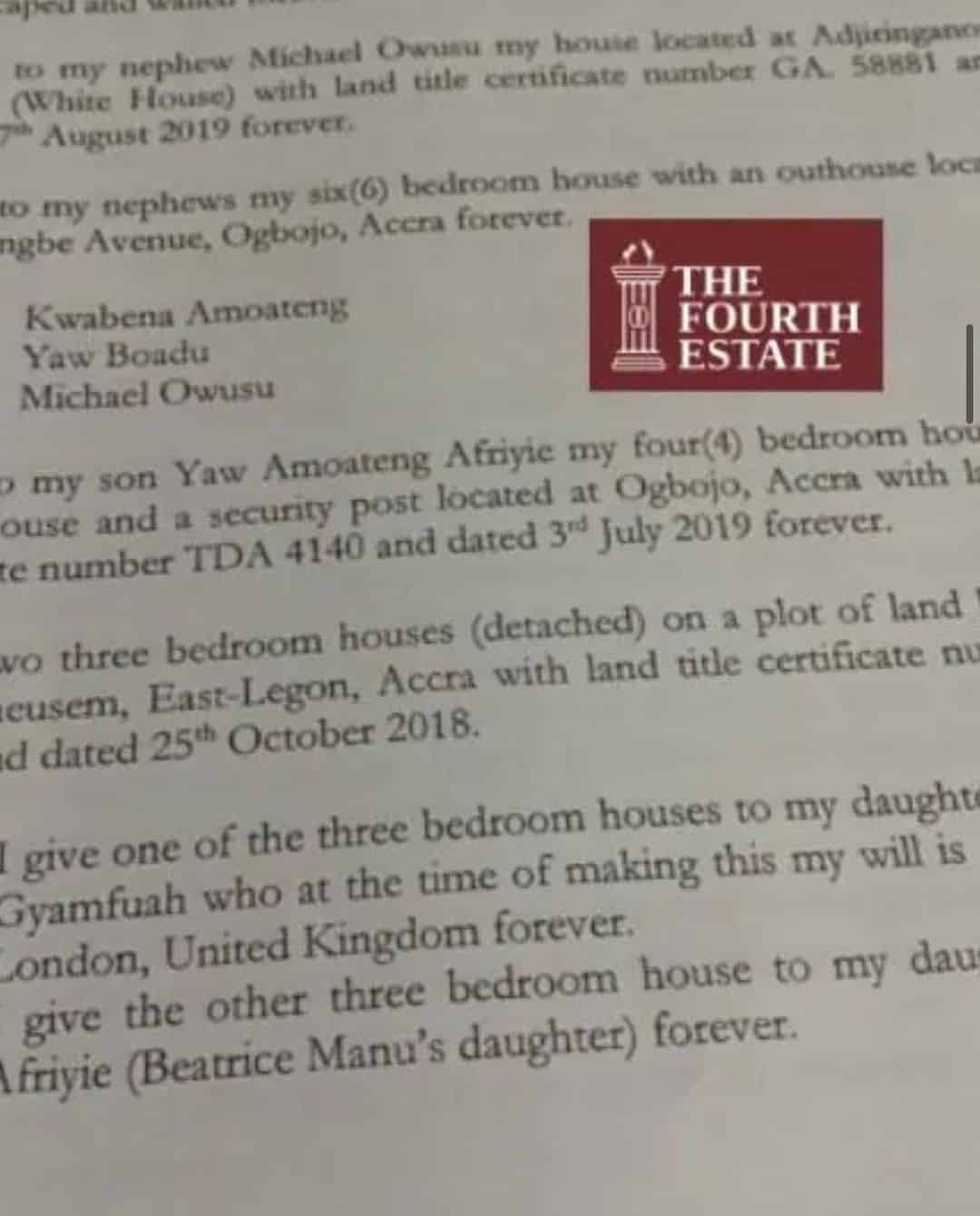 Meanwhile, the Ministry of Lands and Natural Resources has indicated it will investigate a document making rounds on social media alleging that late former Forestry Commission Chief Executive, Kwadwo Owusu Afriyie, popularly called Sir John, included portions of the Achimota forest lands in his will.
The purported will, which was been publish by investigative journalist Manasseh Azure Awuni's Fourth Estate, contains four parcels of specified and unspecified acres of land in the Achimota Forest, which the late politician bequeathed to named persons.


Source link
Abigail Okyere; the former UG student appointed as Microsoft Chief of Staff
– Advertisement –

Abigail Amoakoa Okyere, a former University of Ghana (UG) student, has accepted a new position as Chief of Staff at Microsoft.
She will be a part of the company's Cloud Security Engineering branch.
Abigail took to LinkedIn to share her joy and success after receiving the good news of her appointment.
She wrote, "I am beyond thrilled to be joining Microsoft to help drive change, implement strategies and above all, contribute to empowering individuals and organisations as a member of the Could Security Engineering division."
Her appointment has now been hailed by the University of Ghana.
"Hearty congratulations to University of Ghana alumna, Abigail Amoakoa Okyere, on your appointment as Chief of Staff at Microsoft. We celebrate your great achievement," they posted on Twitter, Sunday.
At the University of Ghana, Abigail earned a Bachelor of Science in Administration and Accounting.
She also earned a Master of Business Administration from the University of British Columbia.


Source link
'Who's Michael Owusu?" – Ghanaians search for Sir John's nephew in his Will
– Advertisement –

Ghanaians on social media have been in a frantic search for one Michael Owusu, who is the nephew of Sir Joh and featured predominantly in his Will.
In the late Kojo Owusu Afriyie aka Sir John's Will, all his business was given to Michael Owusu including several houses, plots of land and cars.
Michael Owusu took the lion's share of the inheritance left behind by his uncle Sir John. In fact, he had more than Sir John's original children, siblings and wives.
On the back of that, many have been asking the question as to who the Miahcel Owusu is and as a result rapper, Sarkodie's name has come into the discussion.
Since rapper Sarkodie's original name of Michael Owusu Addo, many are sarcastically alleged that he might be the beneficiary in the Will of Sir John.
Coult it be Sarkodie after all?
@MrDoDoojnr wrote: Sir John really force give Michael Owusu. Dude get almost everything some plus four pump action guns to protect his lion share.
@the_marcoli_boy: I hope the Michael Owusu in Sir John's will is not Sarkodie ? Like Na Todayyyyyyyyyyyy
@jojoarhinn wrote: Why do y'all think Michael Owusu said "Nana Toaso"? Sir John ntia oo. I mean, mentia.
@Tbag_ wrote: Will no leak like Michael Owusu go come tell we say Sir John give am two eggs Wey he turn am into poultry farm.
Meanwhile, in the controversial Will, Sir John had three nephews namely: Michael Owusu, Yaw Boadu and Kwabena Amoateng who received the majority of his properties and estates.
Read more on Sir John's Will HERE…


Source link