Netflix rocked by subscriber loss, may offer cheaper ad-supported plans
Netflix Inc (NFLX.O) said inflation, the war in Ukraine and fierce competition contributed to a loss of subscribers for the first time in more than a decade and predicted deeper losses ahead, marking an abrupt shift in fortune for a streaming company that thrived during the pandemic.
The company said it lost 200,000 subscribers in its first quarter, falling well short of its forecast of adding 2.5 million subscribers. Suspending service in Russia after the Ukraine invasion took a toll, resulting in the loss of 700,000 members.
Wall Street sent Netflix's stock tumbling 26% after the bell on Tuesday and erased about $40 billion of its stock market value. Since it warned in January of weak subscriber growth, the company has lost nearly half of its value.
The lagging subscriber growth is prompting Netflix to contemplate offering a lower-priced version of the service with advertising, citing the success of similar offerings from rivals HBO Max and Disney+.
"Those who have followed Netflix know that I've been against the complexity of advertising, and a big fan of the simplicity of subscription," said Netflix CEO Reed Hastings. "But, as much as I'm a fan of that, I'm a bigger fan of consumer choice."
Netflix offered a gloomy prediction for the spring quarter, forecasting it would lose 2 million subscribers, despite the return of such hotly anticipated series as "Stranger Things" and "Ozark" and the debut of the film "The Grey Man," starring Chris Evans and Ryan Gosling. Wall Street targeted 227 million for the second quarter, according to Refinitiv data.
The downdraft caught other video streaming-related stocks, with Roku (ROKU.O) dropping over 6%, Walt Disney (DIS.N) falling 5% and Warner Bros Discovery (WBD.O) down 3.5%.
Hastings told investors that the pandemic had "created a lot of noise," making it difficult for the company to interpret the surge and ebb of its subscription business over the last two years. Now, it appears the culprit is a combination of competition and the number of accounts sharing passwords, making it harder to grow.
"When we were growing fast, it wasn't a high priority to work on," Hastings said of account-sharing in remarks during Netflix's investor video. "And now we're working super hard on it."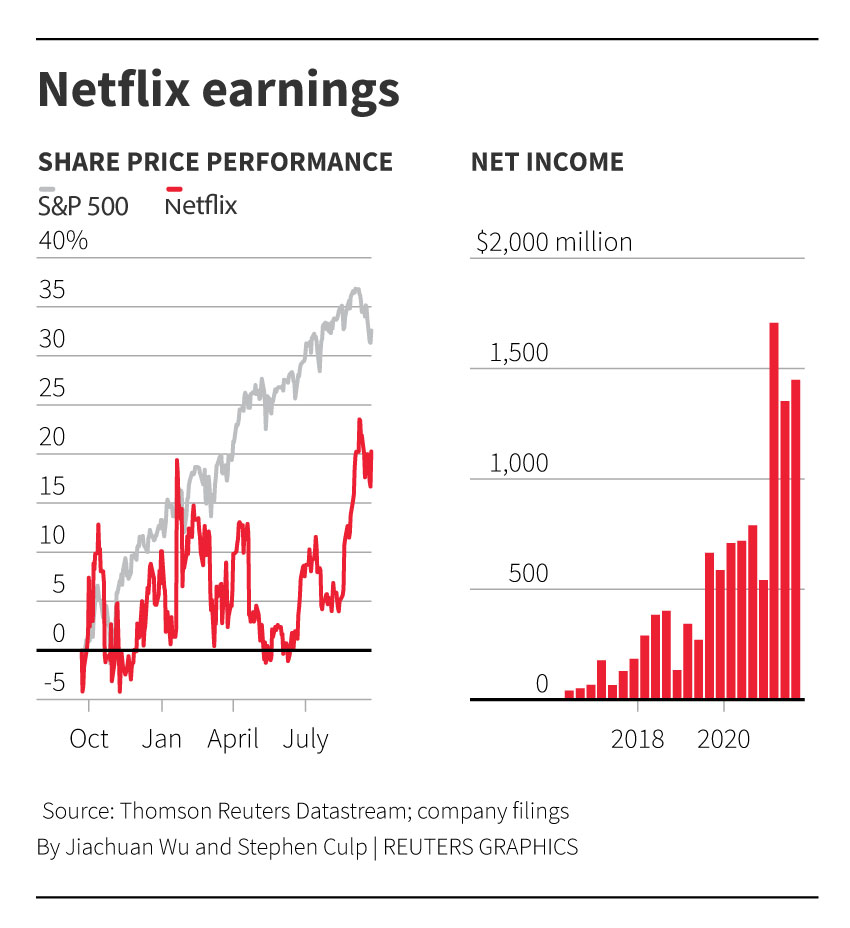 Confluence of Events
Netflix's first-quarter revenue grew 10% to $7.87 billion, slightly below Wall Street's forecasts. It reported per-share net earnings of $3.53, beating the Wall Street consensus of $2.89.
While the company remains bullish on the future of streaming, it blamed its slowing growth on a number of factors, such as the rate at which consumers adopt on-demand services, a growing number of competitors and a sluggish economy.
Account-sharing is a longstanding practice, though Netflix is exploring ways to derive revenue from the 100 million households watching Netflix through shared accounts, including 30 million in the United States and Canada.
This confluence of factors resulted in Netflix reporting losing customers for the first time since October 2011, catching Wall Street by surprise.
"They suffered from a combination of approaching saturation, inflation, higher pricing, the war in Ukraine and competition," said Wedbush analyst Michael Pachter. "I don't think any of us expected that all to happen at once."
The world's dominant streaming service was expected to report slowing growth, amid intense competition from established rivals like Amazon.com (AMZN.O), traditional media companies such as the Walt Disney and the newly formed Warner Bros Discovery and cash-flush newcomers like Apple Inc (AAPL.O).
Streaming services spent $50 billion on new content last year, in a bid to attract or retain subscribers, according to researcher Ampere Analysis. That's a 50% increase from 2019, when many of the newer streaming services launched, signaling the quick escalation of the so-called "streaming wars."
Netflix noted that despite the intensifying competition, its share of TV viewing in the United States has held steady according to Nielsen, a mark of subscriber satisfaction and retention.
As growth slows in mature markets like the United States, Netflix is increasingly focused on other parts of the world and investing in local-language content.
"While hundreds of millions of homes pay for Netflix, well over half of the world's broadband homes don't yet — representing huge future growth potential," the company said in a statement.
Benchmark analyst Matthew Harrigan warned that the uncertain global economy "is apt to emerge as an albatross" for member growth and Netflix's ability to continue raising prices as competition intensifies.
Streaming services are not the only form of entertainment vying for consumers' time. The latest Digital Media Trends survey from Deloitte, released in late March, revealed that Generation Z, those consumers ages 14 to 25, spend more time playing games than watching movies or television series at home, or even listening to music.
The majority of Gen Z and Millennial consumers polled said they spend more time watching user-created videos like those on TikTok and YouTube than watching films or shows on a streaming service.
One market observer said Netflix's stock has benefited from expectations of perpetual growth.
"Today's report shows that there is a limit to that long-term bullish thesis," said David Keller, chief market strategist at StockCharts.com.


Source link
BoG should deal with cedi stability, others -Togbe Afede XIV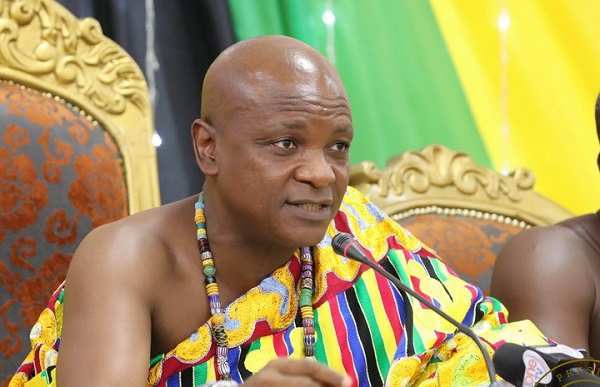 The Paramount Chief of Asogli Traditional Area, Togbe Afede XIV, has once again charged the Bank of Ghana to address the perennial volatility of the Ghana cedi and the high interest rates in the country.
According to him, the Central Bank is veering off its core mandate of ensuring price and exchange rate stability as their contribution towards the realisation of the macro-economic objectives of growth and job creation.
Receiving the board of the National Petroleum Authority in a courtesy call, he questioned the high profit trumpeted by the Bank of Ghana in 2020, which he believes is as a result of the high interest rates that are costs to other sectors of the economy. 
"The banking sector is making huge profits.  Absa reported a profit before tax of ¢1.1 billion, while Ecobank and GCB reported after-tax net incomes of close to ¢600 million last year. BOG itself made a profit of ¢1.57 billion ($270 million) in 2020, about four times the profit that Bank of England made."
"Bank of England presides over a $2.7 trillion economy. Ghana's economy is only about a $72 billion, about one-fortieth, yet our central bank made so much money. Sadly, from the high interest rates that are costs to other sectors have to bear. High interest rates have only succeeded in creating the most profitable banking sector in Africa, while wreaking havoc on other sectors and destroying the structure of our economy".
He further bemoaned the state of industries in Ghana, owing to the fact that most important sectors are owned by foreigners which he believes does not augur well for Ghana.
Togbe Afede XIV therefore called for a change in the structure of the economy, questioning the high inflation which has become a permanent feature of the economy.
'If you look at our economy, including the oil and gas sector, you will realize that the bulk of it, unfortunately, the most important sectors, are owned by foreigners. So, a huge chunk of our earnings accrues to foreigners.  Our mining, banking and telecoms sectors are dominated by foreigners. Thus, large movement of funds out of these sectors, for dividend payments, for example, wipe out our trade surpluses, and invariable, we suffer deficits, with adverse ramifications for the cedi."
"It means that the structure of our economy has to change. We learned and talked about this since the time we were studying economics in secondary school. Can you imagine?"
He called for a relook at the approach to tackle inflation as a country and called for a positive fiscal, trade and monetary policies.
"The Bank of Ghana has always tried to fight inflation with high interest rates, but it has not worked. The problem is they increase interest rates based on recorded inflation, among others, which is effectively past price changes, instead of expected inflation. Their approach inadvertently transmits past trends into the future, in a self-fulfilling prophecy."
 "We need, as a nation, to look critically at how we fight the battle against inflation", he intimated.


Source link
GPHA congratulates Director-General on his election as IAPH Vice President, African region
The Ghana Ports and Harbours Authority (GPHA) has sent a congratulatory message to its Director General, Michael Achagwe Luguje on his election as the Vice-President (Africa Region) of the International Association of Ports and Harbours (IAPH).
IAPH is the global alliance of Ports and Harbours, with membership of over 160 Ports and 120 port-related businesses from 87 countries.
GPHA is member of the IAPH, and it is significant that its Director General now holds the position of Vice-President for Africa Region.
Polling 13 votes out of 14, Mr. Luguje, in line with Article 21 of IAPH Constitution, assumes the responsibility until next annual general meeting at the IAPH World Ports Conference in 2023.
From the humble beginnings in Pong-Tamale L.A. Primary School, Tamale and Navrongo Secondary Schools, through the University of Ghana, the World Maritime University and others, Mr. Luguje, has risen through the ranks from the office of the Special Assistant to the then Director General of GPHA to become the West and Central African Regional Coordinator of the International Maritime Organization (IMO), United Nation's specialised regulatory agency for global shipping and maritime transport.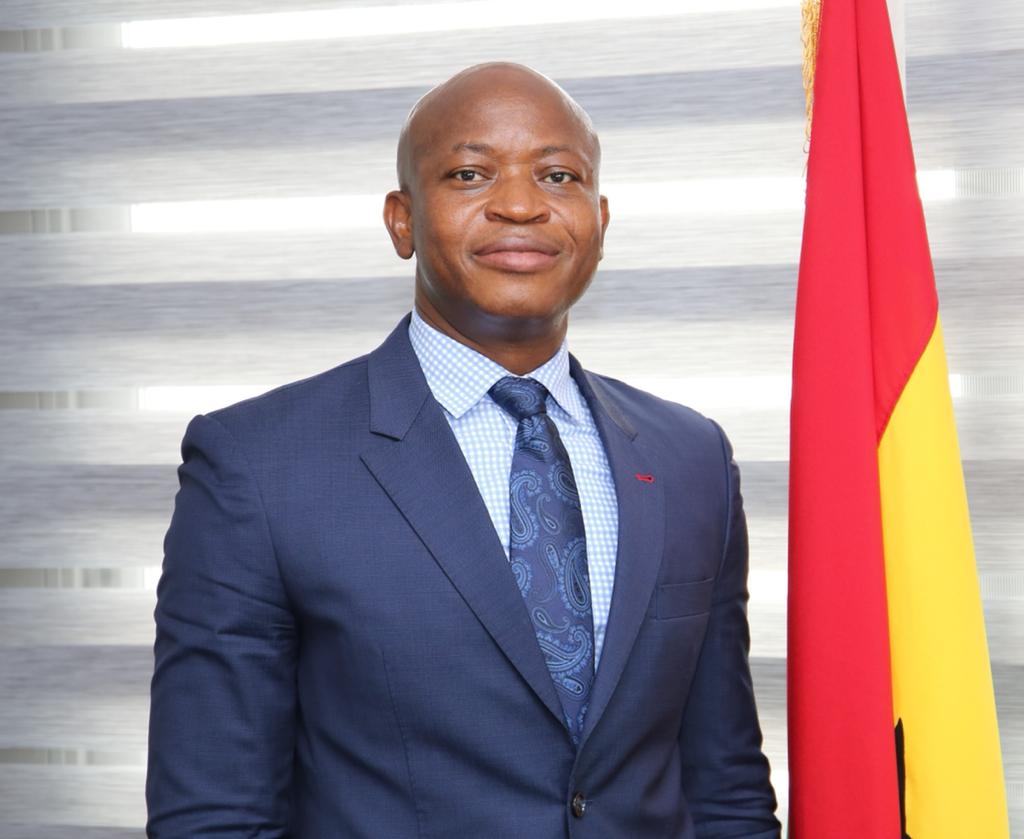 He also served as one of the longest Secretary-Generals of the Ports Management Association of West and Central Africa (PMAWCA).
In 2017, Mr. Luguje mobilized member ports from the Africa region towards the successful election of Ms. Hadiza Bala-Usman, Managing Director of Nigerian Ports Authority, to the office of Vice-President, Africa Region of the IAPH.
Further to the congratulatory note from the Board, Management and Staff of GPHA, the Chiefs, Elders and Good People of the Kasena-Nankana Traditional Areas, and the Savelugu-Nanton District have expressed pride and joy for this noble son of theirs.


Source link
MSMEs are key to economic growth in the CommonWealth – CWEIC CEO
The Chief Executive of the CommonWealth Enterprise and Investment Council (CWEIC), Rosie Glazebrook, has noted that Micro, Small and Medium-sized Enterprises (MSMEs) are key to the development of many economies in the Commonwealth.
This, in her view, underscored the CWEIC strategy to work with partners in key CommonWealth markets to foster MSME growth.
Ms. Glazebrook made these comments when she paid a courtesy call at one of the CWEIC's key partners in Ghana, UMB (Universal Merchant Bank).
This formed part of Madam Glazier official tour of Ghana, this week. The bank structured the visit to enable Madam Glazebrook get a first-hand view of Ghanaian MSMEs, by hosting the CWEIC delegation at its "Centre for Businesses" within the Madina market enclave.
Chief Executive of UMB, Nana Dwemoh Benneh, in his remarks noted "a number of significant economic reports argue that MSMEs account for over 70% of all economic activity in Ghana. As a Bank, we have been focused on Ghanaian MSMEs and their growth since 1972, and thus we share this passion for MSMEs with the CWEIC."
"Indeed, we are proud to have been selected by the CWEIC to partner the University of Coventry programme to build capacity for African SME's and look forward to rolling out the programme this year, especially to MSMEs with female leadership", he added.
Ms. Glazebrook in her remarks said, "UMB is Ghana's oldest Merchant Bank, and I dare say the CommonWealth is one of Ghana's oldest international relationships. Central to our work at the CWEIC is the COMMONWEALTH ADVANTAGE- the fact that overall its 21% cheaper to do business across the CommonWealth. We are thus very passionate about bring this advantage to bear on businesses and I am excited that one of our key partners is doing this in lock-step with us here in Ghana."
Ms Glazebrook and her party were escorted around the market by Nana Dwemoh Benneh and other officials of the bank. This was followed by a presentation by the Head of Strategy on UMB's MSME programme and the intergation with CWEIC, Roland Akafia.
UMB is a leading indigenous bank reputed for bringing a uniquely Ghanaian perspective to banking, since 1972. Headquartered in Accra and licensed by the Bank of Ghana, the bank operates out of 35 branches across Ghana.
The CWEIC is a commercial, not-for-profit membership organisation with an official mandate from the Commonwealth Heads of Government to facilitate trade and investment throughout the 54 Commonwealth member nations. The role of CWEIC is to use the convening power and trusted network of the Commonwealth, which is led by Her Majesty The Queen, to drive trade and investment.


Source link