Yango/Entrepreneur; the successful bet of Mohamed Ayaba
Yango allows many young Ghanaians to work on their own. In two years of activity in Ghana, the carpooling multinational has enabled many young people to set up their own taxi companies.
This is the case of Mohamed whose company, The Truth Yango, today has 64 cars that he financed himself. In this article, we tell you about the experience of Mohamed Ayaba.
The meeting with Yango
Before joining Yango as a partner, Mohamed was an online driver and made a hard living. As he told us in a recent interview, Mohamed met Yango through a friend. He was immediately seduced by the project offered to him by the multinational ride-hailing service. Indeed, better than a job, Yango offered Mohamed a business partnership.
The drivers working for Mohamed enjoy the fair and otherwise beneficial partnership: «It is a real win-win partnership. I get some advantageous earnings, and my drivers benefit from health coverage. They are assisted and supported in the event of illness or accident».
Yango's most trusted partner in Ghana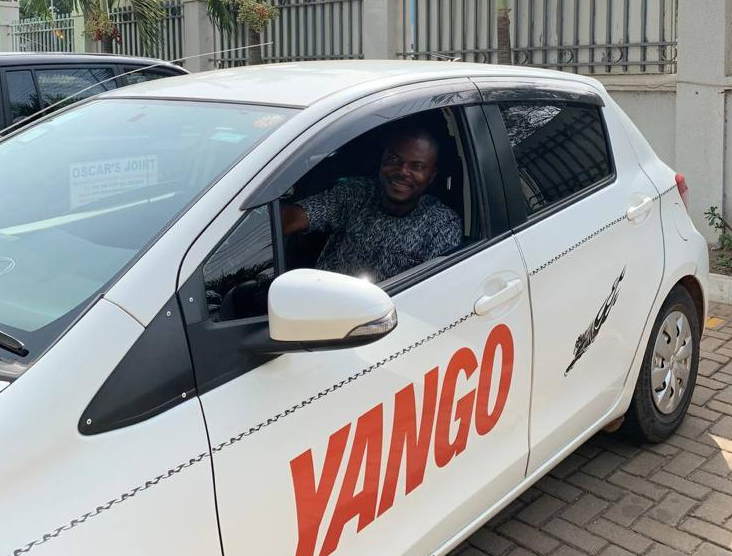 Mohamed Ayaba is convinced he made the right choice by joining the Yango family. And for this, it has a very relevant indicator. Indeed, as he likes to recall, before starting to work with Yango as a partner, Mohamed only owned two cars.
Now, he owns 64 and employs as many drivers.
"Yango has truly changed my life and that of many drivers. In addition to making it easier for them to acquire a car, it offers them very affordable salary conditions."
The partners of Yango allow many young Ghanaians to acquire vehicles through leasing. The reimbursement is then spread over several years, which allows these young entrepreneurs to own their own car at the end of the contract.
Another option is if they have the means to acquire a car on their own and collaborate with Yango as a driver. In both cases, it is Yango who provides them with the customers through its application.
In Mohamed believes, "Yango is the ride-hailing multinational service that offers the best conditions to its partners in Ghana, particularly in terms of the commissions offered. It encourages young job seekers to explore this opportunity."
However, he urges Yango to invest more in the market because, he assures, the market is still little exploited.
He suggests that Yango allow partners like him to invest more in advertising to expand their customer base. Yango would also be a winner according to Mohamed Ayaba.
Mohamed Ayaba's monthly turnover is about ¢40,000 to ¢60,000. He plans to further expand his number of cars soon.


Source link
Government, BoG under pressure to address rising inflation
Government and the Bank of Ghana (BoG) are under pressure to respond quickly with additional measures to slowdown the rising inflation rate which hit 23.6% in April 2022.
The current rate of inflation is the highest since January 2004.
Some consumers and market analysts who spoke to Joy Business argued that the measures introduced so far by managers of the economy are not enough to address the rising inflation rate.
Organise labour have also argued that it members will push for new minimum wage of not less than 23.6% due to the current inflation rate for the month of April.
This is another demand that will put pressure on government for a quick response to the current situation.
Some market watchers have pointed out that since it will be difficult to grant this request, the best option now is to look for ways to slowdown the rising inflation rate.
Rising food prices has been identified as the major driver of the inflation rate for the past three months. This will alert government to improve the supply side of inflation.
On the monetary side, some arguments have been made for another policy rate hike by the Bank of Ghana to address the demand side of inflation.
Surging food prices, transport fares, push inflation to 23.6% in April 2022
Surging food prices once again drove inflation for the month of April, 2022 to 23.6%, figures from the Ghana Statistical Service has revealed.
This is the highest since January 2004.
According to the GSS, four divisions – Transport (33.5%); Household Equipment and Routine Maintenance (28.5%); Food and Non-Alcoholic Beverages (25.6%), and Housing, Water, Electricity, Gas and Other Fuels (25.0%) recorded inflation rates above the national average of 23.6% with Transport recording the highest inflation.


Source link
E-levy: Multiple exemptions on e-levy to end on July 1 – GRA
The Ghana Revenue Authority (GRA) has stated that multiple exemptions being enjoyed by mobile money users with more than one account is temporary.
A Principal Revenue Officer and Head of the Project Management Unit for GRA, Isaac Kobina Amoako, stressed that this will phase out "on July 1, 2022."
The e-levy law stipulates that consumers are expected to be charged per account, but currently, consumers with multiple accounts are enjoying multiple exemptions.
CEO of the Ghana Chamber of Telecommunications, Ken Ashigbey, explained on the Super Morning Show on Thursday that "what is happening is that not all the charging entities have been rolled onto the common platform which would have been able to take your unique identifier, therefore, if you have multiple SIMs then you'll be enjoying multiple exemptions."
However, the Ghana Revenue Authority has assured that this will end by the close of June.
"We've told the charging entities to tell their customers that this is temporary. We wrote the letter to the charging entities that they should charge per wallet and per account. If you watch the approach we are using, we are riding on the back of the charging entities and we've already told them that this is a temporary endeavor that will end after June 30, so from July 1, all these multiple exemptions will end," Mr Kobina Amoako said.


Source link
Free gas from Jubilee Fields for power generation to cease by end of 2021
Gas for electricity generation from the Jubilee Fields will no longer be free by year-end.
Under the erstwhile Kufour government, Ghana negotiated this free gas arrangement with Tullow oil.
Gas is cheaper than crude when used for a generation, but free Gas from jubilee had always been preferred due to the impact on pricing.
But at a presentation on the proposed tariffs, the Ghana National Petroleum Corporation (GNPC) said they had considered this development in their computation of gas prices.
"The Jubilee Foundation Volume, which we have enjoyed over the years as free gas, is coming to an end.
"The good news is that it will still be cheaper but it won't be the cheapest particularly, it will be more expensive than now," the GNPC representative said.
But speaking on JoyNews' News Desk, an Energy Expert, Kwame Jantuah cast doubt that the change will cause an increment in electricity tariffs in the country.
According to him, currently, the problem at stake is insignificant and wouldn't affect the pricing.
"They are negotiating a certain price. And from what I understand, it is a very low figure because PORC's responsibility is to ensure that there is no unwarranted burden on the people.
"So they have to really go through whatever proposal that have been brought with a fine-tooth comb and look at what kind of negotiation GNPC have had with the other IUCs to be able to satisfy themselves with the kind of tariffs that they are asking for."


Source link