Ferrari driver Charles Leclerc vows to bounce back in Emilia Romagna Grand Prix
If Saturday was a hint at what would happen in the main race, then Leclerc and Max Verstappen are likely to put on a memorable show in Italy. Verstappen started the sprint qualifiers in pole position, but following a technical issue with his car, he was overtaken by Leclerc.
As expected, the Oracle Red Bull Racing driver kept close tabs on his Ferrari counterpart and as Leclerc began to face tyre issues of his own towards the end, Verstappen closed the gap before overtaking Leclerc.
Leclerc said after the race that after his good start, his strategy was to keep some distance between himself and Verstappen before entering the DRS zone, where the defending champion could have an advantage.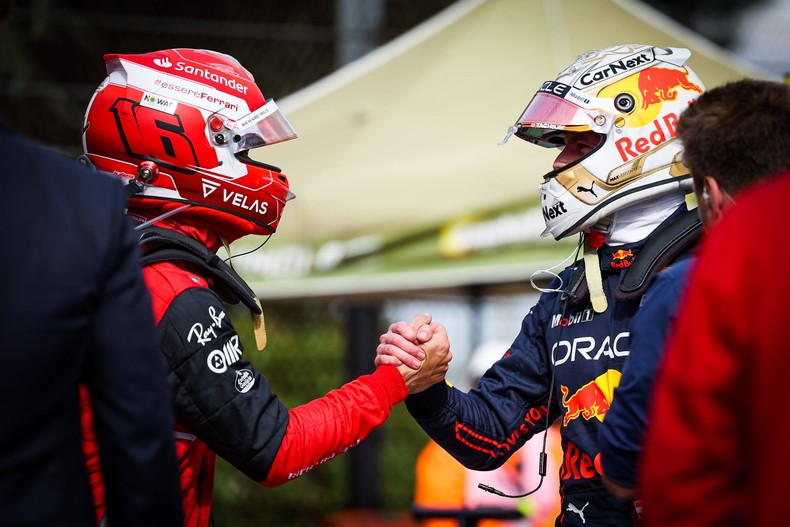 "I had a very good start, we were not side-by-side for Turn 1, and I could focus on my race from that moment onwards. I tried to push at the beginning to get a bit of a gap and for Max [Verstappen] to not be in the DRS zone because I knew that I would have been vulnerable if it was the case." Leclerc said.
After scoring seven points in the sprint race, Leclerc maintains his lead at the top of the drivers' standings. Despite the tyre issues, he is confident that he can drive to another pole position for the legendary Italian constructors.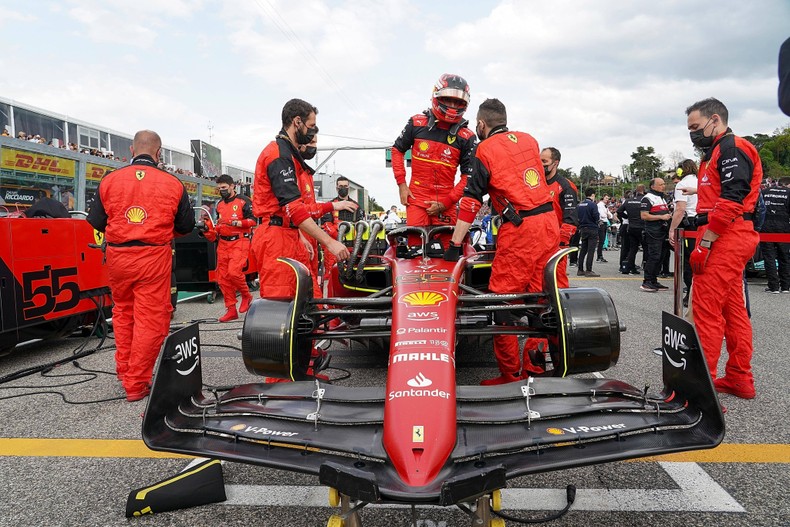 "I'm pretty sure we're in the fight for the win. If not, it's going to be a bit more difficult. But anything's possible. It's only the Sprint race and we'll learn from this to do better." Leclerc said.
The Emilia Romagna Grand Prix will take place at the Enzo e Dino Ferrari track on Sunday April 24.


Source link
Black Stars coaches hold meeting in London ahead of 2023 AFCON qualifiers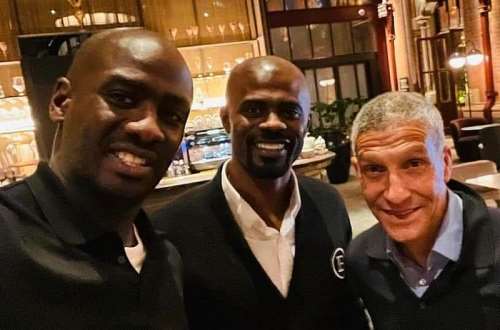 However, the four-time African champions will begin the qualification series in June, with two games to be played.
The Black Stars will host Madagascar at the Cape Coast Stadium on June 1, before taking on CAR four days later.
Ahead of the two games, Ghana's interim head coach Addo, technical director Chris Hughton and assistant coach George Boateng converged in England.
It is believed that the trio discussed squad selection and other matters relating to the upcoming crucial matches against Madagascar and CAR.
After the AFCON qualifiers, Ghana will immediately begin its preparation for the 2022 World Cup with a four-nation tournament that includes Japan, Chile and Tunisia.
Dubbed the 2022 Kirin Super Cup, the tournament will be hosted by Japan from Friday, June 10, 2022 to Tuesday, June 14, 2022.
A statement from the Ghana Football Association (GFA) in April said the Black Stars will face hosts Japan in their opening game while Tunisia also takes on Chile.
The winners of both matches will then clash in the final four days later, with the losers also facing off for the third and fourth places.
Ghana qualified for the World Cup in March following a 1-1 aggregate scoreline against rivals Nigeria in a two-legged playoff in March.
The Black Stars drew goalless with the Super Eagles in Kumasi before securing a 1-1 draw far away in Abuja to qualify on away goals.
Otto Addo's side has since been paired in a tricky Group H of the World Cup, alongside Portugal, Uruguay and South Korea.


Source link
Pappy Kojo warns UTV not to play his music again as he calls out Kwame A Plus
The 'Towel' singer who is signed on to Off Da Ground record label owned by Fuse ODG appeared on the last weekend's episode of United Showbiz. She, however, had a confrontation with A Plus during the live broadcast.
Reacting to the encounter, Rapper Pappy Kojo took to his Twitter page to call out A Plus. "Ah but isn't Feli an Ewe? Feli ankasa she be humble, like by now A Plus turn kitiw fast fast," read his tweet dated May 23.
Commenting on allegations Kwame levelled against Fuse ODG for standing with his signee, Feli, the 'Koobi' rapper shared another tweet where he wrote, "LMAOOO A Plus say Fuse ein goat achievement be buying a house for East Legon but A Plus woegyim anaa, kwasia no be @utvghana u end up on after your failed music career bele fuck old boy, dont let me catch u buoyyyy."
Pappy Kojo also extended his rage to the local television for providing a platform for the musician cum politician to disrespect and carry his attacks on personalities, especially women.
"Yo @utvghana if you don't know & you play any Pappy Kojo music on your yawa station you go feel me waaaa gbemi station," in a separate tweet he added, "Unfollow me now @utvghana."
In a separate tweet, he wrote: "A Plus cant rap cant dress & cant also respect women, he only respects women GH think have money like Yvonne, how can u be old & ignorant. Fuck UTV & anyone who watches UTV."
Reacting to their encounter, Fuse ODG shared a tweet to say that "this #UnitedShowbiz panel interview with @FeliNuna has displayed how dangerous the creative industry space is for women in Ghana. A man should have the right to want to have sex with the woman if the woman needs their investment? Proud of Feli for standing up & #IStandWithFeli".
A Plus in response decided to jab Fuse ODG. He took to social media to say that "@fuseodg your greatest achievement as a musician was to buy a house at East Legon and teach young boys and girls how to do drugs. I came to your house and all I saw was young boys and girls doing drugs.
"It was sad how young girls who wanted to be stars were being laid from room to room. Some of these girls looked underage. Do you know why police used to come around there? I felt sad for the young people, especially the girls. So you know what I did? Ask police commander Asare formerly of East Legon police station. I told him to keep an eagle 👁 eye on you," he added.
A Plus further concluded that "I see you on the same level with Jeffrey Epstein. An amature R Kelly pretending to be supporting young girls? Bring yourself!! I'll bite your cl!t*r!s hard!!! Cl*t? 🤷‍♂️ Abi you be p**sy!!!"


Source link
AfDB seeks to raise $5billion to support women-led businesses in Africa in 2022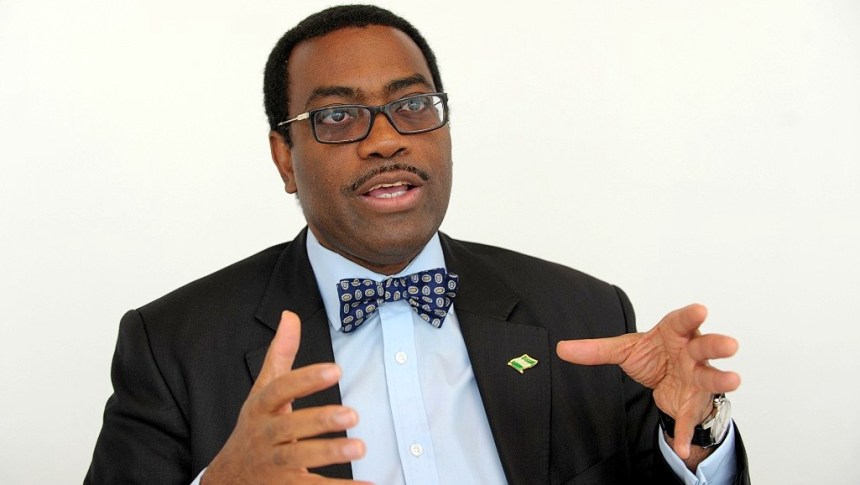 Dr Adesina disclosed this in a statement on his official Twitter account moments after the institution commenced its Annual Meetings for 2022.
In one of his tweets, Dr Adesina noted that the AfDB plans to lend $500 million to women in 2022 after paying $483 million to financial institutions to lend to women businesses in 2021.
He added that with the support of French President Mr Emmanuel Macron and the G-7, the AfDB's Affirmative Action for Women in Africa (AFAWA) seeks to raise $5 billion for women-led businesses.
Commenting on the food crisis arising from the Russian-Ukraine war, Dr Adesia said the AfDB board last week approved a $1.5 billion African Emergency Food Production Facility to support 20 million farmers to produce 38 million metric tons of food.
He also said the bank is partnering globally with the Global Center on Adaptation and former UN Secretary-General Ban Ki-moon to mobilise $25 billion to help Africa adapt to climate change.
In another Tweet, Dr Adesina praised the AfDB after it was ranked the Best multilateral financial institution in the world in 2021.
According to him, "The African Development Bank was ranked by Global Finance as the Best multilateral financial institution in the world in 2021, while the African Development Fund was ranked by CGD as second best in the world, ahead of all 28 concessional financing institutions in developed countries.
"We are an AAA-rated financial institution, the only one in Africa. We have consistently maintained our stellar AAA credit ratings by all major global credit rating agencies, who consistently praise our excellent risk management at the bank.
We have an excellent and robust management and governance system. We deliver great value for our clients in Africa. Over the past six years, our work has impacted 335 million people.
In highlighting these successes, the AfDB president tweeted that an independently conducted survey by a global HR firm found 85 per cent of staff are happy with the bank, an exceptionally high level for any institution globally.
Dr Adesina, who dismissed recent critics of the Bank's management, said that despite COVID-19 and the challenges of working from home, 97 per cent of staff were pleased with the services provided by the bank.




Source link