Hypocrite – Fans Call Pastor Sonnie Badu Names For Tattooing His Body
Renowned gospel artiste, Sonnie Badu has got many talking and calling him names after showing off his tattoo in pictures he shared on his Instagram.
Sonnie Badu, who is also the leader of the Rock Hill Chapel, seem to enjoy the controversies and have been passing comments that lands him in the news often.
READ ALSO: Abena Korkor Threatens To Snatch Medikal and Break Fella Makafui's Marriage
The photos he shared was to announce to his fans of an impending concert in Abidjan, Côte d'Ivoire.
In two of the pictures, which brought him backlash captured the man of God and singer with a large tattoo on his left arm.
The images have brought backlash to the gospel musician and preacher.
READ ALSO: Check Out Gorgeous Family Photos of Okyeame Quophi, Wife and Three Children
Many claim his action is parallel to what he preaches from the Bible in his church.
Some Christians called him a hypocrite while others claimed having tattoo is a sin as preached in the Bible.
Read some reactions below.
naaa.dubea: @sonniebaduuk do you know God frowns on tattoos? I really like your songs but this tattoo on your hand and as a man of God too you should know better
connieb2689 wrote; He's gonna come an say it was a childhood scar 😂😂
mandy_jael_berry_woods wrote; Iv got no issue with people with Tattoo . In some countries and continents it's their culture ! But coming from this Man .. is wha I don't get 😆😆😆😆. Or it's just a sticker or probably he's got a scar and wanna hide it ! The reason is only known to him ! Who am I to judge 😆😆😆 Will do some mpo 😆
SOURCE: GhanaCelebrities.Com
READ ALSO:
Refused A UK Visa? CLICK HERE FOR HELP
---
CLICK HERE to subscribe to our daily up-to-date news!!


Source link
Lands Commission breaks silence on Sir John's Achimota forest land
– Advertisement –

The Lands Commission has said there are no records to show that the late Chief Executive of the Forestry Commission, Kwadwo Owusu Afriyie, owned lands in the Achimota forest.
According to the Lands Commission, there are no records indicating that the late Chief Executive of the Forestry Commission, Kwadwo Owusu Afriyie, possessed lands in the Achimota forest.
Speaking to the media on Monday, the Executive Secretary of the Lands Commission, James Dadson, said:
"There is nothing in our records concerning that. What you read is what I have read. We don't have anything recorded here for Sir John as far as our records are concerned."
It follows a public outcry over the publication of Sir John's last will, in which he distributed the lands to his relatives and loved ones, among other enormous sums of money.
Meanwhile, flooding has ruined hundreds of documents, laptops, and scanners at the Lands Commission's Head Office in Cantonments, Accra.
After Saturday night's downpour, the basement of the new building was extensively flooded, flooding the Records Room, Files Room, and I.T. Unit, which are all located in the basement.
Read more on the Sir John issues HERE…


Source link
Date for TT's burial finally revealed
GHPAGE.com is the Leading Entertainment, news, sports, lifestyle, Buzz website today. GhPage.com delivers captivating and engaging entertainment, videos, and news that drives social conversations. It's a place to stay up to date with trending content across a growing array of topics with most original content focused on African pop-culture. Stay tuned to discover the quirkiest of events, the meatiest gossip all under one dot com. Happy surfing!


Source link
Photos of Sir John's first son pops up plus the properties Willed to him
– Advertisement –

Late NPP firebrand and Ghana Forestry Commission head, Kwadwo Owusu Afriyie; popularly, known as 'Sir John' has been trending on the internet since morning after an exclusive copy of his Will managed to land on the internet.
READ ALSO: Achimota Forest lands, gold and oil businesses in Sir John's will goes viral
In his will, Sir John a gave parcels of his lands in the Achimota Forest Reserve and other valuable assets to some of his relatives, as well as his biological children.
One of the people who massively gained a lot from Sir John's Will is his first son named Yaw Amoateng Afriyie.
Yaw Amoateng Afriyie is the current Acting Deputy Chief Executive Officer of the Ghana Investment Promotion Centre (GIPC).
Citing from the Will, he received 1 acre of land at Achimota Forest which has caused a public outcry because the forest is for the state.
He also got a Mansion at Ogbojo and one at East Legon and an extra 3 bedroom house at East Legon.
READ ALSO: 'Who's Michael Owusu?" – Ghanaians search for Sir John's nephew in his Will
Take a look at the documents below to know more…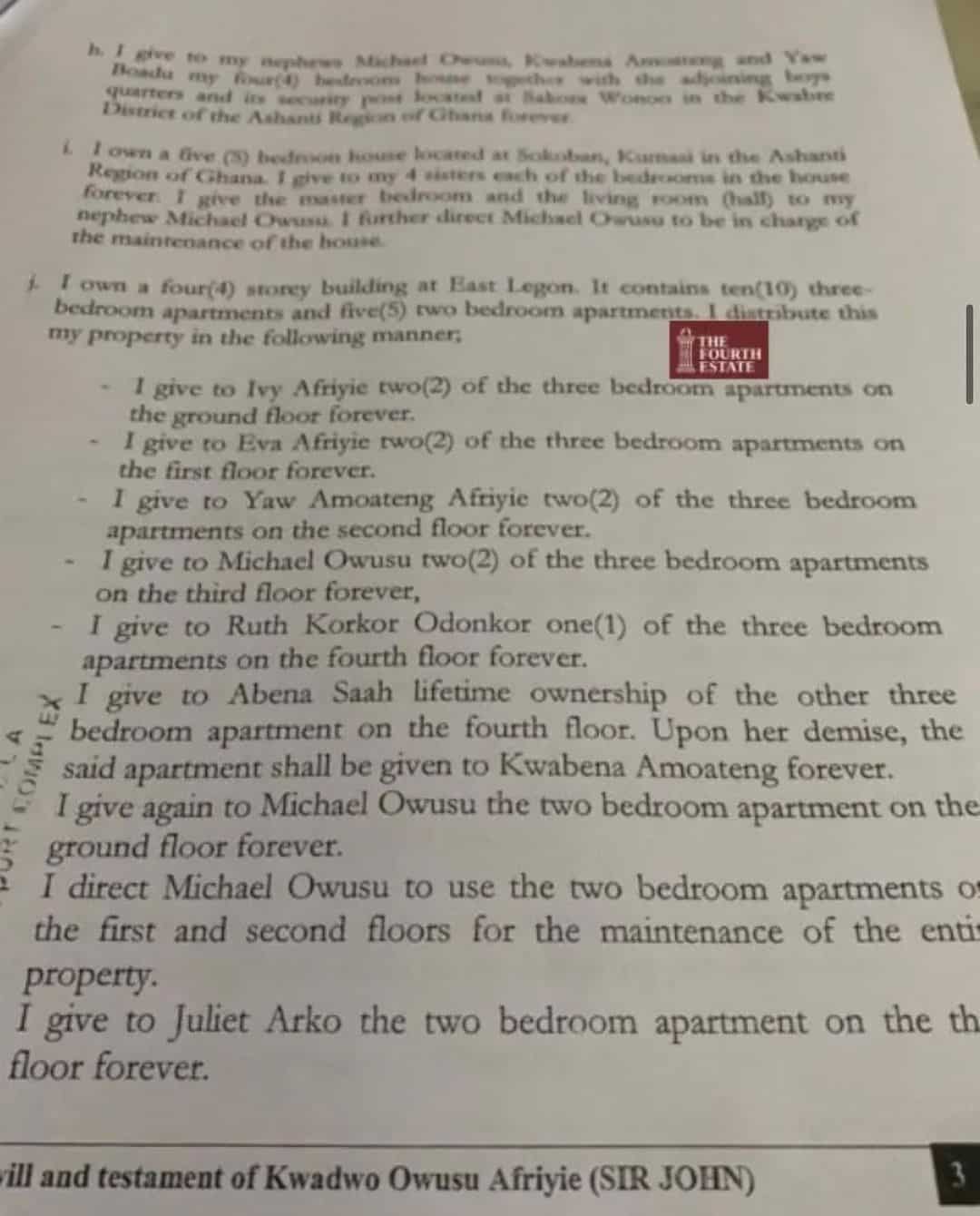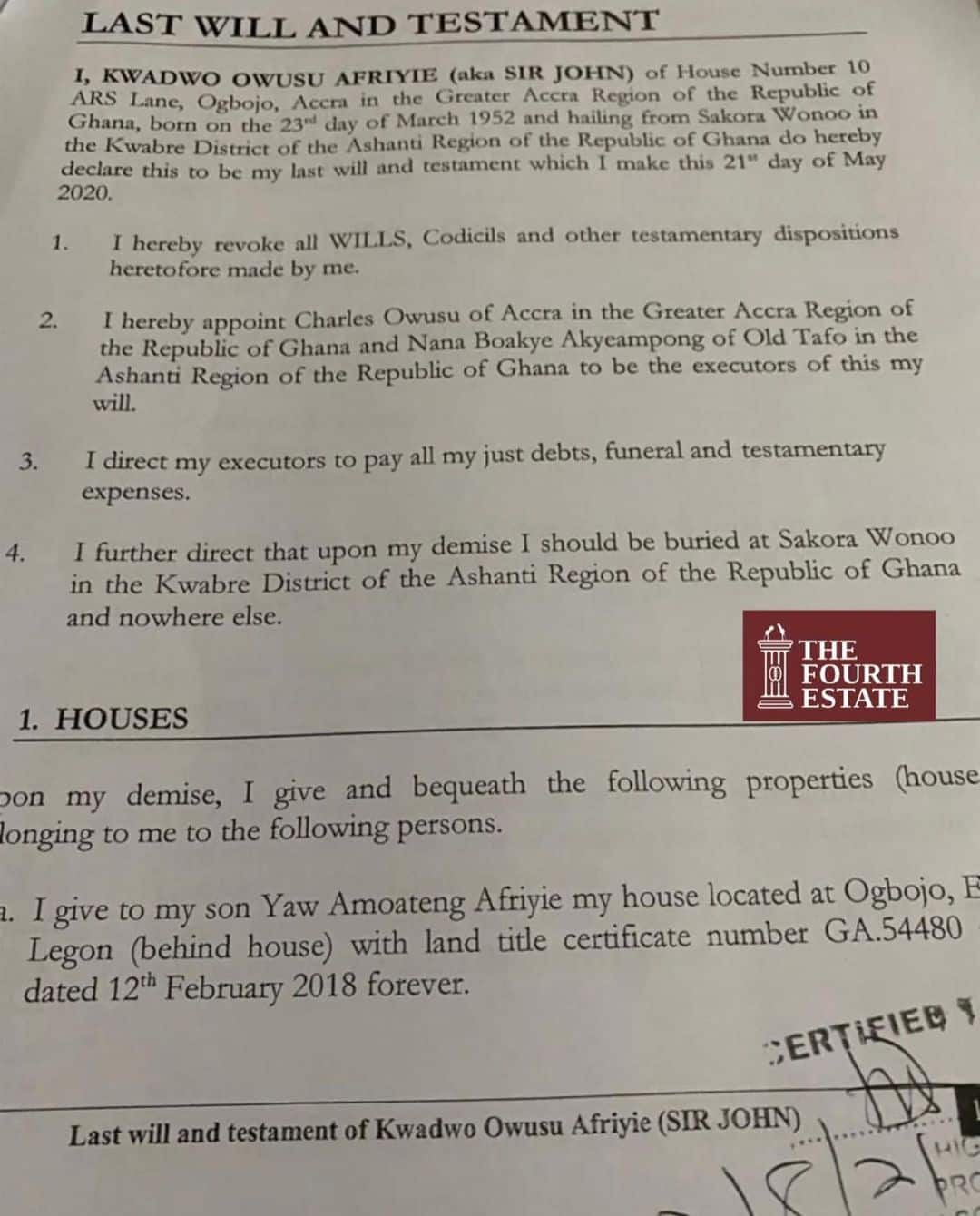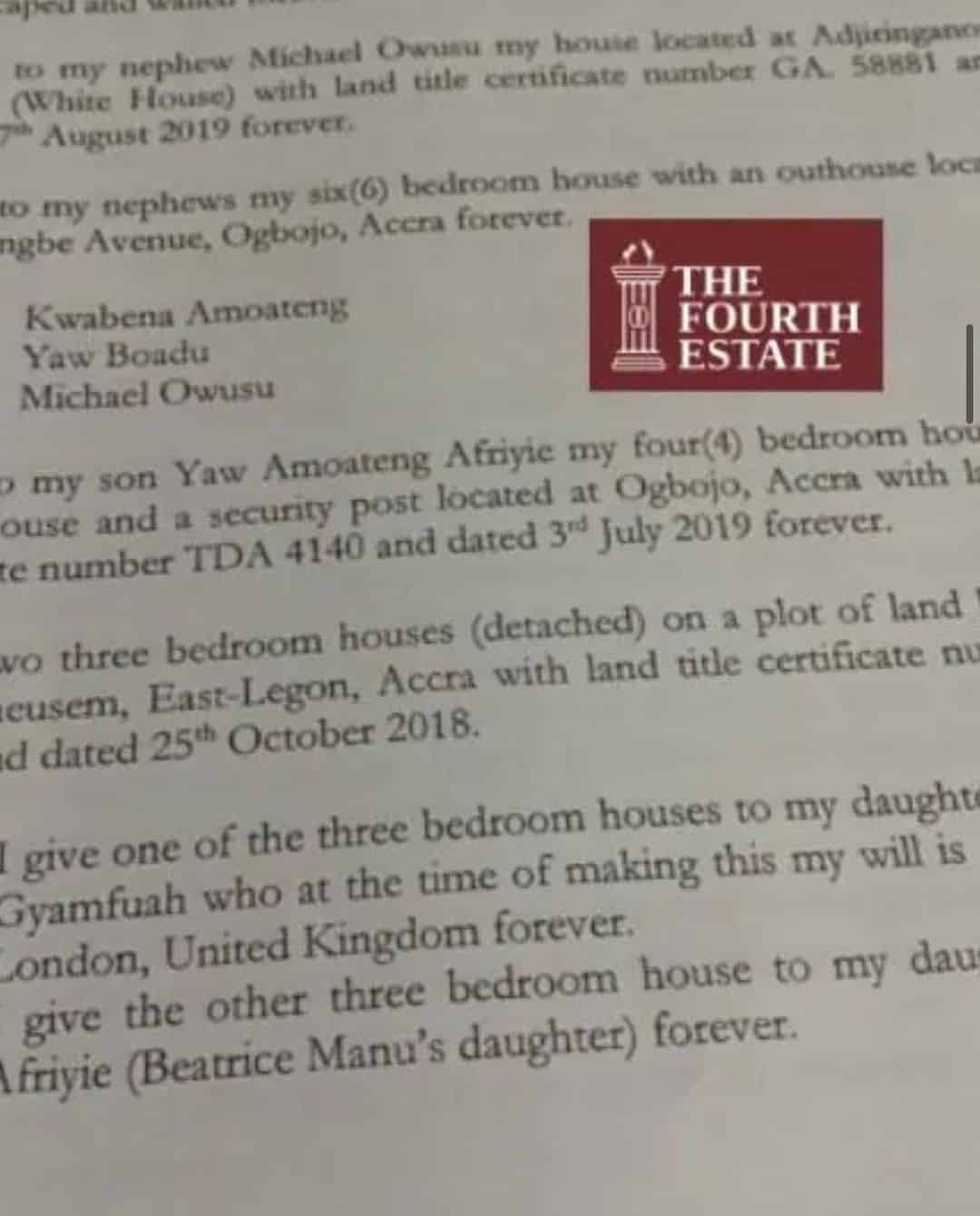 Meanwhile, the Ministry of Lands and Natural Resources has indicated it will investigate a document making rounds on social media alleging that late former Forestry Commission Chief Executive, Kwadwo Owusu Afriyie, popularly called Sir John, included portions of the Achimota forest lands in his will.
The purported will, which was been publish by investigative journalist Manasseh Azure Awuni's Fourth Estate, contains four parcels of specified and unspecified acres of land in the Achimota Forest, which the late politician bequeathed to named persons.


Source link