Pictures of actor Wayoosi dressed like a lady causes massive stir
– Advertisement –

Award-winning Ghanaian Kumawood actor professionally known as Wayoosi; Has caused a massive stir on the local digital space with his fast trending pictures.
In this set of weird pictures, the veteran actor was fully dressed as a woman as he rocked a well-tailored "Kaba and slit".
As if his bizarre dressing wasn't enough, Wayoosi garnished his face with heavy makeup to make him appear more like a woman.
Wayoosi also topped up his feminine looks by wearing a wig to complete his overall look like a woman.
Although the picture was purposely taken to crack ribs but some Ghanaians have argued that it's a salient way to promote the infamous LGBTQ.
As suggested by some social media users, dressing like a woman is a big NO-NO for a person of Wayoozi's calibre because he's a celebrity and some members of the LGBTQ community can boastfully say that he's part of them.
Take a look at the picture below to know more…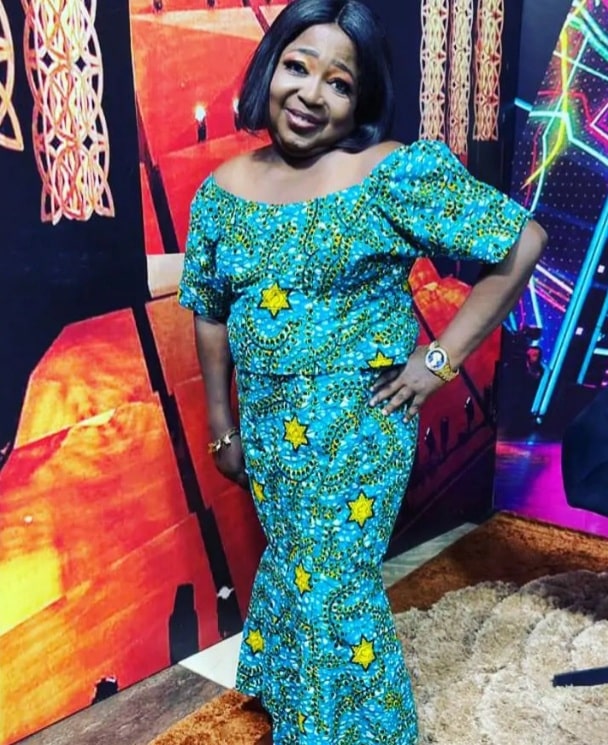 Hopefully, Wayoosi will address these 'trumu trumu' allegations very soon before it stains his hard-earned reputation.


Source link
Ajagurajah reacts to death of Osei Tutu over juju claims in Kumawood [Video]
– Advertisement –

Ghanaian spiritual leader Bishop Abed Kwabena Boakye Asiamah, popularly Known as Ajagurajah, has asserted that claims by the mother of late Osei Tutu that her son was bewitched is should not be underrated.
During an exclusive interview with Ghpage TV, the mother of the deceased Kumawood actor shared some secrets and circumstances leading to the death of her son after a short illness.
Among other things, she revealed that before his death Osei Tutu told him that someone in the movie industry wanted him dead and had taken him to a spiritualist to cast a spell on him.
She further claimed that about nine needles were removed from his throat after the actor and his younger brother visited an undisclosed spiritual centre for help to get well.
Watch the full interview below:
Subscribe to watch new videos
The narrative by Osei Tutu's mother has struck Ajagurajah who seems very enlightened about spiritual matters such as the actor's case.
The founder and leader of the Universal Spiritual Outreach, also known as Ajagurajah Movement in Ghana, occasionally takes to social media to interact with his fans and followers as well as shares lessons on how one can overcome spiritual problems.
Speaking in an Instagram live video, Bishop Ajagurajah reiterated that claims about Juju are real as they come in various forms.
He warned that people who do not believe in voodoo also known as black magic should learn lessons from Osei Tutu's predicaments.
Watch the video below
Subscribe to watch new videos
Osei Tutu, 51, died Tuesday, May 17 2022, after a short illness.
The news about his sudden demise was communicated by fellow Kumawood actors and industry players.
Affectionately called Tutu, the vivacious actor starred in several movies alongside heavyweights like Agya Koo, Kyeiwaa, Emelia Brobbey et al.


Source link
Ayisha Modi replies critics over claims that her new shape is artificial
– Advertisement –

Self-made music producer and industry gatekeeper, Ayisha Modi has replied critics who attacked her yesterday for going under the knife to get a new hourglass shape.
Earlier yesterday, Ayisha Modi shared a video of herself seductively dancing to show off her new beautiful shape.
After the video went viral on the local digital space, some critics went under her post to bash her for learning negatively from Moesha and co.
They also slammed her for behaving like a slay queen although she's very matured but has refused to act her age.
Ayisha Modi has come out to reply the critics who made a mockery of her under her own video.
According to her, her new shape is very natural and not artificial as claimed by her bitter attackers.
She additionally revealed that she used to be very fat and because of that she lacked self-confidence but after following the instructions from doctors and other professionals, she has now become slim and sexy.
Ayisha Modi's transformation happened within twinkling reason most Ghanaians have the notion that she went under the knife therefore her shape isn't natural.


Source link
Man proposes to girlfriend at her father's burial
– Advertisement –

A South African pastor has received serious backlash after he decided to propose marriage to his girlfriend at her father's funeral.
In a video that has been widely circulated, the man was seen kneeling in front of his girlfriend with a ring while she cried uncontrollably.
Family and friends who were standing by the coffin watched in dismay while the Pastor poured out his heart to his grieving girlfriend.
The lady who was mourning her father accepted the ring amidst claps from the mourners present.
Watch the video below;
This video has received mixed reactions from social media users who described the Pastor's act as insensitive and manipulative.
Read some comments below;
Lucas Moagi wrote; "Why propose when she is at her weakest and vulnerable? It's insensitive and just damn selfish of him".
Musa_1 added; "Attention will be the end of us one day".
ThatoDO1 stated; "This is by far the most unhinged marriage proposal I have ever seen. Not only is this man fighting to be the main character at someone else's funeral, he is also taking advantage of a grieving woman who's in no position to think this through, and putting her under pressure. Sick!".
Skugonza 5 commented; "This is so inconsiderate and weird. So that her engagement day will be this big reminder that she also lost a loved one???? Was this man dizzy?".
Gozielum added; "This guy is taking advantage of her vulnerability seems he is interested in the girls inheritance. This is so disrespectful. I will hit your head if you come close to me. Selfish man".
Miranda_M indicated; "Also this is extremely manipulative considering how vulnerable this woman is and would do anything to feel an ounce of happiness".




Source link