MSport Launches Two New Games | General Sports
Ghana local top Sports betting brand, MSport has launched Superkick and Aviator, two brand new online games that are gaining so much popularity and traction that they are often pushed to the top of Twitter trends.
This brand new offering is the latest in a suite of fresh online experiences launched by MSport as the company continues its commitment to quality entertainment and its promise to delight its customers with more rewards. 
MSport's promise has always been to offer best betting experiences, fast deposit and withdrawal, functions exclusive to the brand, 24/7 customer service and support among others. 
The Aviator game, an immensely popular game new on the MSport platform, encourages the gamer to remain alert as the pilot navigates the skies with increasing odds as he flies higher while in Superkick, players place their bets before every new round begins and a multiplier jet will boost the odds once the game start. 
The most unique gaming element of both Aviator and Superkick is that players have complete control over the game and instant cash out at any time before the round ends which means the nature of these games are the most intense and thrilling any player can experience.
In addition, MSport also offers plentiful rain bonuses for players while players can also grab free vouchers to bet on these two games from time to time. 
These revolutionary and engaging games are already touted as leading games in the industry and Superkick is exclusive only on the MSport platform in the entire African region. 
Any new players who join MSport can also take advantage of the mouth-watering freebies promotions and at the same time be assured of being serviced with only the highest professional standards. 
Player can easily enjoy a lot of fun time on these two evolutional innovative fun games and control the winning totally by themselves, of course as always gamers are advised to bet responsibly and practice maturity in the pursuit of these games.
To play both games, kindly visit https://www.msport.com/gh/web
Source: Peacefmonline.com/Ghana
Disclaimer

:

Opinions expressed here are those of the writers and do not reflect those of Peacefmonline.com. Peacefmonline.com accepts no responsibility legal or otherwise for their accuracy of content. Please report any inappropriate content to us, and we will evaluate it as a matter of priority.
Featured Video
RB Leipzig Agree Deal To Re-sign Timo Werner From Chelsea | Football/Soccer
RB Leipzig have agreed a deal to re-sign forward Timo Werner from Chelsea, according to Sky in Germany.
According to Sky in Germany, a fee of £25.3m (€30m) plus bonuses has been agreed, with Werner expected to arrive in Germany this week.
​​​​​​Werner was set to return to RB Leipzig on a season-long loan with an option to buy, but talks between the two clubs moved quickly, and an agreement has now been reached for the permanent transfer of the Germany international.
Chelsea signed Werner two years ago from Leipzig, but he was been unable to replicate the goal-scoring form which prompted the Blues to activate his £45m release clause.
The 26-year-old wants to return to his old club and get regular game time to secure a starting spot in Hansi Flick's Germany team at the World Cup in November.
His relationship with Chelsea boss Thomas Tuchel was also said to be an issue, although Tuchel was understood to be unwilling to let the forward leave.
Werner, who also attracted interest from Juventus, scored 23 goals in 89 appearances in all competitions for Chelsea, but he only started 15 Premier League games last season, scoring four times.


Read Full Story ….
SkySports >>>
:   

Source: SkySports
Disclaimer

:

Opinions expressed here are those of the writers and do not reflect those of Peacefmonline.com. Peacefmonline.com accepts no responsibility legal or otherwise for their accuracy of content. Please report any inappropriate content to us, and we will evaluate it as a matter of priority.
Featured Video
Senegal coach Aliou Cisse challenges Napoli over Nations cup threat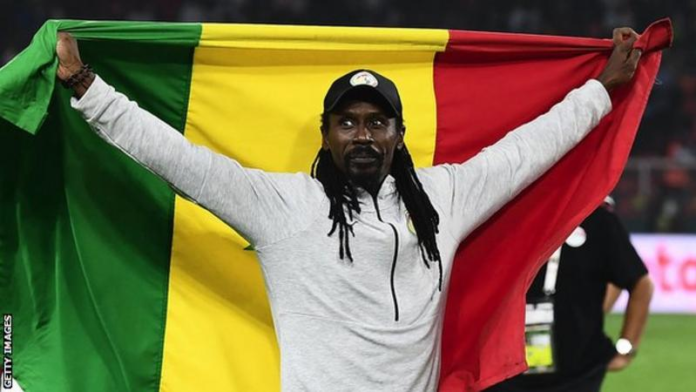 Senegal coach Aliou Cisse says international football – and the Africa Cup of Nations in particular – should never play second fiddle to club commitments and has 'challenged' Napoli not to buy African players.
The 46-year-old's comments come after Napoli owner and president Aurelio de Laurentiis said the Italian club will avoid signing any more African players unless they agree not to play in the biennial tournament.
"A football player can play for 12 teams, say, but will only have one national team," Cisse told BBC Sport Africa.
"Clubs will never be above our flag and our national teams. And every Senegalese who plays in Europe, wherever he will be, if he is competent I will call him to defend the colours of the nation.
"I have a lot of respect for (De Laurentiis) but I challenge them to try to not recruit African players."
The timing of the Nations Cup – traditionally played in January and February – has led to repeated disputes with European clubs forced to release players in the middle of the season.
Napoli lost defender Kalidou Koulibaly – who captained Senegal to triumph in the 2021 Nations Cup staged this year in Cameroon – and midfielder Andre-Frank Zambo Anguissa to call-ups for the tournament last season and the pair missed six club games.
'Unacceptable remarks'
The Confederation of African Football (Caf), the continent's governing body, said it was "appalled" by the "irresponsible and unacceptable remarks" made by De Laurentiis, and called on European counterpart Uefa to open a disciplinary investigation against the 73-year-old.
"Are we to assume (De Laurentiis) is going to include similar restrictive conditions to players from South America, Asia and other confederations prohibiting them from playing in their continental competitions?" a Caf statement read.
Koulibaly spent eight years at Napoli before joining Chelsea last month and responded to De Laurentiis' comments by saying it is important to "respect everybody".
"If he thinks that the team can play without African players, it's up to him," the centre-back said. "But I think not everybody has the same idea as him in the club, because I know their supporters and they don't think like this."
"Obviously, clubs are fearful about the Nations Cup, but it is important for our country and for our continent," added coach Cisse.
"The Napoli president is an important figure. I met him once and just by his handshake, you could tell he is a serious man and honest man."
Cisse wants 'good collaboration' with clubs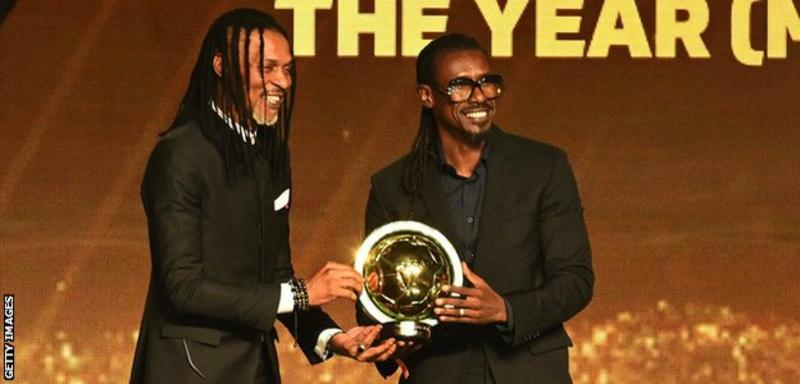 De Laurentiis said he would only sign African players in the future if they signed a waiver saying they would not appear at the Nations Cup – with the next finals scheduled for early 2024 in Ivory Coast.
Cisse has been in charge of Senegal since 2015, leading the Teranga Lions to back-to-back qualifications for the World Cup and a maiden continental title.
But the former Paris Saint-Germain player believes African countries are singled out by European clubs when their players are called up for international games.
"Why should the debate exist only when it comes to African players?" Cisse added.
"When a Brazilian is needed by his federation, there is no debate. And yet we are five hours away from Europe. In South America, they are 17-18 hours away from Europe – but there is no debate.
"Clubs should discuss and share ideas with these players to find the best solution to help both national teams and clubs.
"We aren't fighting the clubs. I've spent seven years here, I have always tried to have a good collaboration with the clubs."
Cisse says he experienced a negative attitude towards the Nations Cup when he travelled to one European club to convince a player to represent Senegal.
"I met the coach and the sporting director and then they told me, kindly, extremely politely, 'Your competition is great but to be honest we don't care. What we care about is to have this boy at the end of the season because he represents 25 million euros to play in the Champions League'," he said.
"I can understand, I am not shocked at all. But they can understand that when the nation is within its rights, we are allowed to call [up] our players.
"They can believe what they want but they should let us organise things as we want."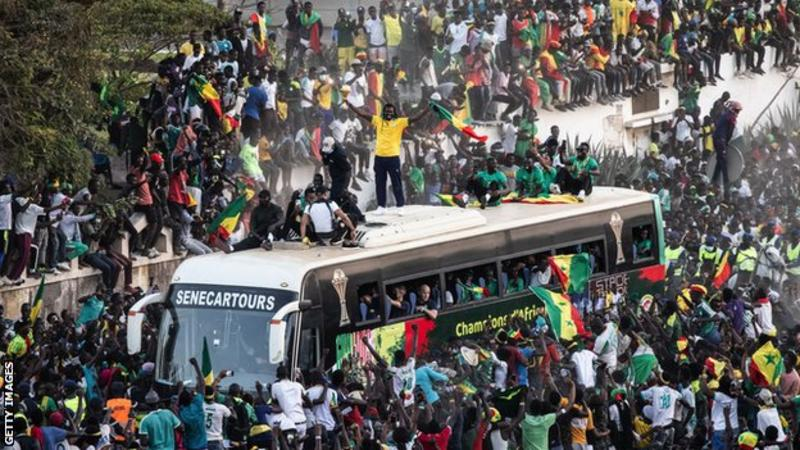 Manchester United Agree Transfer Fee For Juventus Midfielder Rabiot | Football/Soccer
The Red Devils are looking to bring the France international to Old Trafford in case they fail to land a Barcelona talisman.
Manchester United are in talks to sign Adrien Rabiot from Juventus, having already reached an agreement over a fee with the Serie A side, GOAL understands. However, the Premier League team have not yet struck a deal with the midfielder.
United are in the market for a new midfielder and while long-term target Frenkie de Jong remains their top priority, they are looking at alternatives in case they are unable to convince the Netherlands international to leave Barcelona.
What do we know about Man Utd's transfer bid for Rabiot?

After coming to an agreement with Juventus over a reported £15 million ($18m) fee, the Old Trafford club have entered into negotiations with Rabiot's agent and mother, Veronique.
They are yet to agree on personal terms, but the midfielder is said to be looking for a way out of Turin this summer.
France international Rabiot, 27, was a regular in Massimiliano Allegri's starting XI last season but has now entered the final year of his contract at the Allianz Stadium, and sat out their pre-season tour of the United States due to personal reasons.
Source: Goal
Disclaimer

:

Opinions expressed here are those of the writers and do not reflect those of Peacefmonline.com. Peacefmonline.com accepts no responsibility legal or otherwise for their accuracy of content. Please report any inappropriate content to us, and we will evaluate it as a matter of priority.
Featured Video