There's great demand for me to fight in the UK – Isaac Dogboe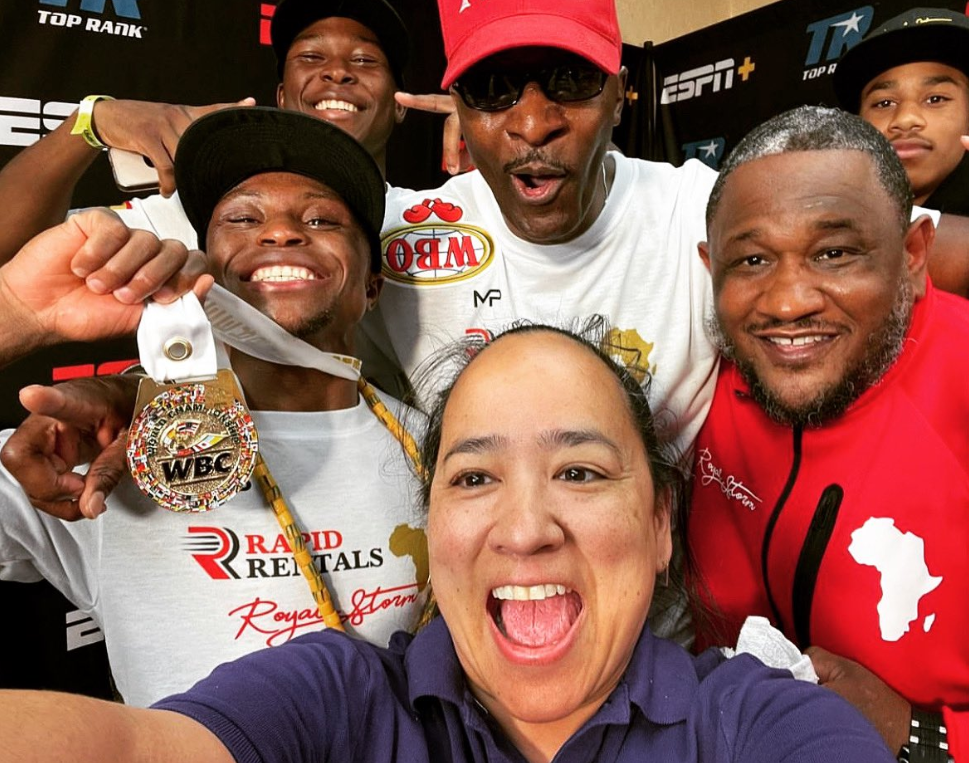 The 27-year-old made a fine start to the bout and landed a couple of heavy punches, which got Gonzalez dazed in the early exchanges.
On the judges' card, Patrick Morley scored in favour of Gonzalez at 96-94, but Tim Cheatham and Mike Fitzgerald both had Dogboe as the winner on their cards by 96-94.
The boxer returned to Ghana on Thursday and has now revealed that there is a great demand for him to fight in the UK.
"We [my team and I] don't know. I praise God that I have options," Dogboe said, as quoted by 3Sports.
"My promoters have informed me that there is a great demand for me to fight in the United Kingdom. We'll have to wait and see what happens.
"The night after the fight, I called my promoters and asked them what was next. They told me, Isaac, to go home, rest, and then we'll talk about the next fight."
Dogboe was born in Ghana but spent the early years of his professional career in the UK, where he was based in London.
He annexed the Amateur Boxing Association British lightweight title in 2013 and faced Andy Harris at Belfast's Waterfront Hall that same year.
However, he hasn't fought in the UK since, although that is a possibility, now that he's in line for a title.
NPP will go to court if Bagbin fails to declare Adwoa Safo's seat vacant – Joe Wise
The seat of Dome Kwabenya MP, Sarah Adwoa Safo has been in contention over the past months due to her prolonged absence from Parliament.
According to Mr. Osei-Owusu, he will be surprised if the Speaker, Rt. Hon. Alban Sumana Kingsford Bagbin rules against the recommendation of his committee over the seat of Dome-Kwabenya lawmaker, Mad. Sarah Adwoa Safo.
"Some members may seek court interpretation if the Speaker rules in variance to the recommendation to have the Dome-Kwabenya seat declared vacant," the First Deputy Speaker of Parliament and Chairman of Parliament's Privileges Committee told the media.
The Committee of Privileges in Parliament has by a majority decision recommended that the Dome-Kwabenya Parliamentary seat, currently being occupied by Sarah Adwoa Safo, should be declared vacant for having absented herself from Parliament for more than 42 days without permission from the Speaker.
In a post on social media, the embattled Adwoa Safo said there's a witch-hunt from members of her party members.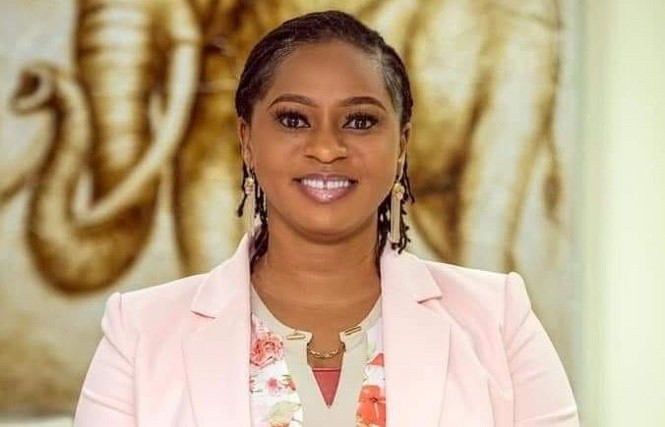 In a Facebook post, she could not comprehend why the members of the Danquah-Busia-Dombo tradition are refusing to protect her because being absent from her official duties albeit not intentionally.
She said "We did this on compassionate grounds because it involved Children and didn't go round making hue and cry about her absence."
This has left me asking myself if this is happening because I am a woman who for just this one time needed some time off to deal with a few personal issues which were too dear to share with the larger public.
"In the face of all these, I have questioned why I have had to be treated differently by not enjoying the famous support of our party leadership both in Parliament and at the party level in my most difficult moments these past few months," Adwoa Safo stressed.
She noted that "as a member of the party, I have served with utmost diligence (both in opposition and in government) and have at all times put the fortunes of my family at the disposal of the party.
Trey Haun receives hero's welcome in Mamprugu after winning 2 medals in Unicycling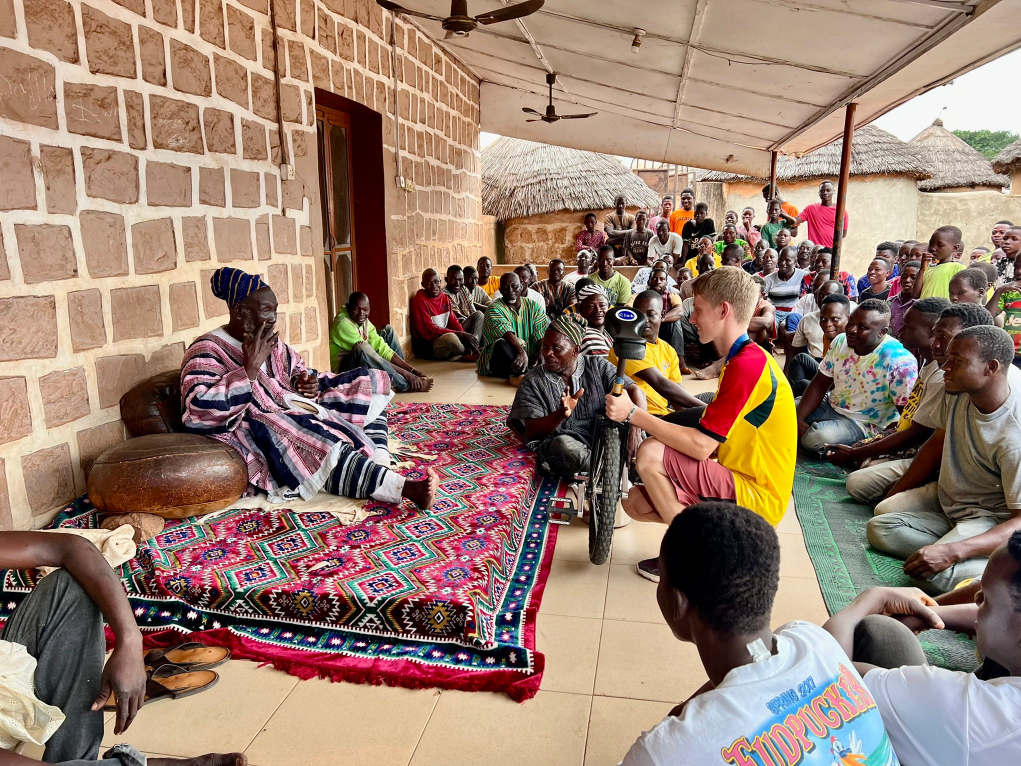 Last week, Trey wrote his name in the history books by winning Ghana's first-ever medals at the Unicycling World Championships.
The young rider, who was born in the United States but has been living in Ghana for the past nine years with his father, won silver and bronze medals at the Championships.
He bested his competitors in the 30m Wheel Walk Race for males between 15 and 16 years and finished second to win a silver medal.
The teenager again put up a brave performance in the 50m One-Wheel Race and scooped a bronze medal after finishing third.
On his return to Ghana, Trey visited the Mamprugu Palace to present his medals to the Paramount Chief of the community.
"Our #Mamprusi community greeted us with great fanfare today," his father William Haun wrote on Twitter, accompanied by a photo of Trey at the Palace.
"And Naa Bɔhagu, paramount chief of #Mamprugu, received his son Manboora Trey Haun as he returned home with two #Unicycling World Championship medals for #Ghana."
Unicycling is a sport practice that is not much known in Ghana, but includes more than 35 different disciplines such as collective, individual, artistic or extreme sports.
This year's Championship is currently ongoing in Grenoble, France, with thousands of athletes converging to participate.
Akufo-Addo inspects GH¢9.2 million yam/cassava processing factory in Bimbilla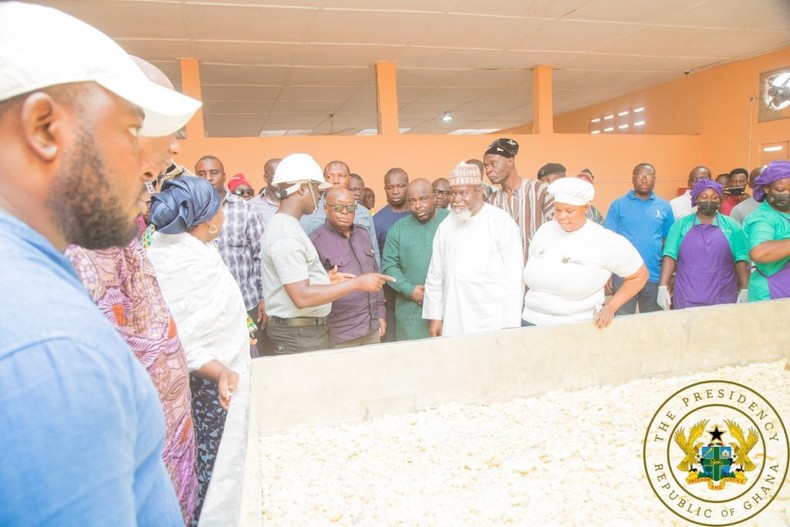 According to the Deputy Minister, Global Almas has land bank of more than 2,000 acres at Bimbilla, and additional land would be acquired as the operations expand with anticipated increase in demand for products.
He also noted that the factory produces 1,000 cartons of Yam Fufu Flour per day, under the brand name Almas Yam Fufu Flour, requiring the purchasing of 10,000 yams per day.
With respect to the cassava processing line, some 200 bags of cassava flour is produced per day, with the company engaging some 20 farming groups, who have committed themselves to produce for the factory.
The New Juaben South MP further stated that the total cost of the factory is pegged at GH¢9.2 million, with a 60% equity contribution from the promoter translating to about GH¢5.2 million.
The Ghana Exim Bank has also provided a credit facility amounting to GH¢1 million (10.8% of the total project cost) which was disbursed in February 2021.
Global Almas has, thus far, created more than 74 direct jobs including Management, Supervisors, Food scientists, Laboratory technicians, and Maintenance Technicians as well as women who are involved in the peeling, cleaning, bagging, stitching machine attendants, and sorting of the yam/cassava.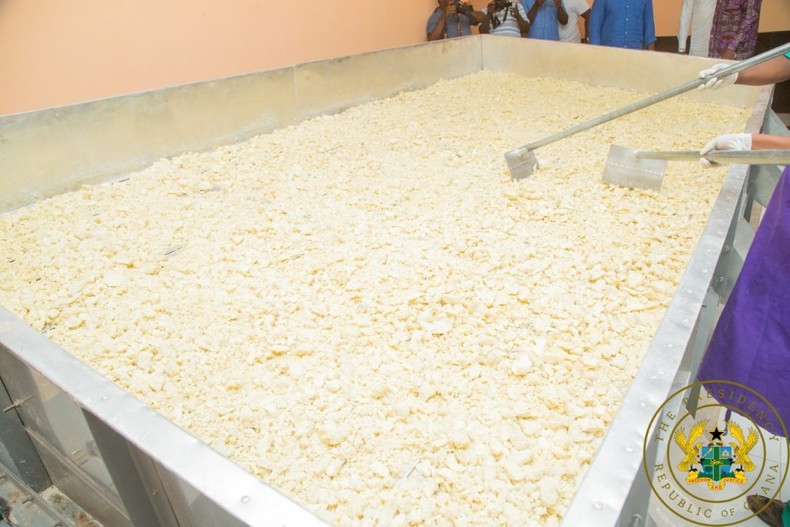 In addition, over 400 additional indirect jobs have been created for out-growers, transporters, harvesting team, packaging & handling, sales outlets, etc.
Already, the company has signed an agreement with Sinostone Ethanol Manufacturing Company located in Juapong to supply 1,000 tons of cassava chips every month.
Another agreement has been concluded with Bofas Company Limited located in Wa for the supply of a 40-foot container of yam fufu flour every month for export to the US market.